Bullpen of the Week: A's
Oakland held opponents to five runs in 26 1/3 innings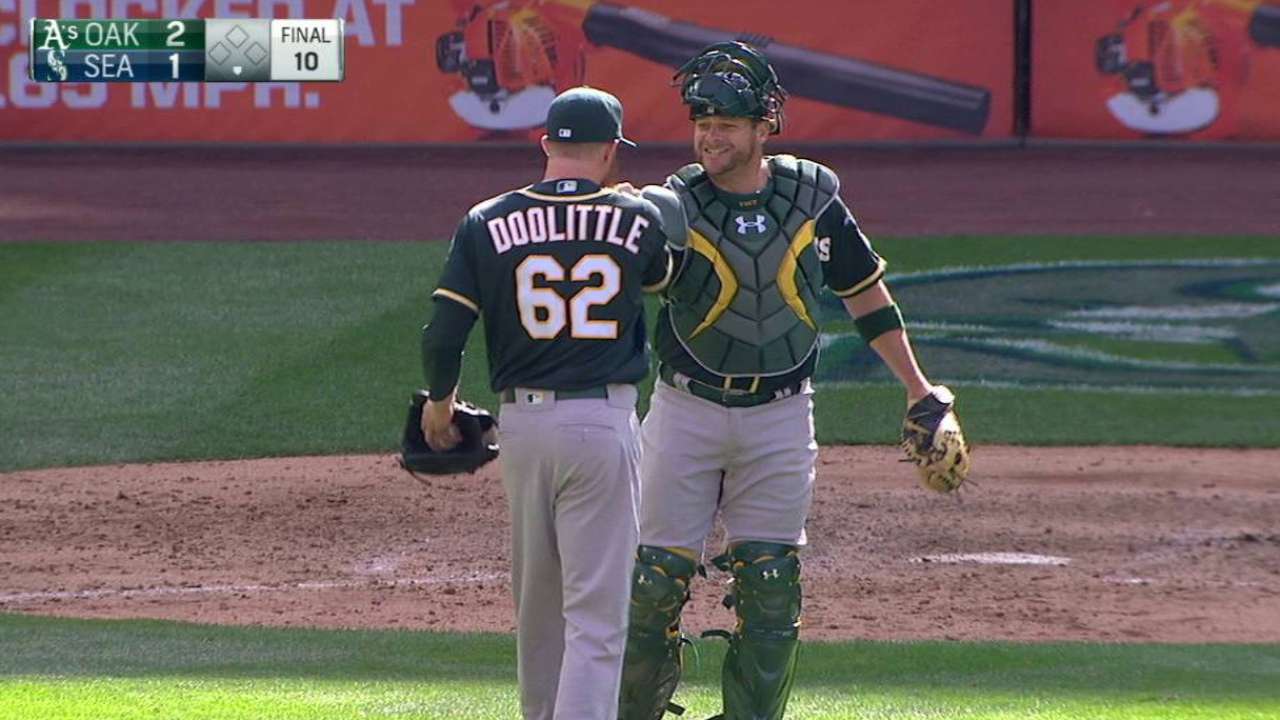 The A's trailed the Mariners by a score of 1-0 after seven innings Sunday, when starting pitchers Chris Bassitt and Felix Hernandez exited the game. A battle of bullpens was on, and Oakland's stepped up to cap a stellar opening week of the season.
Three A's relievers combined to toss three scoreless innings, as their offense tied the score in the eighth and won the game on Coco Crisp's homer in the 10th at Safeco Field. That performance lifted the club to a 4-3 start and locked up Oakland's status as the "MLB Bullpen of the Week presented by The Hartford." The honor represents quite a turnaround, considering the A's finished last in the American League in relief ERA last season at 4.63.
"Once we get to bullpen versus bullpen," Bassitt said, "I really like our odds."
BULLPEN OF THE WEEK WINNERS
As part of the MLB Prevailing Moments program, each Monday throughout the 2016 season, MLB.com is honoring the "Bullpen of the Week presented by The Hartford." An industry-wide panel of MLB experts, including legendary stats guru Bill James, constructed a metric based on James' widely renowned game-score formula, to provide a weekly measurement of team bullpen performance.
Here's how the Bullpen Rating System is compiled for each week. For reference, a weekly score of 100 is considered outstanding:
• Add 1.5 points for each out recorded
• Add 1.5 points for each strikeout
• Add 5 points for a save
• Subtract 2 points for each hit allowed
• Subtract 4 points for each earned run allowed
• Subtract 2 points for each unearned run allowed
• Subtract 1 point for each walk
• Subtract 5 points for a blown save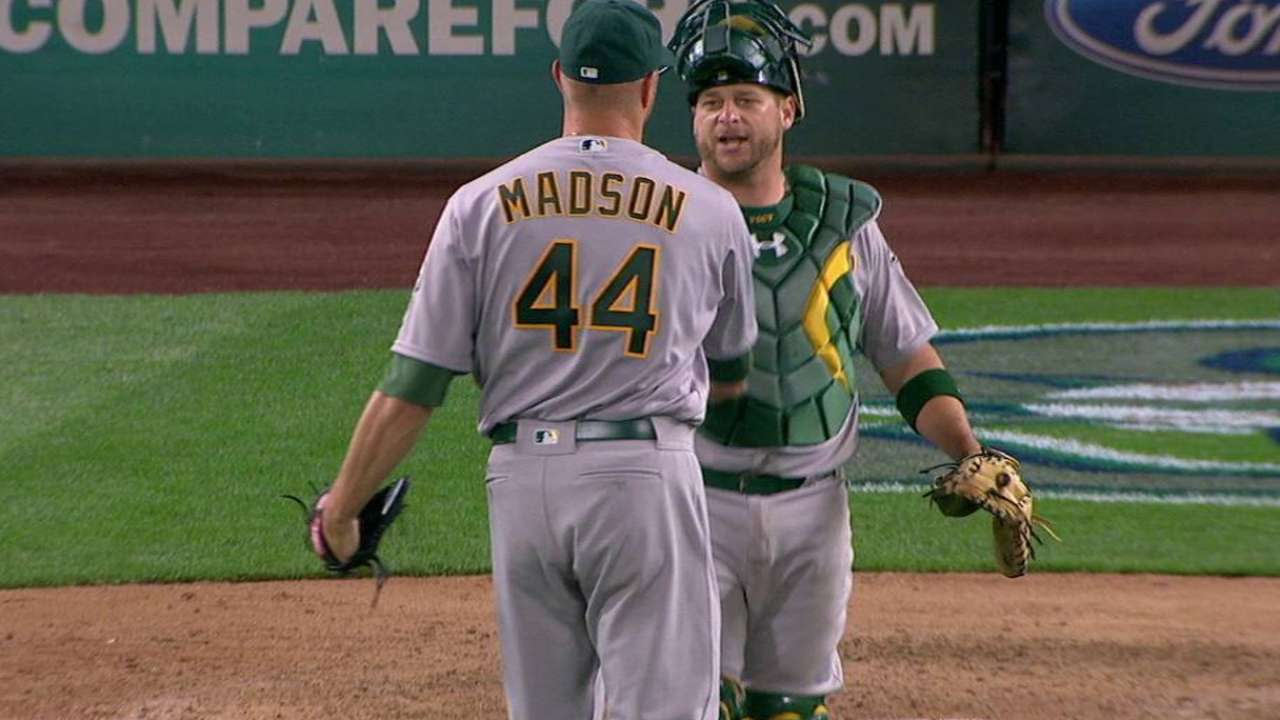 The A's bullpen triumphed with a first-week rating of 103, leading the Majors in innings (26 1/3) while allowing only five runs (all earned) on 20 hits, with a sterling strikeout-to-walk ratio of 21-2. The club's relievers converted all three of their save opportunities, with Ryan Madson collecting the first two and Sean Doolittle notching his first Sunday.
Among the unit's standout performers were rookie Ryan Dull, who tossed four perfect innings with five strikeouts. Righties John Axford (four innings), Fernando Rodriguez (4 2/3) and Madson (four) also didn't allow a run, along with lefty Marc Rzepczynski (2 1/3).
Any successful bullpen must be able to overcome some unexpected circumstances, and the A's were no exception this week. Here is a look at their biggest obstacle:
The unexpected: Ace Sonny Gray was supposed to get the call for the A's on Opening Day against the White Sox, but a bad bout of food poisoning forced Oakland to turn to Rich Hill instead. Then Hill made it through only 2 2/3 innings, allowing four runs (two earned), as the A's fell into an early 4-0 hole.
How they prevailed: While the A's lost the game, 4-3, the bullpen gave the team a shot to rally for a victory. Rodriguez, Dull, Axford, Madson and Doolittle combined for 6 1/3 scoreless innings, allowing only four hits and striking out three without walking a batter.
While the A's featured the Bullpen of the Week, they weren't the only club with an impressive relief corps.
The Orioles, MLB's last undefeated team at 5-0, finished second with a Bullpen Rating System score of 100. Although Baltimore did blow one save, it converted three while allowing only three runs over 21 1/3 innings and racking up 26 strikeouts. Righty Darren O'Day led the way by recording eight strikeouts and a save over four scoreless frames.
The Cardinals (99), Yankees (81.5) and Giants (78.5) followed Baltimore in the BRS standings. St. Louis posted a 1.66 ERA in 21 2/3 innings while piling up 31 strikeouts, including eight apiece from closer Trevor Rosenthal (2-for-2 in saves) and rookie Seung Hwan Oh.
Andrew Simon is a reporter for MLB.com. Follow him on Twitter @AndrewSimonMLB. This story was not subject to the approval of Major League Baseball or its clubs.