Stewart's first HR since '13 worth the wait
Catcher hadn't gone deep in two seasons with Pirates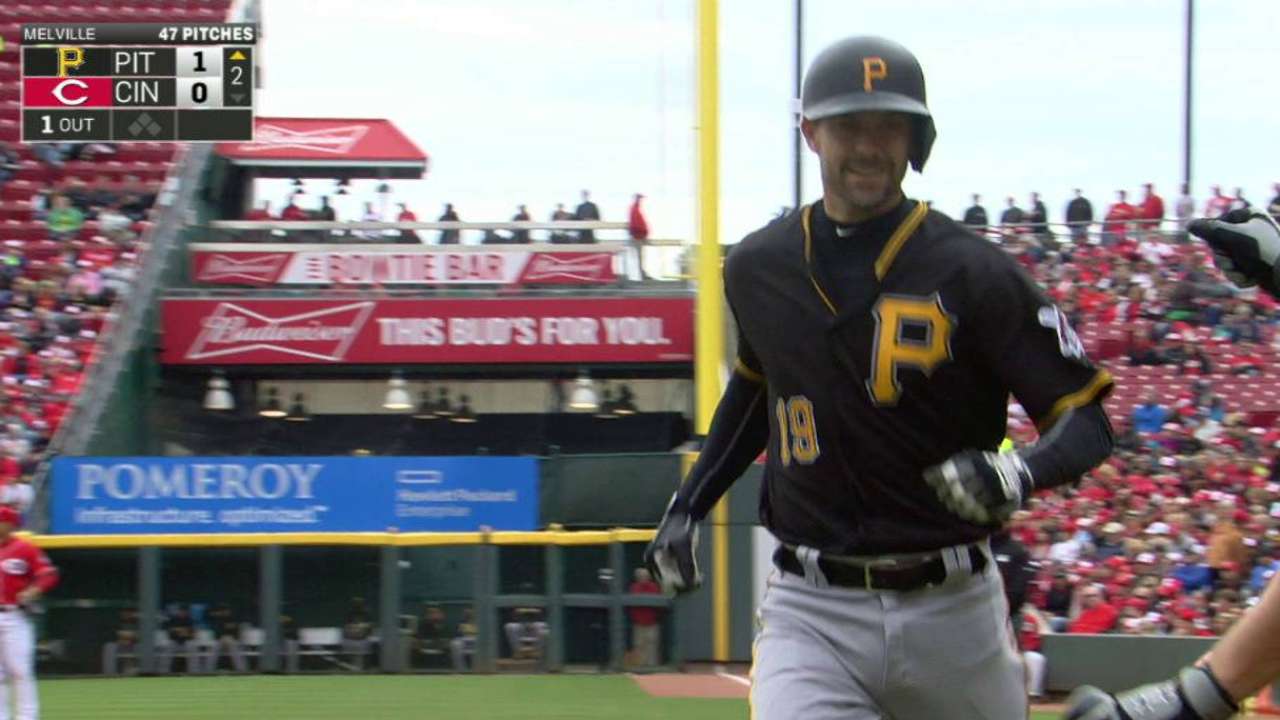 CINCINNATI -- Gerrit Cole put his hands on his head, seemingly in disbelief. The rest of the Pirates dugout cheered and smiled. Chris Stewart couldn't help but smile, either, as he trotted around the bases for the first time in nearly three years.
In his first plate appearance of the season, the Bucs' backup catcher ripped a solo home run -- his first since Aug. 20, 2013 -- into the left-field stands at Great American Ball Park, giving the Pirates an early lead in Sunday's 2-1 loss to the Reds.
"It's good to be able to put up a run. Unfortunately, it only counted for one today," Stewart said. "Wish it had counted for a little bit more. It was nice to get started that way, for sure."
Stewart is known not for power but for "smart hitting," which is why he points to his helmet after getting on base. His last home run came with the Yankees, a three-run shot off Toronto's Neil Wagner. He went 393 plate appearances and nearly three years between homers.
"I forgot what that feeling was like," Stewart said. "It's been a while."
He has hit well with the Pirates over the last two years, batting .292 with a .340 on-base percentage in 107 games -- but he entered Sunday's game, his first start of the year, without a homer in a Pirates uniform.
"He finally filled that box in," manager Clint Hurdle said. "This is his third year, and we finally got it filled in. We got a number in it."
Stewart came to the plate in the second inning with one out and nobody on base, facing Reds right-hander Tim Melville in his Major League debut. Stewart took one strike, fouled off another and passed on two sliders out of the strike zone.
Melville came back with a 92-mph fastball, and Stewart sent it into the stands.
When Stewart made it back to the Pirates' dugout, his teammates initially offered him the silent treatment, gathering at the other end of the dugout.
"I wasn't going to let it happen, though," Stewart said. "I've waited too long for that. The guys were happy for me, and it was a fun celebration in the dugout."
Sure enough, his teammates rushed toward Stewart, high-fiving and congratulating him on his ninth career homer.
"Everybody's so happy for Stew," Hurdle said. "We have a joke here that things come in bunches. I don't know if those will come in bunches."
Adam Berry is a reporter for MLB.com. Follow him on Twitter at @adamdberry. This story was not subject to the approval of Major League Baseball or its clubs.