MLB.com Columnist
Jim Callis
Mazara capable of filling Choo's shoes for Rangers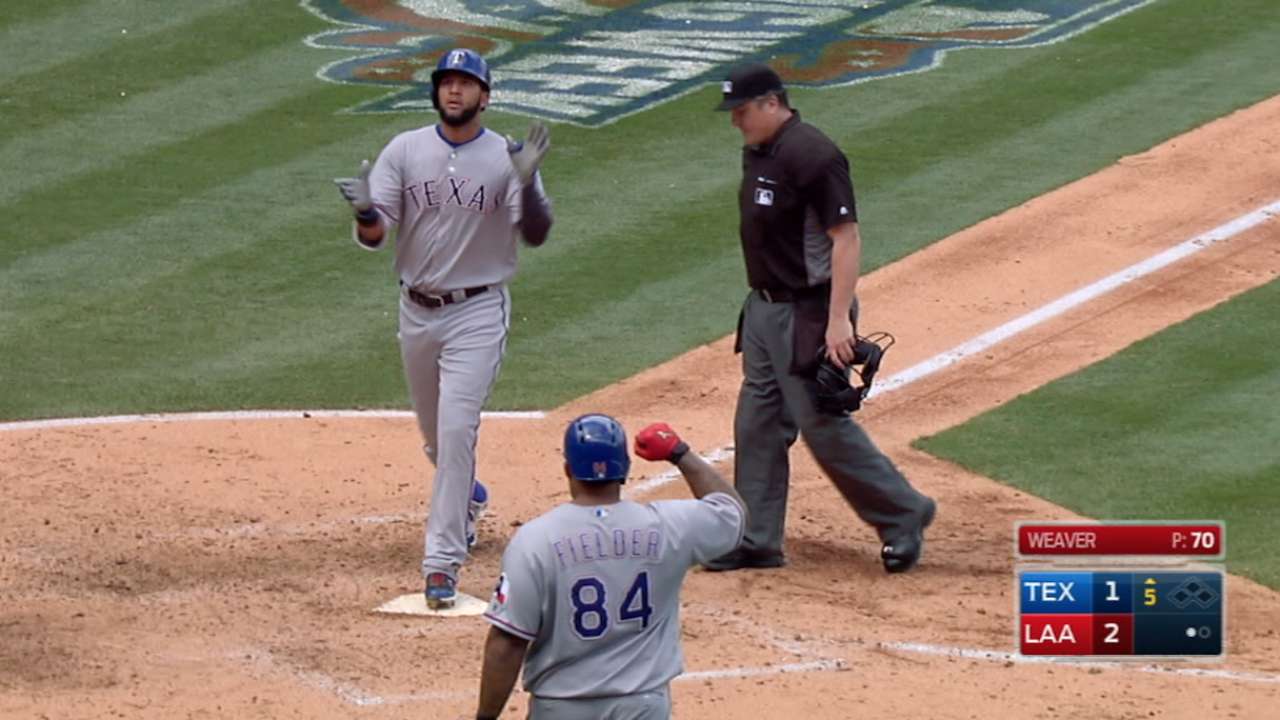 Shin-Soo Who?
The Rangers didn't miss Shin-Soo Choo terribly Sunday, when he went on the disabled list with a strained right calf muscle that is expected to sideline him 4-6 weeks. That's because his replacement in right field, Nomar Mazara, went 3-for-4 with a home run in his big league debut, accounting for Texas' only run in a 3-1 loss to the Angels.
Batting second against Jered Weaver, Mazara grounded a single to center off a curveball in the first inning, lined a single to right off a changeup in the third and blasted a 79-mph fastball for a 432-foot homer to center in the fifth. The rest of the Rangers' lineup managed just three hits and a walk in six innings against Weaver, who didn't throw a pitch harder than 84 mph. Mazara also grounded out to second base against Joe Smith in the eighth.
"A memorable debut for the young man," Rangers manager Jeff Banister told MLB.com's T.R. Sullivan. "Three hits and a home run ... that's a special day. Great poise, he walked up there in the first inning and didn't get caught up. He stayed with his approach."
• Complete Rangers prospect coverage on MLBPipeline.com/Rangers
The youngest player in the Majors at 20 years and 350 days, Mazara is the youngest Ranger since Rougned Odor in 2014. He became the fifth Texas player with three hits in his debut and the eighth to hit a home run in his first game. That ability to hit for power and average is what makes Mazara one of baseball's best prospects, ranking No. 17 on MLBPipeline.com's Top 100 list.
Even Weaver was impressed.
"He kind of had a long swing, and he had a good approach," Weaver told Sullivan. "It took me more than three at-bats to figure him out. He dumped a couple in, did a good job of keeping his hands back, and the heater in -- if we're still calling it fastballs -- the pitch in to him was not a bad pitch."
When the Rangers signed Mazara for $4.95 million out of the Dominican Republic in July 2011, several clubs were stunned that a player who had promising raw power but swing-and-miss concerns received a then-record bonus for an international amateur. But Texas has had a lot of success signing players on the global market, and Mazara has matured tremendously as a hitter since turning pro. He could approximate Choo's production while providing better defense in right field.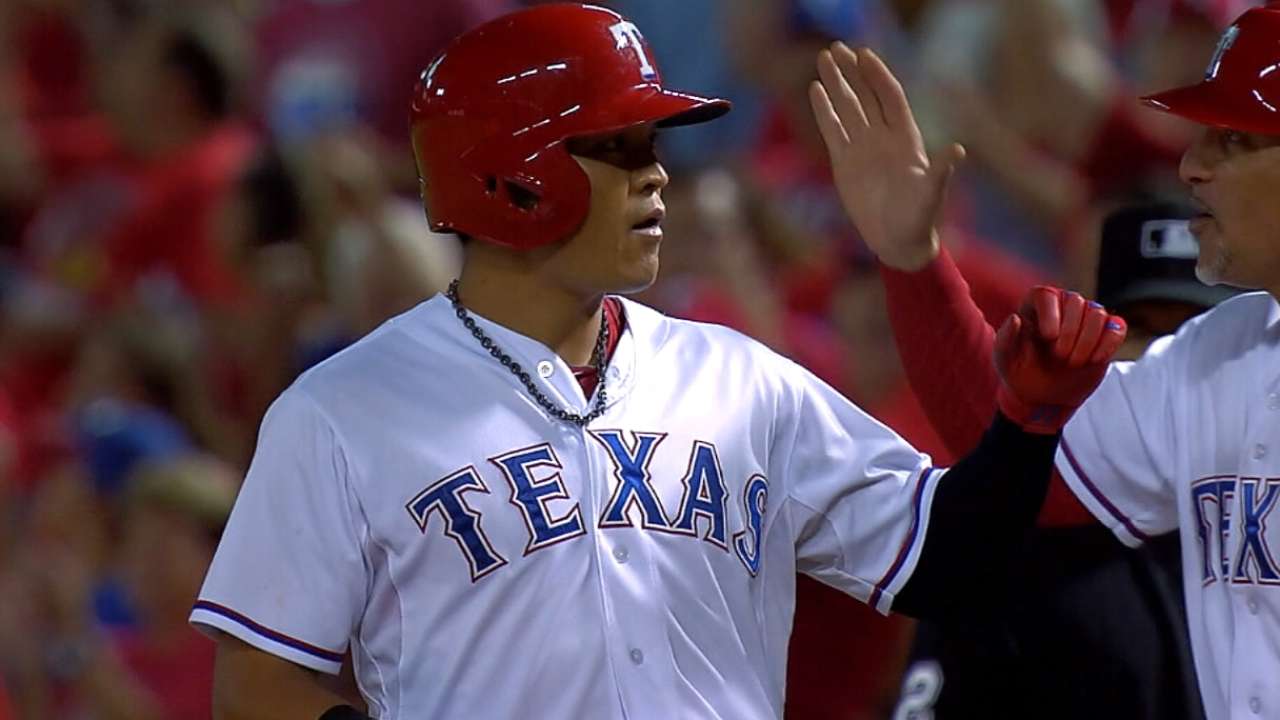 In his first exposure to big league camp, Mazara was one of Texas' hottest hitters this spring, batting .375/.394/.500 with a homer and eight RBIs in 12 games. He went 6-for-12 with a home run in three games for Triple-A Round Rock this season after batting a combined .296/.366/.443 with 14 homers in 131 games between Double-A Frisco and Round Rock in 2015, earning Rangers Minor League Player of the Year honors.
Mazara had a big leg kick when he signed but toned it down and saw his bat speed improve. Though he's 6-foot-4 and has long arms that naturally add length to his left-handed swing, he makes consistent hard contact and creates good leverage. He manages the strike zone well and uses the whole field.
"Mazara has exceeded our expectations," said Rangers farm director Mike Daly, the club's international scouting director when Mazara signed, during Spring Training. "We thought he'd be more power than bat. He started doing a toe tap, and it allowed him to stay on the ball more. He's got the right mentality: never too high, never too low, so consistent."
He's a below-average runner but shows decent range in right field, where his arm is an asset. Mazara recorded 16 assists last year and has totaled 41 in his three full pro seasons.
Jim Callis is a reporter for MLB.com. Follow @jimcallisMLB on Twitter and listen to him on the weekly Pipeline Podcast. This story was not subject to the approval of Major League Baseball or its clubs.