Ryan enjoying new role in Tigers' bullpen
Ausmus sees lefty one day becoming full-time reliever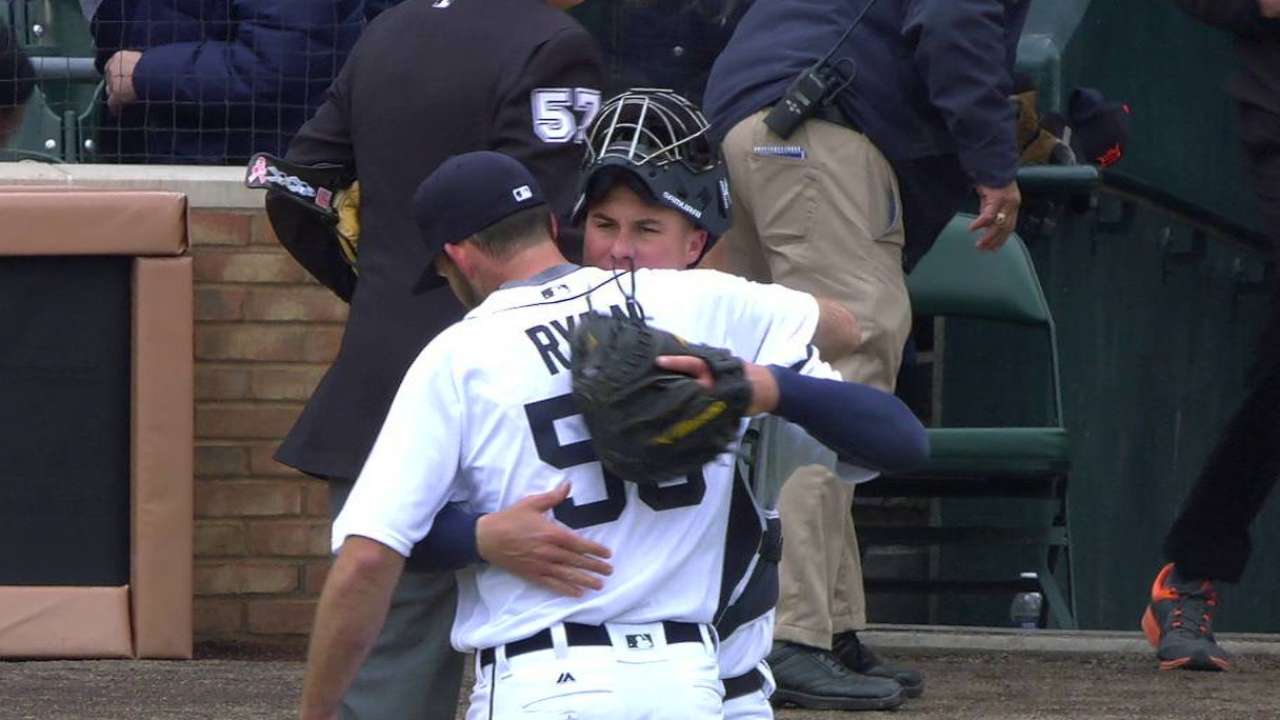 DETROIT -- Jordan Zimmermann showed his Auburndale, Wis., roots when he took the mound for the Tigers' home opener Friday in short sleeves. Kyle Ryan, a native of Auburndale, Fla., surprised a few fans when he did the same for the ninth inning.
"I broke a sweat out there," said Ryan, who dealt with similar weather on his way up the Tigers' farm system at Class A West Michigan and Double-A Erie. "It wasn't that big of a deal."
Nor was the threat the Yankees posted with a leadoff single from Brett Gardner. After a fielder's-choice ground ball from Starlin Castro, Ryan closed out the Tigers' 4-0 win with back-to-back called third strikes on Mark Teixeira and pinch-hitter Carlos Beltran, both switch-hitters.
By that point, Ryan said, he was feeding off the energy from a sellout crowd at Comerica Park that was on its feet, eager to get a win and get out of the cold.
"I like the adrenaline," he said. "I've always liked the adrenaline."
Those sound like the words of a reliever, though Ryan spent most of last season in the Triple-A Toledo rotation before becoming a swing man in Detroit. He hasn't made the complete mental transition yet, just in case the Tigers need starting depth once more, but manager Brad Ausmus sees his long-term future as a reliever.
"He's got really late movement, especially on the sinker," Ausmus said.
He's a lefty reliever, but he isn't necessarily just a situational one. In games like Friday, he could be a valuable late-inning arm to back up the regular late-inning trio of Francisco Rodriguez, Mark Lowe and Justin Wilson.
Quick hits
• Cameron Maybin went 1-for-4 with a double and a run scored Friday in his latest rehab game for Class A Lakeland.
• An MLB scoring review overturned an error given to Justin Upton during Wednesday's game against the Marlins. What had been a Justin Bour single and an error was changed to a double. The change restores Upton's errorless streak, which entered Saturday at 123 consecutive games.
Jason Beck is a reporter for MLB.com. Read Beck's Blog, follow him on Twitter @beckjason and listen to his podcast. This story was not subject to the approval of Major League Baseball or its clubs.