Gomez: 'I'd like to retire in [Brewers] uniform'
Astros slugger plays first game in Milwaukee since July 30 trade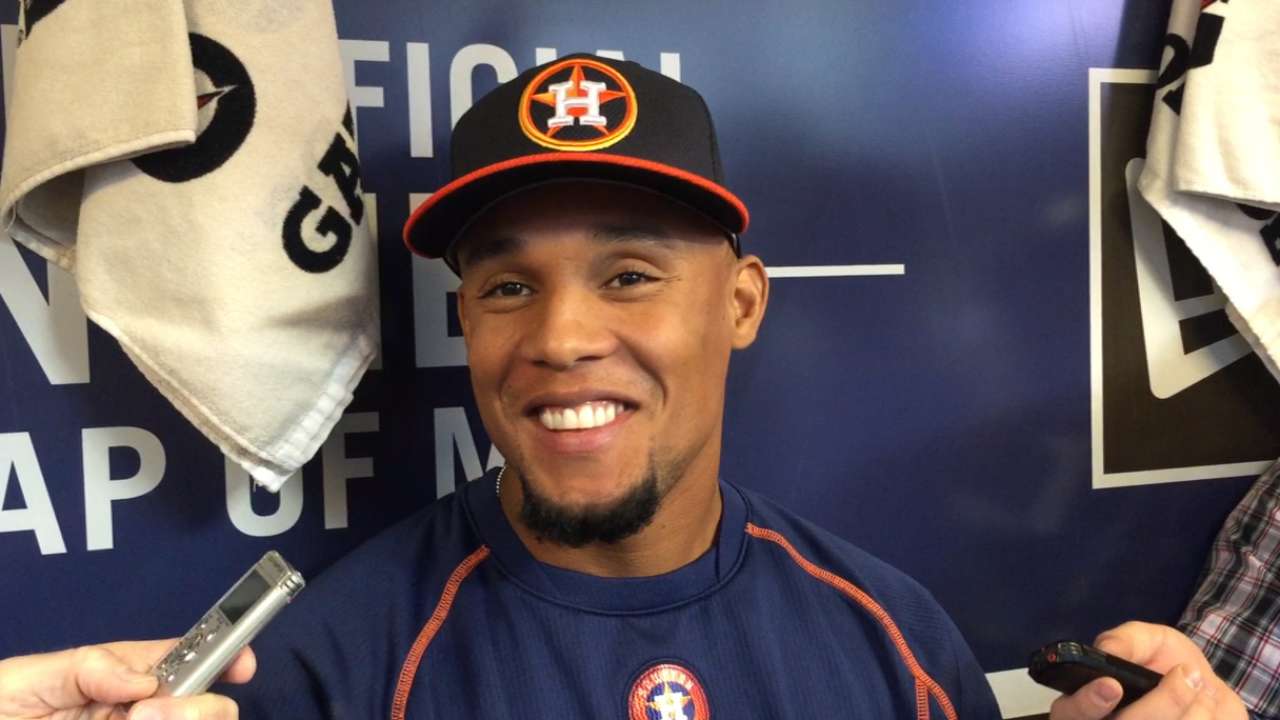 MILWAUKEE -- How much did coming of age in Milwaukee mean to Carlos Gomez? Speaking before Friday's 6-4 Brewers win over the Astros, Gomez said he envisions coming back someday.
"I feel in my heart and in my mind, this is the organization that I grew up with," Gomez said. "Someday, if I'm going to retire, I'm going to retire, I'd like to retire in this uniform. The best of the memories, the best of my career, is in the Brewers uniform, and I'd like to retire in this uniform.
"Not only for me, it's for my family, too."
Gomez played for the Mets and Twins before coming to Milwaukee in a 2009 trade for J.J. Hardy. It wasn't until 2012 that Gomez started tapping his long-hyped physical tools, and he represented the Brewers at the All-Star Game in 2013 and 2014 before the team traded him -- twice -- last July.
On July 29, the Brewers had a trade in place that would have sent Gomez to the Mets for pitcher Zack Wheeler and infielder Wilmer Flores, but New York nixed the deal at the last moment. The next day, the Brewers sent Gomez and Mike Fiers to the Astros for four prospects, including Domingo Santana, Friday's starting right fielder.
Old friends @RealCarlosGomez and Bob Uecker catch up at Miller Park. pic.twitter.com/tKHGr9E2uh

— Adam McCalvy (@AdamMcCalvy) April 8, 2016
"When I got traded, I tell [general manager] Doug Melvin and [manager Craig] Counsell, the first that I asked them, 'Did you guys get something good for me? They said 'yes,'" Gomez said. "I'm really happy that they get something. They're going to play there a long time and do a really good job.
"I mean, that's what makes the organization, the Milwaukee Brewers, special. They have a great staff to see deeper than the other teams. ... They had the patience, the ability and they [were] patient with me."
Counsell has referenced that patience several times this spring, saying the Gomez experience offers parallels to current prospects.
"It's such a lesson for us as we develop players here," Counsell said. "Not every player develops the same. Carlos was a guy who was in the big leagues for three-plus years before the light really went on. There was obviously unmistakable talent, but it doesn't go on like Carlos Correra, where it happened his first day in the big leagues.
"For Carlos [Gomez], it took a while. It's really a lesson. You think player development happens in the Minor Leagues, but it happens at the big league level, too."
Adam McCalvy is a reporter for MLB.com. Follow him on Twitter @AdamMcCalvy, like him on Facebook and listen to his podcast. This story was not subject to the approval of Major League Baseball or its clubs.