True Story: Rox rookie on 243-HR pace!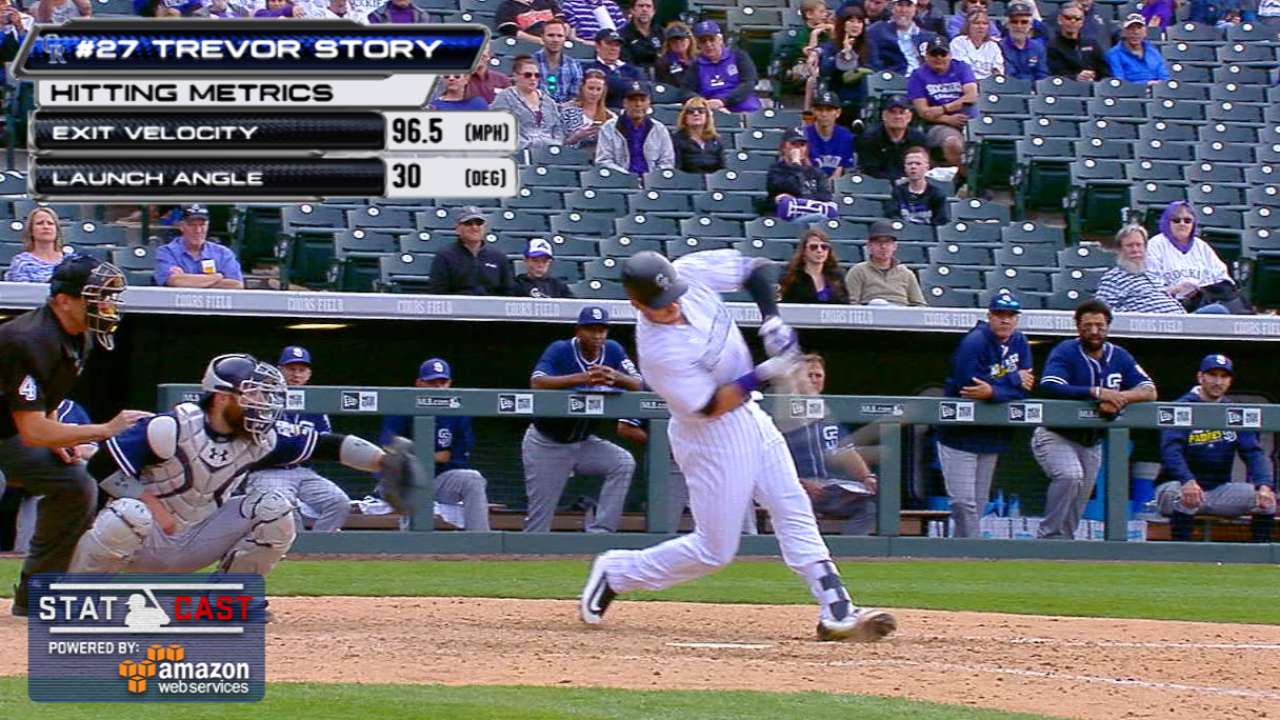 DENVER -- Rockies rookie shortstop Trevor Story became the fifth player in Major League history to homer in four straight games to start a season, and the first to begin a season with six in four games when he went deep twice in a 13-9 loss to the Padres on Friday at Coors Field.
"I never would've thought that I'd start out like this, but it's been great so far," Story said.
Story's first homer, hit off right-hander Colin Rea, landed an estimated 411 feet away from home in the left-field seats, according to Statcast™. The second remarkable homer, in the ninth off lefty Ryan Buchter, was projected by Statcast™ at 397 feet.
Story's two homers off D-backs ace Zack Greinke on Monday set a record for a player making his debut in a season opener. Story then became the first rookie to begin his career with two multihomer games in his first four.
But take him out of the rookie category and he is still in the record books. By going deep in a fourth straight game to start a season, he tied the mark set by Willie Mays in 1971, and matched by Mark McGwire in 1998, Nelson Cruz in 2011 and Chris Davis in '13.
• Did you know? Facts and figures from Story's historic start
Either Story is hitting out of his mind, or he's keeping his mind out of it.
"I'm just trying to have a clear mind up there and compete with my eyes," Story said.
McGwire appreciated the swing that's allowing Story to put on a show.
• Rockies Top 30 Prospects list
"Hitting home runs is about getting pitches to hit," McGwire said. "Obviously, he's got a stroke that's conducive. The ball gets in the air a lot. It seems, so far, like his ball carries very well. My stroke had the same thing. It's not a matter of trying to hit home runs. I can honestly tell you that I never tried to hit a home run. It's just the way the swing is. I had a little lift to it where if you square up a ball, the backspin's usually going to take the ball out of the ballpark."
The Rockies' previous record for games with a homer to start a season was three, by catcher Charles Johnson in '04.
Story received a huge cheer from the sold-out crowd during pregame introductions and before his first at-bat, a fly ball to right. The anticipation of his at-bats gave teammate Carlos Gonzalez flashbacks.
"I thought Todd Helton came back," said Gonzalez, who has seen all of Story's at-bats from the on-deck circle. "Helton was the greatest player in team history. But he's doing something that not even the greatest player in our history has done, so great job by our fans."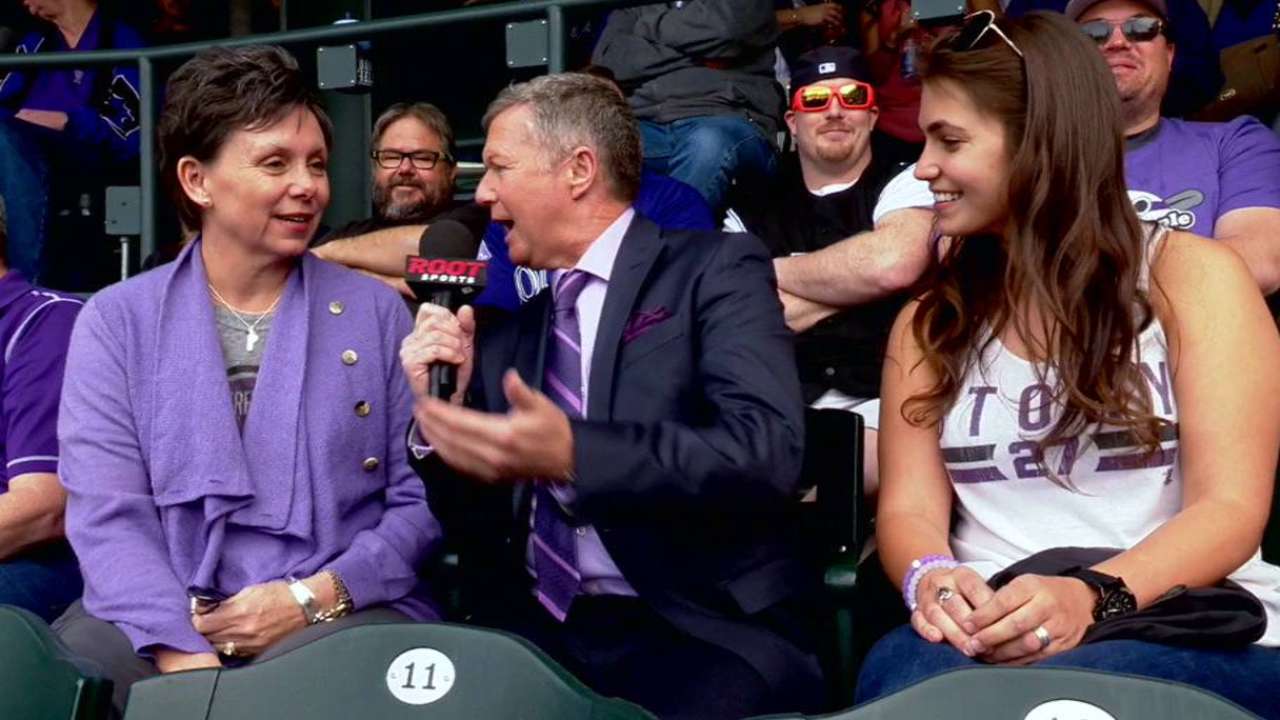 Story, who won the starting job in Spring Training, delivered a change of pace with an RBI single off Rea in the second inning on Friday.
"I was kind of relieved," Story said. "I wanted to be on first base a little bit."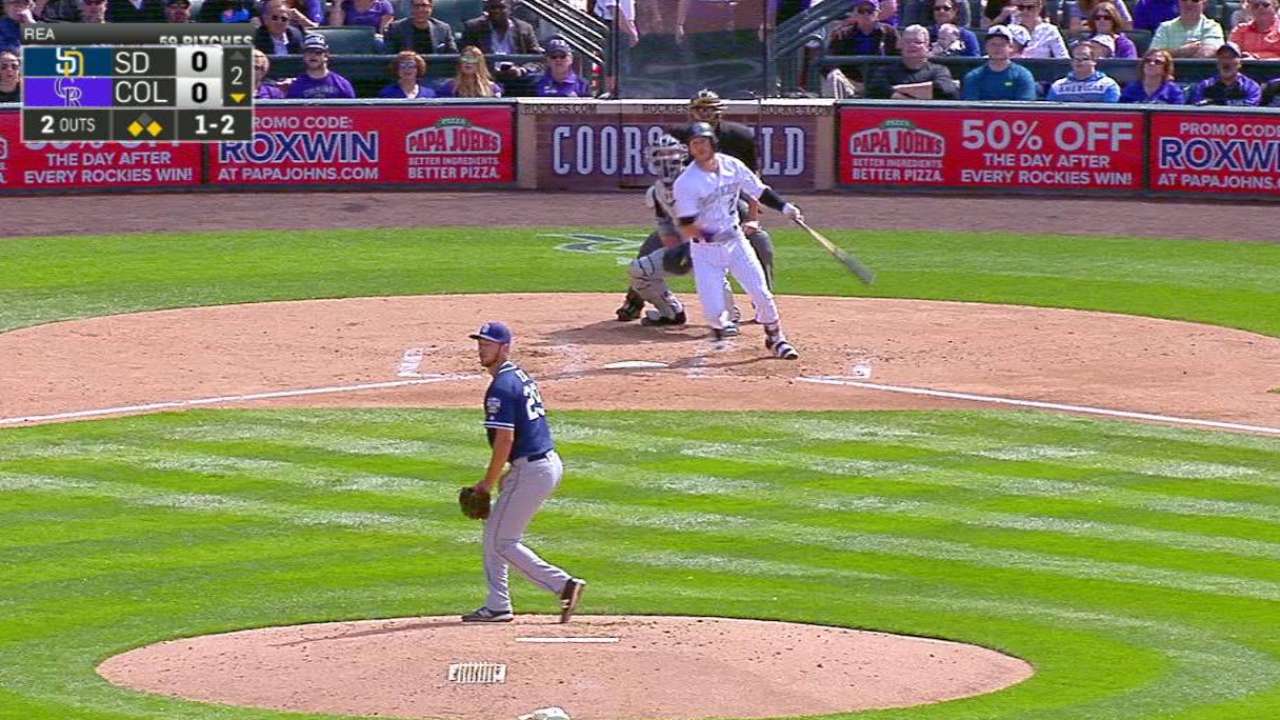 Before the bottom of the fourth, the video scoreboard and public-address system awakened the sellout crowd by introducing the Denver Broncos' John Elway and Super Bowl 50-winning quarterback Peyton Manning. But Story drew the biggest applause.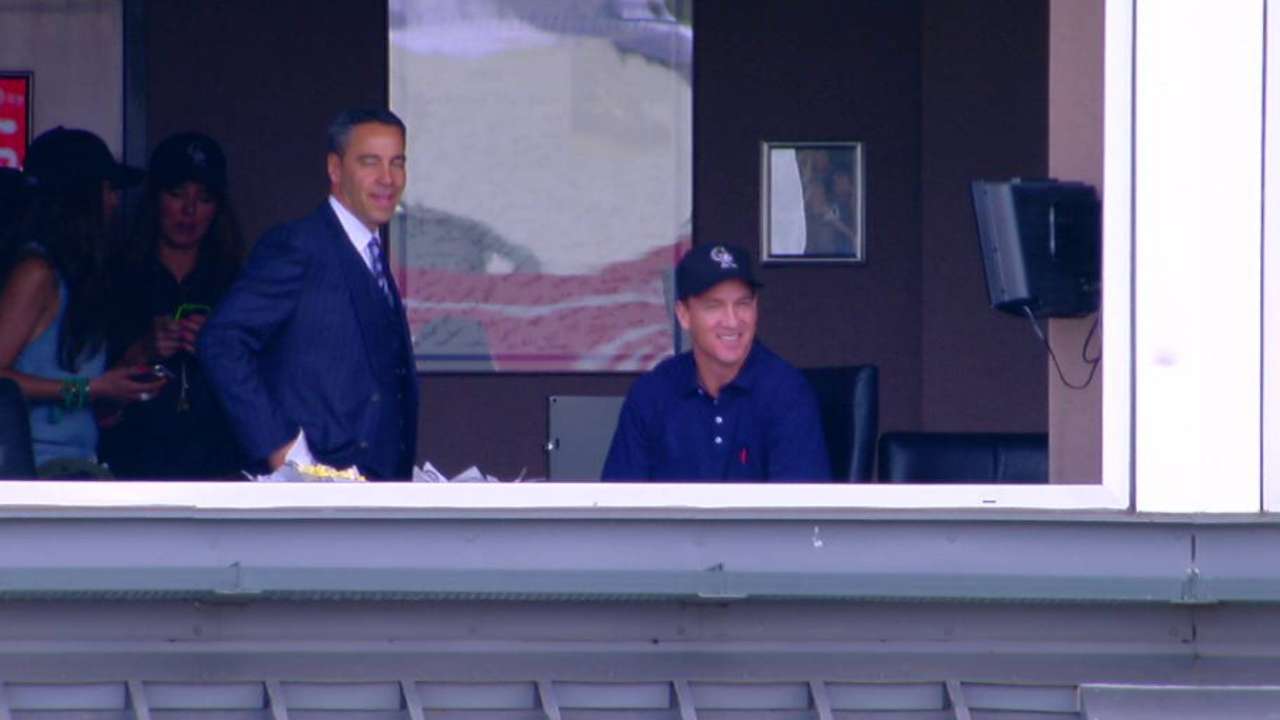 Story had donated his batting helmet and batting gloves from the opening series to the National Baseball Hall of Fame and Museum. But that may be it.
"I'm not giving up anything else," he said, smiling, hoping to hold on to the magic.
Thomas Harding is a reporter for MLB.com. Follow him on Twitter @harding_at_mlb, listen to podcasts and like his Facebook page. This story was not subject to the approval of Major League Baseball or its clubs.