Griffey fires strike to Felix before Seattle opener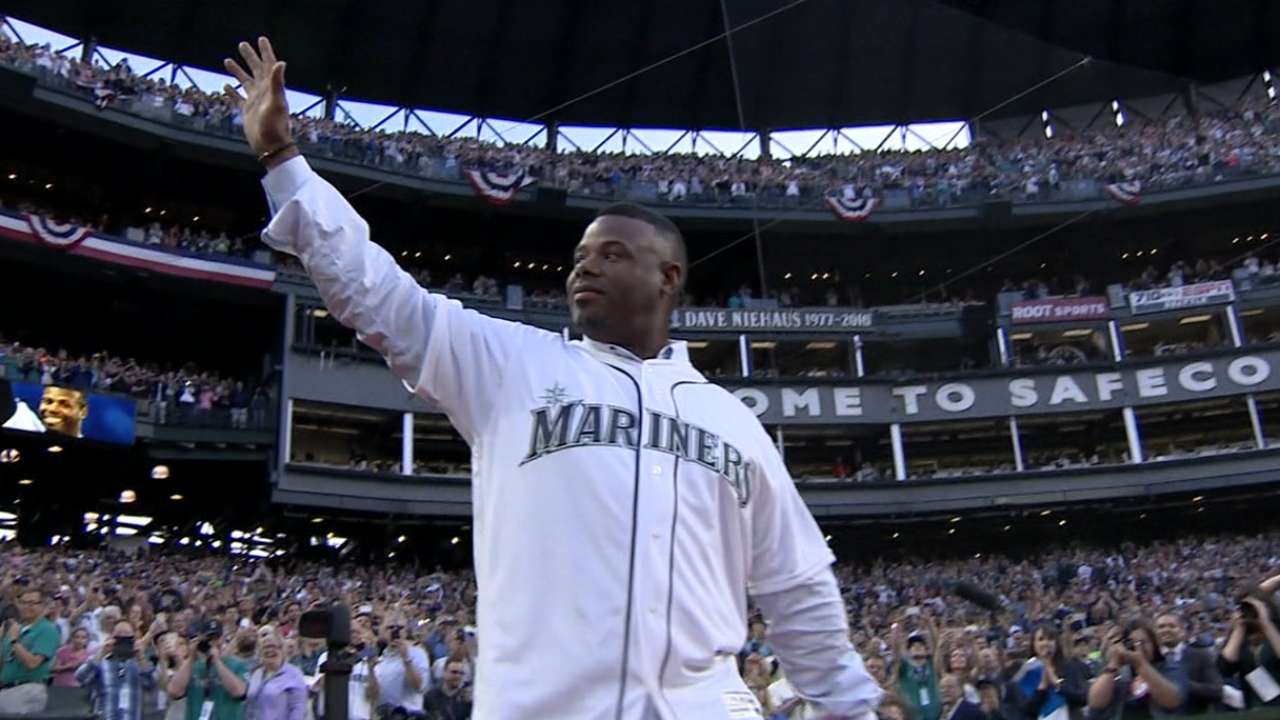 SEATTLE -- Ken Griffey Jr. celebrated the start of a new season of baseball in Seattle with the ceremonial first pitch to Felix Hernandez prior to Seattle's home-opening contest with the A's on Friday night at Safeco Field, delivering an easy toss to the thunderous roars from a sellout crowd.
Griffey, who will be inducted into the National Baseball Hall of Fame in Cooperstown, N.Y., in July, said he was "like a kid in a candy store" getting to throw out the first pitch.
"Anytime it's Opening Day, as a player or former player, it's still the greatest day in sports," Griffey said. "I'm getting to do something that not many people get to do. A player in an organization getting to throw out the first pitch, usually they have that lined up for some other folks. To be able to get to do it today is a true honor."
His goal with his first delivery was to "not embarrass myself and bounce it or throw it up to the radio booth or in the dugout."
Griffey made that easier by throwing from in front of the mound, declining to step up on the hill and fire from 60 feet, 6 inches.
"I wouldn't want a pitcher coming in there and tearing up my batter's box, so I feel a starting pitcher should have the first toe on the rubber to start the year," he said.
The event kicked off what figures to be a momentous few months for Griffey, who will be inducted on July 24 and have his number retired by the Mariners at Safeco Field in a Griffey celebration weekend Aug. 5-7.
Griffey said life has been good since he was elected into the Hall of Fame with the highest voting percentage of any player in history back in January.
"It's been really good," he said. "I've been playing golf … and playing golf. For me, it's trying to dodge things, not get caught up. I've got great support network of friends and family who don't come to my house to talk about Hall of Fame stuff. But the Hall of Fame has also been pretty cool about not bothering me. They did come to the house and take a couple things they didn't have from my collection.
"I have been giving some thought to my speeches," Griffey said. "I haven't sat down and put pen to paper yet, but I do have some things that I want to talk about."
The pregame ceremonies also included a moment of silence and tribute for former outfielder Dave Henderson, the team's original first-round Draft pick, as well as longtime team physician Larry Pedegana, who both passed away over the offseason.
Make-A-Wish child Jesse Bailey of Spanaway, Wash., made the ceremonial run around the bases. Bailey, 13, is being treated for a brain tumor and attended his first game at Safeco. He was greeted at home plate by Robinson Cano, Hernandez and Kyle Seager.
The pregame also included a presentation of the 2015 American League Silver Slugger Award to Nelson Cruz.
Greg Johns is a reporter for MLB.com. Follow him on Twitter @GregJohnsMLB, read his Mariners Musings blog, and listen to his podcast. This story was not subject to the approval of Major League Baseball or its clubs.