Mix it up: Tigers counting on K-Rod's savvy
With veteran featuring changeup early, Ausmus looking for more variety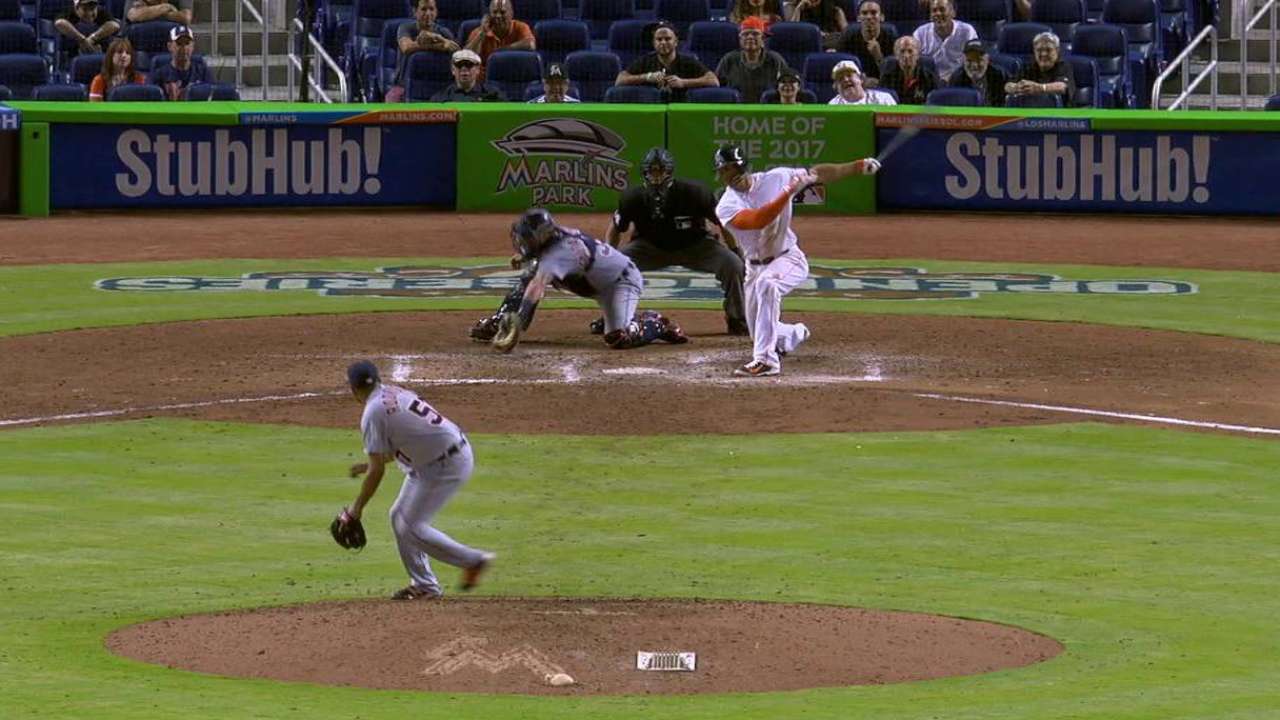 DETROIT -- Francisco Rodriguez extended his career as a closer by using a changeup that left hitters off balance and avoided hard contact. He threw that changeup a lot over his first two outings as a Tiger in Miami.
Twenty-one of Rodriguez's 31 pitches over his first two games were changeups, compared to eight fastballs and two breaking balls, according to data from STATS. By comparison, Rodriguez threw changeups on 43 percent of his pitches last year, and 29 percent in 2014.
The changeup got its share of swings and misses from Marlins hitters, but it also was struck for the majority of the Marlins' hits. His key strikeout of Giancarlo Stanton to wrap up his first save in a Detroit uniform Wednesday came on a curveball that corkscrewed out of the strike zone and into the dirt as the All-Star slugger flailed at it.
Expect Rodriguez's pitch mix to adjust as the season goes on.
"I think you have to be careful," manager Brad Ausmus said Friday morning. "If you're only using the changeup, I think hitters become aware of that. He does have two other pitches, obviously the fastball and then the breaking ball. The breaking ball was really his go-to offspeed pitch early in his career."
His current offspeed should improve not only with a better mix, but with a better fastball. So far, he has averaged 87.6 mph on the heater, two mph under his average last year. However, he hit 89 mph on radar guns on his fastball in Spring Training.
Rodriguez was up front about his blown save Tuesday and said he had tweaks to make.
"The first one didn't go as he, or we, would've hoped," Ausmus said. "The second one, he faced two hitters, struck one out, got the save, that's more kind of what we expect out of him. Quite frankly, I haven't changed my opinion of him just from two outings.
"He's a very intelligent pitcher who's done this for a long time and won't get rattled. Even when things weren't going his way the other night, you could tell he was confident in himself and that he felt like he was going to get out of it. There's an aura about him of confidence that I think can be a little bit infectious to the defenders around him. Now, that being said, you have to go out and perform."
Jason Beck is a reporter for MLB.com. Read Beck's Blog, follow him on Twitter @beckjason and listen to his podcast. This story was not subject to the approval of Major League Baseball or its clubs.