'Joe-y! Joe-y!' Rickard homers, gets curtain call
Orioles' youngster adds to feel-good story with 1st career dinger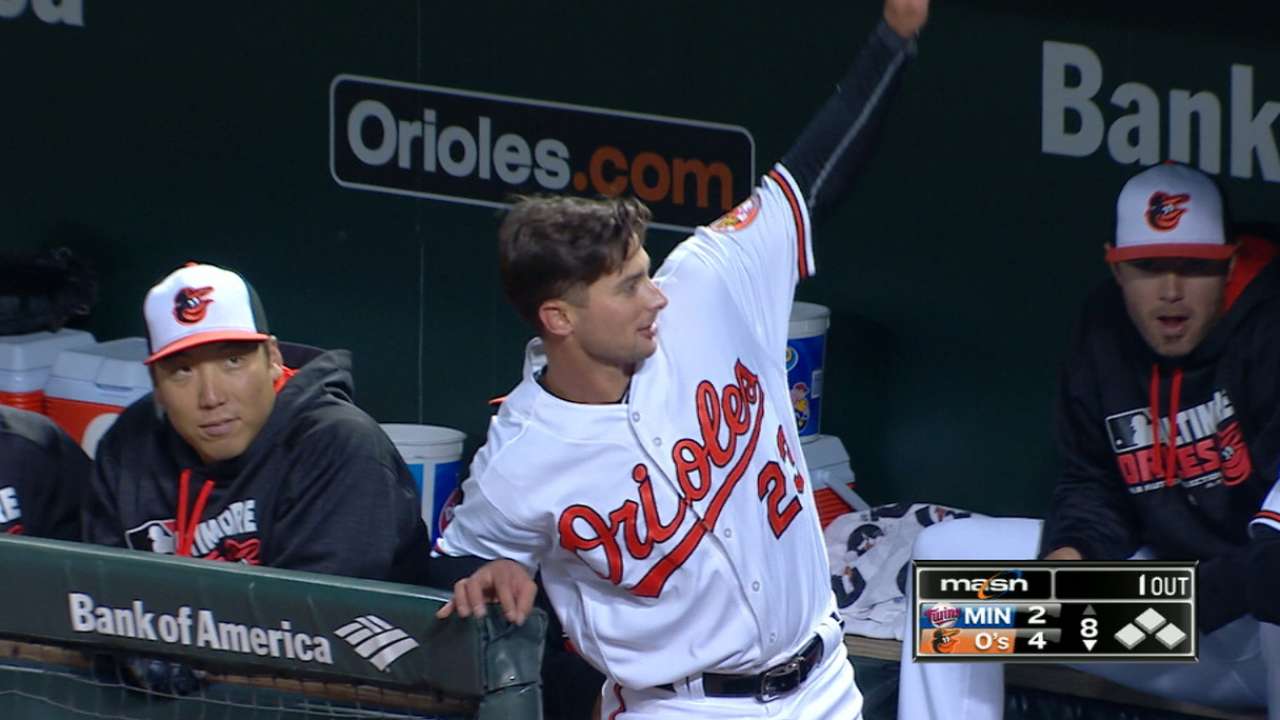 BALTIMORE -- It's been a week of firsts for Joey Rickard, and on Thursday night the Rule 5 Draft pick added another impressive line to his budding Major League career: home-run hitter.
Rickard -- batting leadoff for the first time -- sent a 1-0 pitch from Twins reliever Trevor May over the center-field fence for his first career homer. The outfielder, filling in at center for Adam Jones (rib-cage soreness), again captivated the crowd during the Orioles' 4-2, series sweeping win over Minnesota.
"He's so respectful of trying to do the right thing," Orioles manager Buck Showalter said of Rickard, who was nudged out to give a curtain call as the crowd chanted "Joe-y, Joe-y."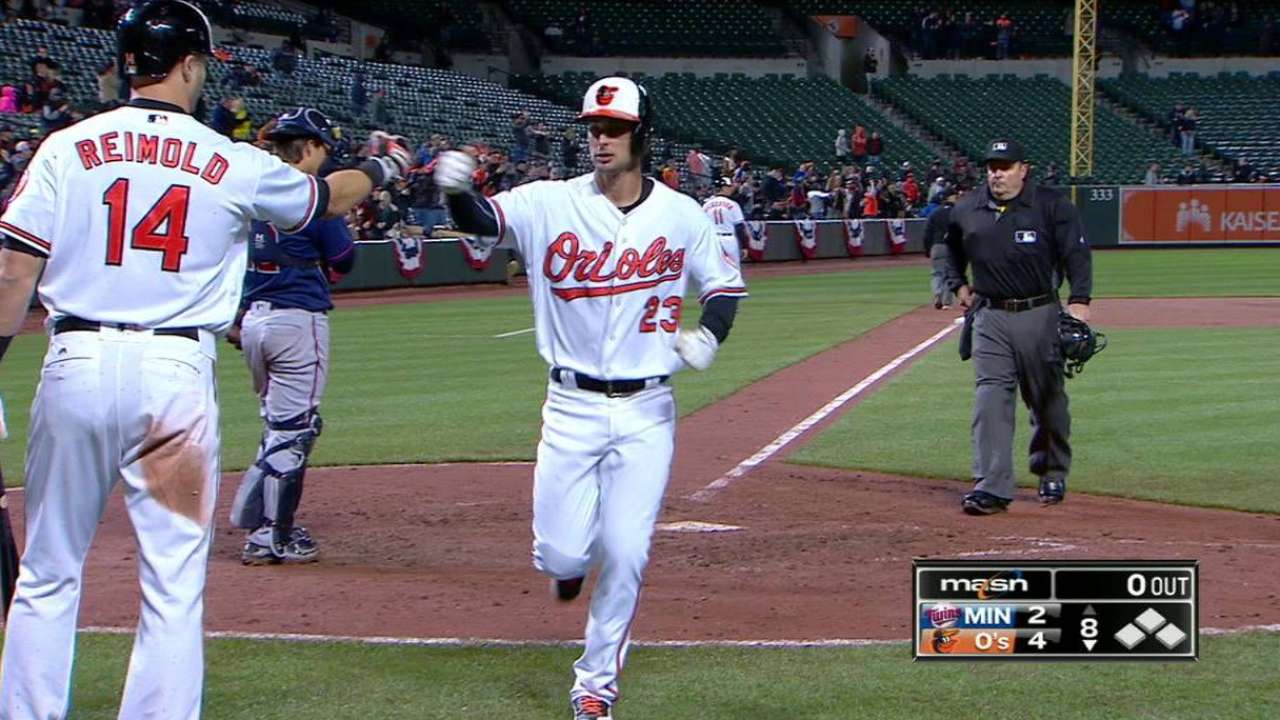 "He did the right thing."
It's out of character for Rickard, who started last year in Class-A and has been handling the rapid ascent -- which included an Opening Day start in left field -- with incredible poise.
"I kind of kept looking around at teammates to get the OK [for a curtain call], and what should I do and I finally look at J.J. [Hardy], and he just pointed up and he was like, I've got to do it," Rickard, who turns 25 on May 21, said of his quick salute at the top of the dugout. "I listen to him, he's been around, he knows what to do, so as soon as he did that I knew I had to go up there."
Even before Rickard's homer, he's been the darling of Orioles fans and subject to numerous chants. The feel-good story of the O's spring, Rickard hit just two home runs in the Minor Leagues last year, but is starting to tap more into that power swing.
"I think he hit six or seven HRs in winter ball in a short period of time. If you look at the kind of progression of him, at 23, 24, he's starting to figure out who he is," Showalter said.
"I don't think anybody pigeon-holed him into what he can do and not do. ... I'm happy for him. I'm really impressed with how he's handled the good things that have come his way these last couple months."
Rickard agreed that his time in winter ball helped make him more aggressive at the plate. And perhaps it was also the shift from No. 9 -- where he was the first two games of the season -- to the top spot on the lineup card.
"Just playing my role a little more up here, it's kind of let me focus on getting on base a little bit more," Rickard said, "but tonight it surprised me a little bit that it went out. But I'm happy it did.''
Brittany Ghiroli is a reporter for MLB.com. Read her blog, Britt's Bird Watch, follow her on Facebook and Twitter @britt_ghiroli, and listen to her podcast. This story was not subject to the approval of Major League Baseball or its clubs.