Inbox: Fair to compare Archer to Gibson?
Beat reporter Bill Chastain answers fans' questions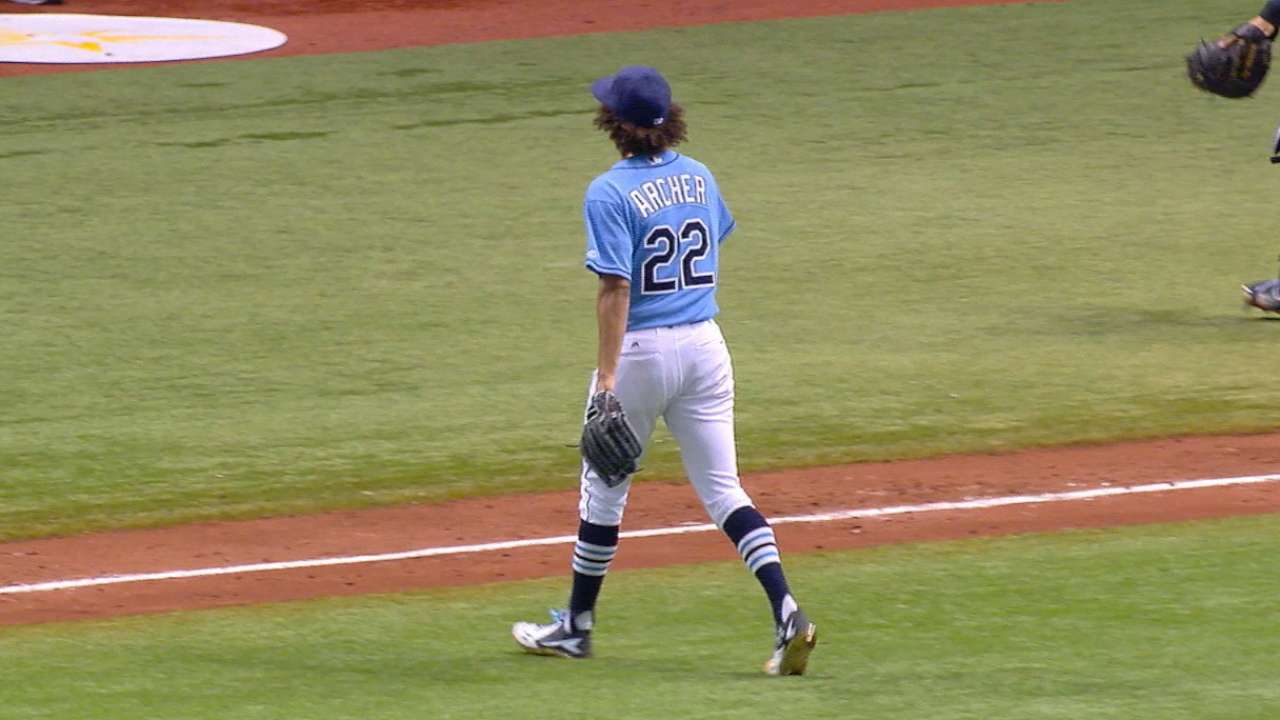 Chris Archer is the new "face of baseball," he strikes out a lot of people and he says all the right things. My question is: Why isn't he taken to task for not winning games? He hasn't won a game since last August, but everybody is hailing him as the next Bob Gibson. I'm not convinced he's the be-all, end-all he's portrayed to be.
-- Tom M., Tampa, Fla.
You are correct, Tom, in the fact that Archer's last win came against Baltimore on Aug. 31, when he held the Orioles scoreless for six innings in the Rays' 6-3 victory. Eleven of the 76 earned runs he allowed in 2015 came in his six starts after Sept. 1. He also took the loss to the Blue Jays on Sunday in the Rays' opener, but he struck out 12 in five innings, putting on display the electric stuff that has experts forecasting him as a candidate to win the American League Cy Young Award. As for him being the next Gibson, I don't think Archer is there yet, but he has the potential to be that guy. Archer is now 27 and has a 32-33 career record with a 3.33 ERA. Gibson turned 27 on Nov. 9, 1962, and he had a 34-36 record with a 3.44 ERA.
• Submit a question to the Rays Inbox
I read your story on Corey Dickerson's home runs, and I'm fascinated by the "exit velocity" you refer to in the story. Is this something we might see in future stories?
-- Carl M., Brandon, Fla.
Exit velocity is a tool MLB.com is able to use via Statcast™. I'm with you, I think it's pretty cool. After watching Dickerson's second home run this week, I was struck by how quickly the ball reached the stands. Having the exit velocity tool at my disposal, I decided to examine just how quickly it did leave the park, and I discovered it had an exit velocity of 106.7 mph. That 's moving, right? I'm don't think this stat is as meaningful as mph for a pitcher's velocity, but it does offer another way to follow -- and understand -- the action.
I'm always happy when the Rays win, but the way they won Tuesday night with the reversal of a call caught me as odd and just plain wrong. Baseball is moving toward a game that I don't recognize. Your thoughts?
-- Jim C., Tampa, Fla.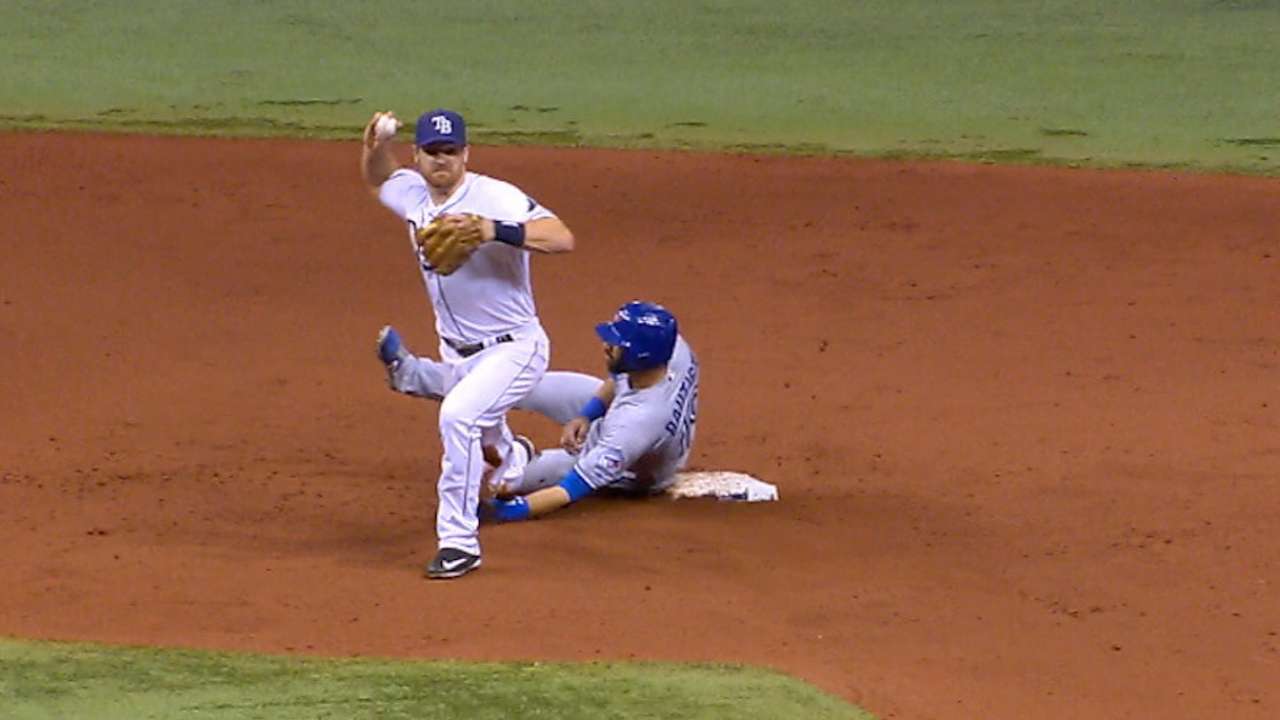 Each side had different feelings about how the new slide rule impacted the Rays' 3-2 win over the Blue Jays. Both sides had good points. My only opinion on the subject is that Major League Baseball is trying to get things right, and instant replay reviews are a part of that.
Logan Morrison is a bust. I'm a Marlins fan and I followed him there, and he wasn't any good. He tanked in Seattle, and now he seems destined to underperform with the Rays. Why didn't they just keep James Loney? They have to pay him anyway.
-- Eddie G., Fort Lauderdale, Fla.
I think it's a little early to blast Morrison for being a bust. Only four games are in the books. The Rays wanted him to be the left-handed side of a first-base platoon with Steve Pearce. Let's wait and see how this thing unfolds.
Evan Longoria is no longer the player he used to be. Longoria is still good, but for one reason or another, he lacks the pop he once had. Do you think Longoria is past prime?
-- Ken C., Tampa, Fla.
Longoria's numbers have been down the past couple of years, as compared to his numbers in earlier years, but I'm not ready to say he is past his prime. I noticed in Tuesday night's game that the Blue Jays elected to pitch to him with runners on second and third with two outs and Dickerson standing on deck. My point being, maybe Longoria will have some help around him in the order this season, which could translate to better pitches to hit and more productivity.
Bill Chastain is a reporter for MLB.com. This story was not subject to the approval of Major League Baseball or its clubs.