Deja vu in Boston: Betts replicating Pedroia
Outfielder was one of five best pull hitters in Majors last year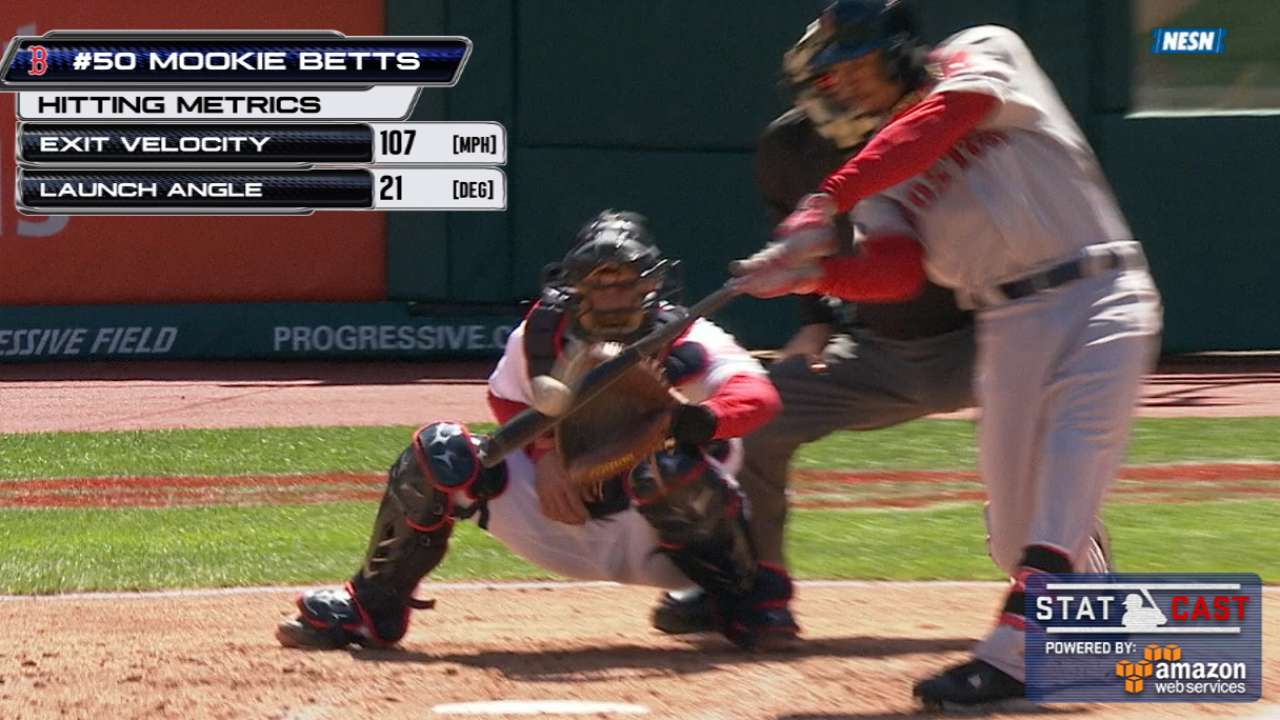 A little more than a decade ago, an undersized, often-overlooked second baseman who had climbed the ranks through the Minor Leagues and made his debut for Boston, peppering line drives off the Green Monster in Fenway Park's left field while capturing the hearts of Red Sox fans with his aggressive and well-rounded style of play.

After 10 years of Dustin Pedroia, watching Mookie Betts burst onto the scene over the past two years must feel like deja vu in Boston.

Of course, the players have their differences, the most obvious being Betts' place in the outfield. His move from his natural position at second base was dictated by Pedroia's presence there. But the similarities in stature and approach cannot be understated.
Betts vs. Pedroia, career numbers
Betts: .291 AVG / 13% K% / 8% BB% / 121 wRC+ / 254 Pull wRC+ / Non-pull wRC+ 65
Pedroia: .299 AVG / 10% K% / 9% BB% / 116 wRC+ / 175 Pull wRC+ / Non-pull wRC+ 76
• FanGraphs' Eno Sarris uses launch angle to look at power potential of Matt Duffy
In the early stages of his career, Betts has put the ball in the air a bit more often, and thus has hit for a bit more power. Pedroia has struck out less often and gotten on base slightly more. But these differences are minuscule; both have an elite control of the strike zone due to their ability to make a ton of contact while possessing the eye to draw a good number of walks. And the most striking similarity is that both inflict massive damage to the pull field.

Highest pull-field wRC+, 2015

1. Kris Bryant, 290
2. Bryce Harper, 261
3. Colby Rasmus, 260
4. Edwin Encarnacion, 257
5. Betts, 254

Last year, Betts was one of the five best pull hitters in the game, his name appearing alongside four of baseball's best power hitters in overall pull production despite his 5-foot-9 frame. His power output to the pull side, admittedly aided somewhat by the Green Monster, exceeded that of Josh Donaldson's. Pedroia, meanwhile, has been among baseball's most consistent pull threats for a decade.

Red Sox hitting coach Chili Davis is quick to point out, though, that while both do the brunt of their damage to the pull side, neither hitter goes to the plate with a pull-field approach.

"They're not extreme pull hitters," Davis said during Boston's season-opening series in Cleveland. "I think Pedey is a better hitter when he uses the whole field, I think Mookie's a better hitter when he uses the whole field. They just cover that inside pitch very well. The reason why they cover that pitch in very well is that their swing on that pitch in is so short and so direct and compact. It's like an automatic area for them."
Both stand shorter than 5-foot-10, both do the majority of their damage to the pull field, both do so thanks to their ability to turn on middle-in pitches. Yet, even with all those similarities, both players agree that up until the point of contact, there's very few similarities in how they get there.

Let's look at a couple of home-run swings to the pull field. Betts made it easy, by hitting one in his very first game of 2016. For Pedroia, we'll go back to 2015.
Mookie Betts Is Dustin Pedroia All Over Again | https://t.co/juigB6vZAW pic.twitter.com/LLIOt5LNta

— August Fagerstrom (@AugustFG_) April 7, 2016
A defining characteristic of Pedroia's swing is his unusually long stride. Pedroia's power is generated from his lower half, where his long stride allows him to drop the back shoulder and generate a bat path that can create loft, which might otherwise be difficult for a player of his height.

"With the stride, I'm just trying to create separation and generate power," Pedroia said. "Everybody's different. That's how I put all 165 pounds into my swing. Once my foot gets down and I'm separated from that point, our bat paths are a little similar during our first movement toward the ball."

If the defining characteristic of Pedroia's swing is his stride, for Betts, it's his hands. Pedroia described them as "lightning quick." Both he and Davis mentioned the exceptional rhythm in Betts' swing, between his hands and his lower body. The violence found in Pedroia's swing is fluidity in that of Betts.

"Everything about him syncs up," Davis said. "When he syncs up with his little hand rhythm and his load, when they sync up and he's doing it all right, he is that much better of a hitter."

"He's got a little more rhythm with his lower body than I do," Pedroia agreed, "which is going to put him in a better spot to consistently do it more. I think he weighs like 25 pounds more than me, so when they start pitching him away all the time, he'll be able to drive the ball out to right field as he gets older."


And Pedroia's assumption is precisely what's on Betts' mind. The scouting report on Pedroia has been common knowledge for years -- "they want me to hit singles to right, not doubles to left," he said -- so it's no surprise that more than 60 percent of the pitches Pedroia saw last season came on the outer half, one of the 20 highest rates in baseball by a qualified hitter. The league was quick to adjust to Betts, too. In fact, his rate of outer-half pitches seen was identical to Pedroia's. So they're already "pitching him away all the time," as Pedroia envisioned might happen, and Betts is already focused on making the adjustment.

"You never want to lose a strength, but I've also got to try and be a complete hitter," Betts said. "The great hitters use the whole field, and that's a goal of mine. It doesn't have to be right now, but eventually throughout my career I want to be able to use the whole field."

Betts admitted that, at his size, he probably isn't going to be hitting opposite-field homers. He's starting with an advantage in size over Pedroia, though, and with added strength, all parties feel confident that Betts could one day develop power to all fields. The Red Sox have been fortunate enough to have one Dustin Pedroia all these years, and now they've got another one. The scary part is, the new one is just 23, and he's only getting better.
A version of this article first appeared at FanGraphs.com. This story was not subject to the approval of Major League Baseball or its clubs.