Hamilton's fielding gems ease shoulder concerns
Speedy outfielder makes pair of spectacular diving plays vs. Phillies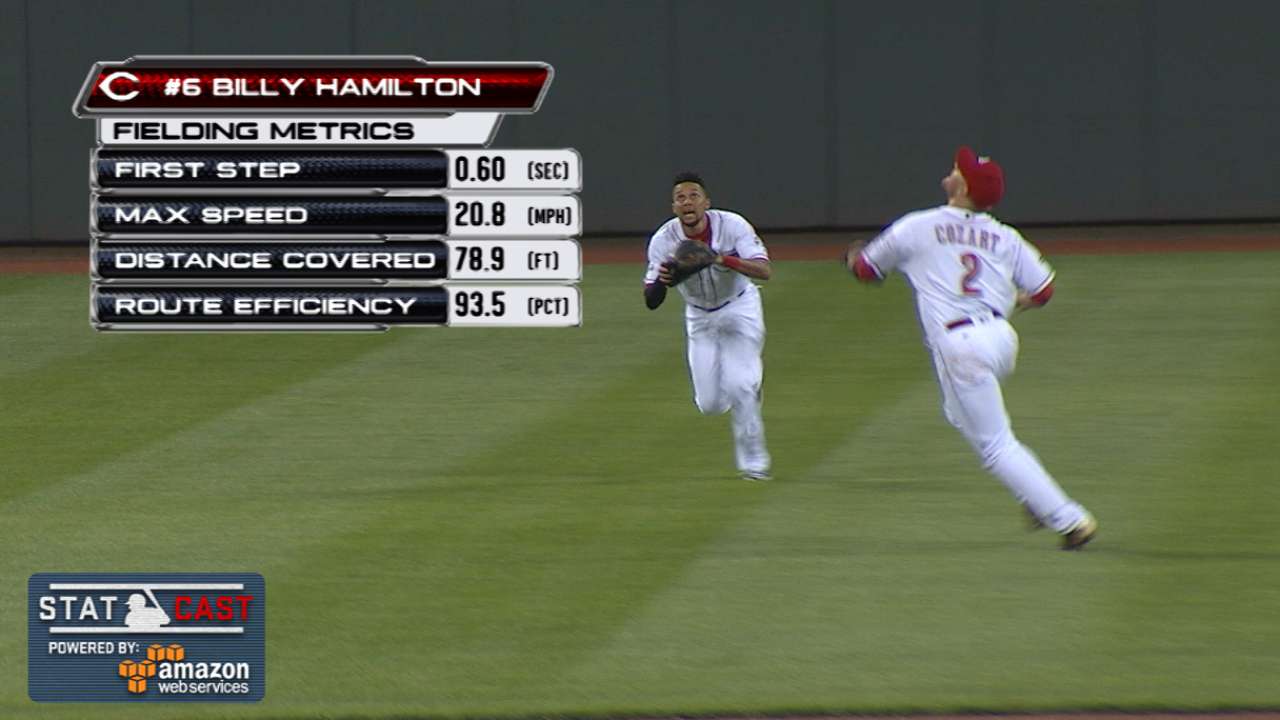 CINCINNATI -- Reds center fielder Billy Hamilton has made two spectacular diving catches in the first two games of the season. Besides providing instant highlights, he also proved that his surgically-repaired right shoulder can handle making such plays.
Hamilton needed surgery in September to repair a torn labrum in his shoulder, stemming from an Aug. 18 diving play he made vs. the Royals.
"In Spring Training, when I dove for a couple, I was kind of worried about it," Hamilton said on Thursday. "Now in the season, I don't even think about it. I just want to make the play and not even think about the shoulder. If I hurt it again making a diving play, it happens. I'm going to dive and not worry about it."
In the ninth inning of Monday's 6-2 victory, Hamilton made a long run toward right-center field and laid out to snag Cedric Hunter's tailing line drive for the second out -- moments after Tyler Holt made his own diving catch in left field. According to data provided by Statcast™, Hamilton covered 75.2 feet of ground with 93.1 percent route efficiency. His top speed running was 20.2 mph.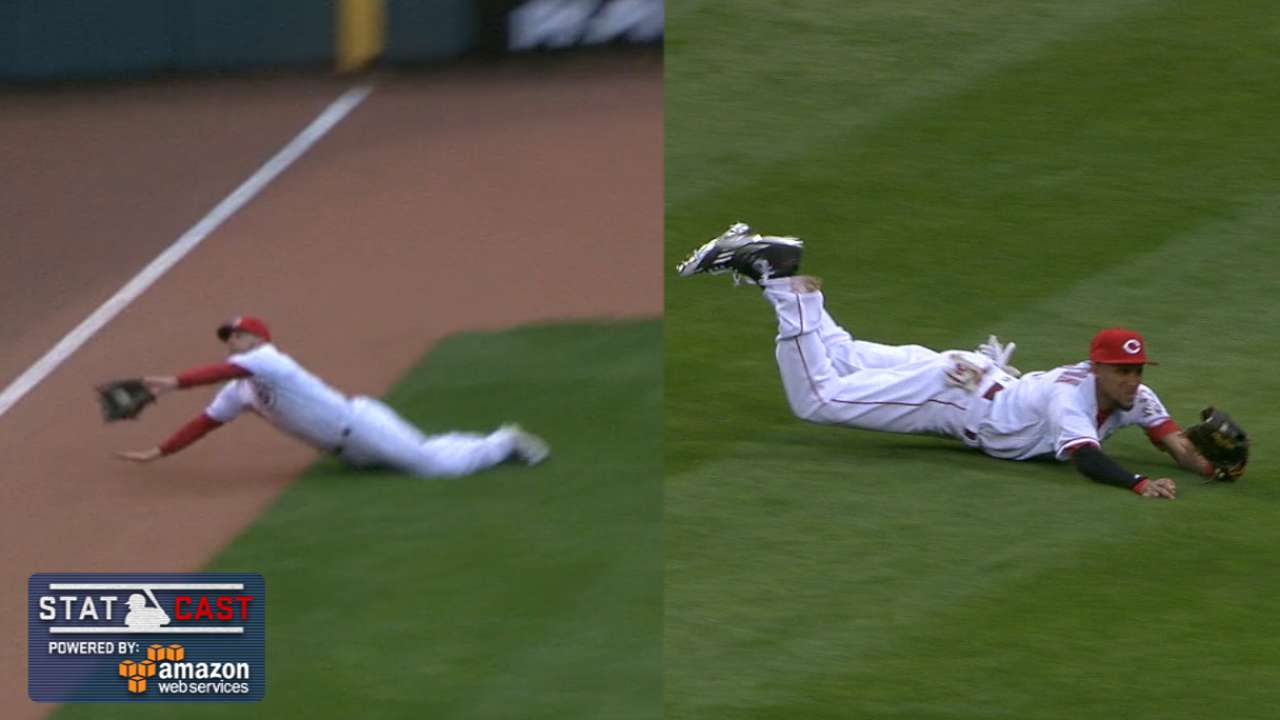 During the seventh inning with a runner on second base in Wednesday's 3-2 win, Cincinnati was trailing by a run when Hunter hit a fly to short center field. Hamilton made a long run in and dove across the wet grass for the catch while narrowing avoiding a collision with shortstop Zack Cozart. Statcast™ data showed that Hamilton reached a max speed that time of 20.8 mph, covering 78.9 feet with a route efficiency of 93.5 percent.
Hamilton, who did not start on Thursday vs. the Phillies as a pre-planned day of rest for his shoulder, entered the day 0-for-5 with a walk, three strikeouts and a run scored. Being able to contribute on defense gave him a charge, however.
"Of course, especially when you're not doing as well as you want to on the offensive side yet," Hamilton said. "You want to be able to take something good out of the game. You want to save a run, a big-time run and give us a chance to win in the ninth. I can always take something out of a game with a defensive play. I love it. It was fun for me out there."
Because of an early spring setback with his shoulder, Hamilton didn't get as many at-bats as he would have liked coming off a 2015 season where he struggled offensively. He didn't show signs of being in sync at the plate until the final few games in spring. Despite not hitting well yet in the regular season, he can feel a difference from camp.
"I'm feeling way better," Hamilton said. "I'm able to see pitches better. Last night was a night where you take it and move forward. I will keep working. I feel really good at the plate. I feel like my swing is better, I just have to get pitches I want to hit."
Mark Sheldon is a reporter for MLB.com. Read his blog, Mark My Word, follow him on Twitter @m_sheldon and Facebook and listen to his podcast. This story was not subject to the approval of Major League Baseball or its clubs.