Missed chances hurt D-backs in loss to Rox
Bases-loaded situations in third and seventh produce only two runs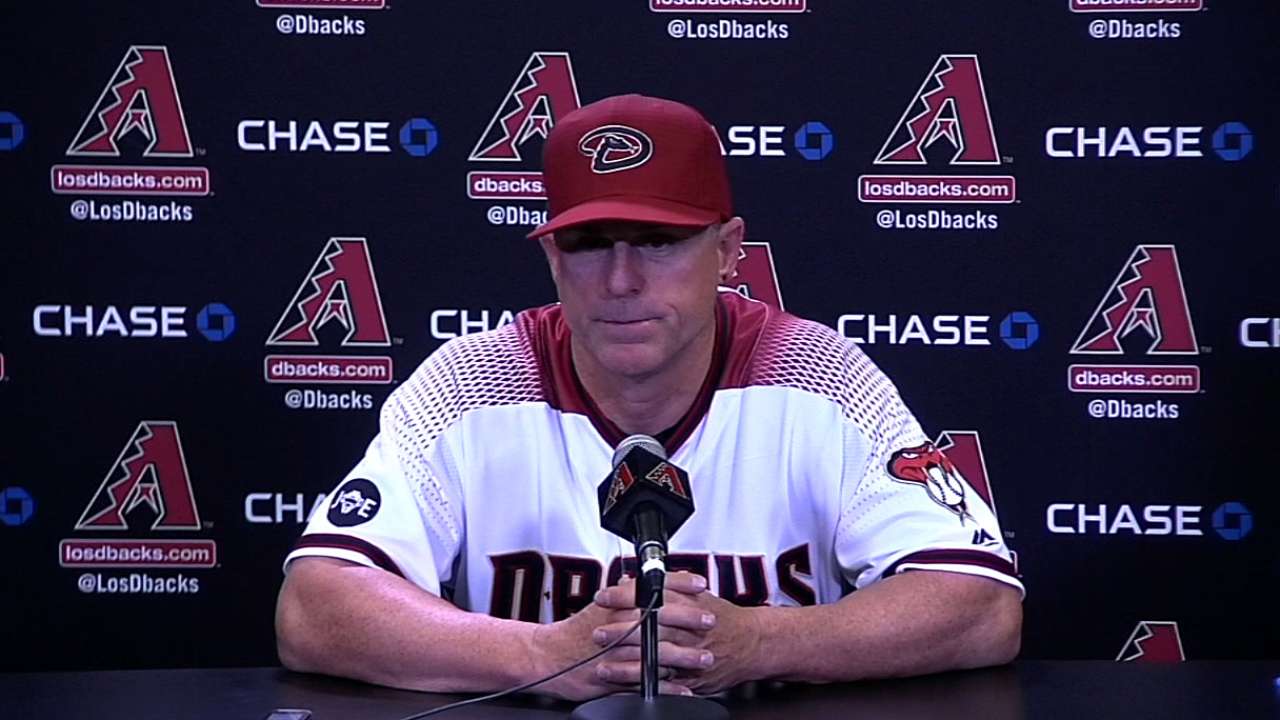 PHOENIX -- When you're facing an opposing hitter who is in the midst of a record-setting debut, and an offense that ties a club record for home runs in a three-game road series, missing out on scoring opportunities isn't advisable.
Yet that's what the D-backs did in two innings on Wednesday, and it cost them in a 4-3 loss to the Colorado Rockies in a series-deciding game at Chase Field.
"We had some situational hitting issues that sort of cropped up," said D-backs manager Chip Hale. "We had a lot of those last season.
"We had done a pretty good job in Spring Training and in the first two games [of the regular season] of getting guys in from third with less than two outs. We just didn't put the ball in play a couple of times, and left some guys on base."
The D-backs played from behind from two batters into the game. That was when Rockies rookie shortstop Trevor Story belted his fourth homer in three games, giving them a 2-0 edge.
LeMahieu hit a solo homer in the top of third, and the D-backs got to Rockies starting pitcher Tyler Chatwood for two in the bottom of that inning, but could have had more.
After singles by losing pitcher Patrick Corbin and Nick Ahmed, Chatwood made matters worse by throwing wildly to second base after fielding a comebacker by Jean Segura. So instead of a one-out, first-and-third situation, Chatwood had to face Chris Owings with the bases loaded.
Owings hit into a run-producing fielder's choice, and then Chatwood hit Paul Goldschmidt with a pitch to reload the bases. David Peralta scored the second run on another forceout, but Chatwood got yet another grounder to end the threat.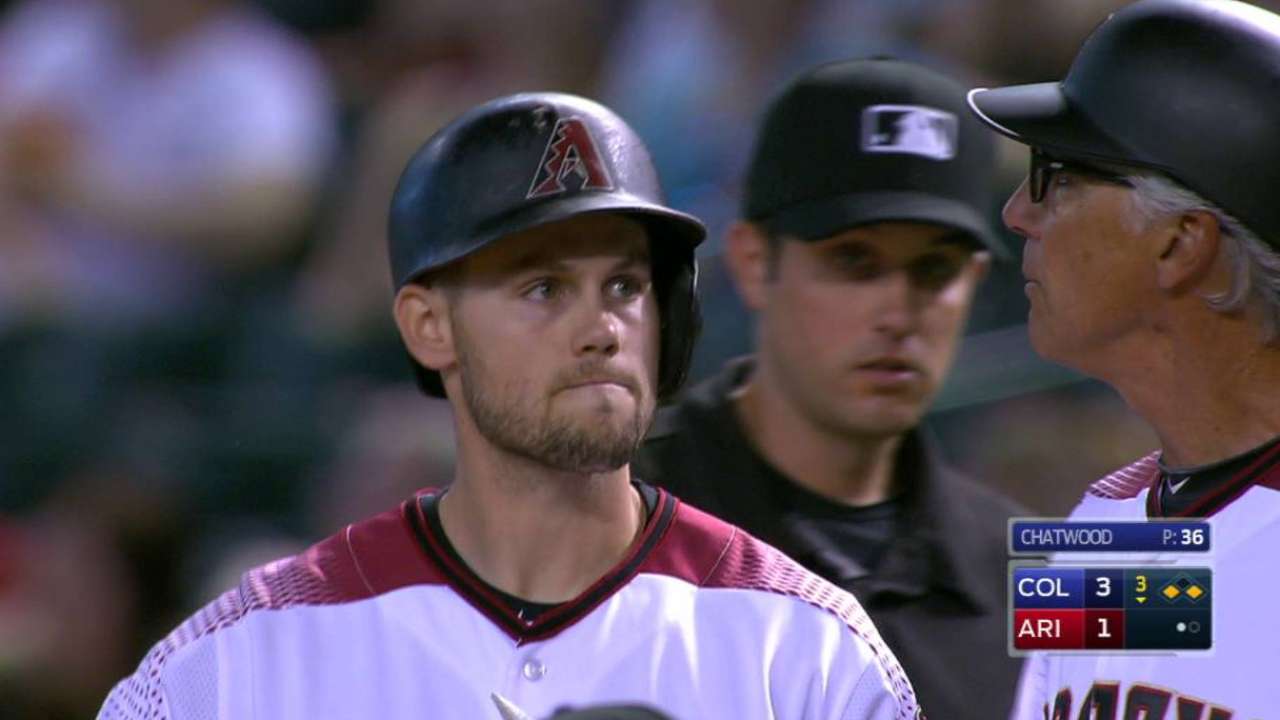 "We were one hit away the whole game,'' Goldschmidt said. "We definitely could have used one more hit. But they made their pitches. Give them credit."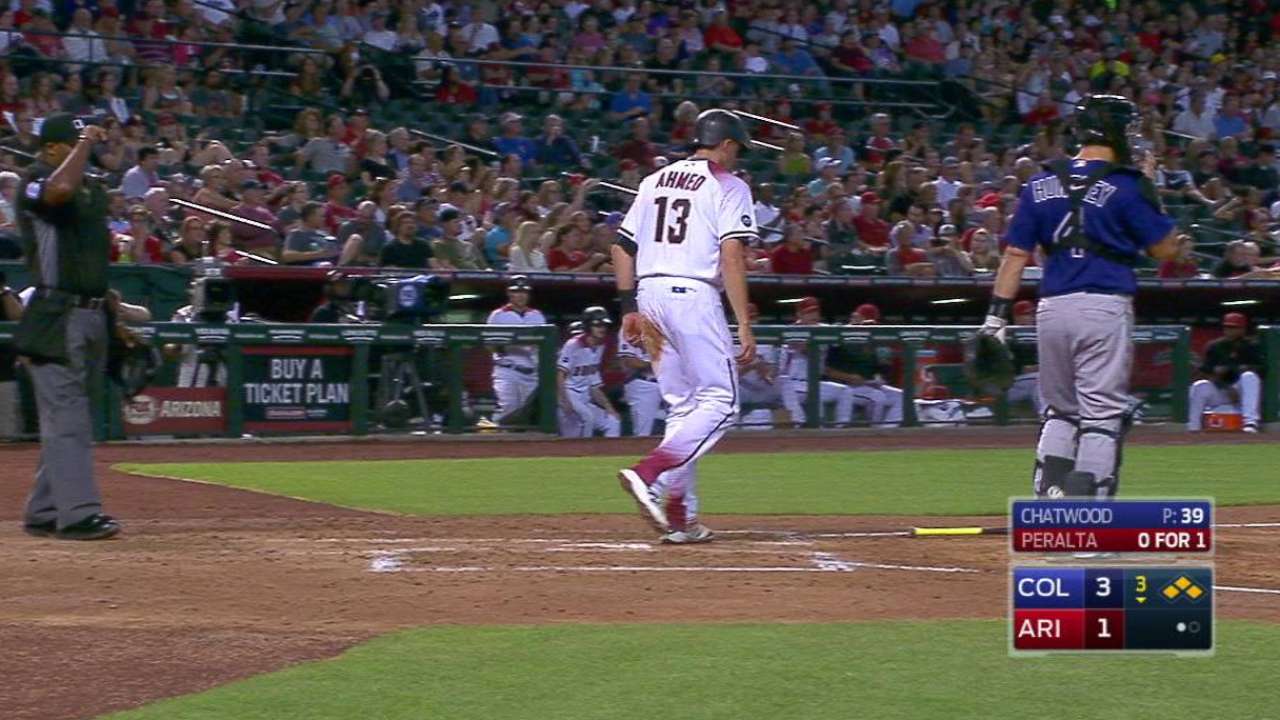 The Rockies' 10th homer of the series (which tied a club record) came off Ryan Raburn's bat in the top of the seventh. The D-backs responded in the bottom of the inning with singles by pinch-hitter Phil Gosselin and Segura, bringing up Owings in a one-out, first-and-third situation.
But Owings struck out against hard-throwing rookie Miguel Castro, who relieved Chatwood after the Segura hit. Goldschmidt then was pitched around for a walk to again load the bases. Rockies manager Walt Weiss turned to left-hander Boone Logan to face Peralta, who bounced out to second to end the inning.
"We were trying to even it up the whole game, but we weren't able to do it," Goldschmidt said.
Tony DeMarco is a contributor to MLB.com. This story was not subject to the approval of Major League Baseball or its clubs.