Clash of rivals: Dodgers-Giants battle leads today's action
Division foes Angels, Rangers also reunite; Lackey set for Cubs debut
The Major League schedule is a bit light Thursday, as some teams get an off-day, some finish up their first series of the season, and others move on to their second.
But there is still plenty to look forward to, including the latest edition of one of the sport's fiercest rivalries. Here are four games to keep an eye on (all times ET):
Reds rookie Robert: PHI@CIN, 12:35 p.m.
With the Cincinnati rotation beset by injuries, the club is turning to its No. 2 prospect, right-hander Robert Stephenson, for Thursday afternoon's start against the Phillies. Stephenson, 23, is rated by MLB Pipeline as baseball's No. 34 prospect, and although this particular stay in the Majors could be brief, he is expected to be a big part of the team's future. In 25 starts between Double-A and Triple-A last season, Stephenson posted a 3.83 ERA and .218 opponents' average, striking out 9.4 batters per nine innings but also walking 4.7. He will oppose righty Charlie Morton, who is making his Phillies debut.
A rivalry renewed: LAD@SF, 4:35 p.m.
Not only is Thursday the Giants' home opener at AT&T Park, but it's also their first meeting this season with the rival Dodgers. Right-hander Jake Peavy will take the mound for San Francisco, opposite L.A. lefty Alex Wood, as the Giants try to take a step toward halting the Dodgers' streak of three straight National League West championships. Despite its second-place finish, the club up north took 11 of the 19 matchups last year, including eight of 10 by the Bay. However, during their final series of 2015, the Dodgers clinched the division with a Clayton Kershaw shutout at AT&T Park on Sept. 29.
Another new Cub: CHC@ARI, 9:40 p.m.
Jason Heyward and Ben Zobrist already made their Cubs debuts this season, and now it's John Lackey's turn. Like Heyward, the veteran right-hander defected from the rival Cardinals over the winter, signing a two-year, $32 million contract to join good buddy Jon Lester in the Chicago rotation. As a 36-year-old in 2015, Lackey enjoyed his best season since at least '07, posting a 2.77 ERA over 33 starts.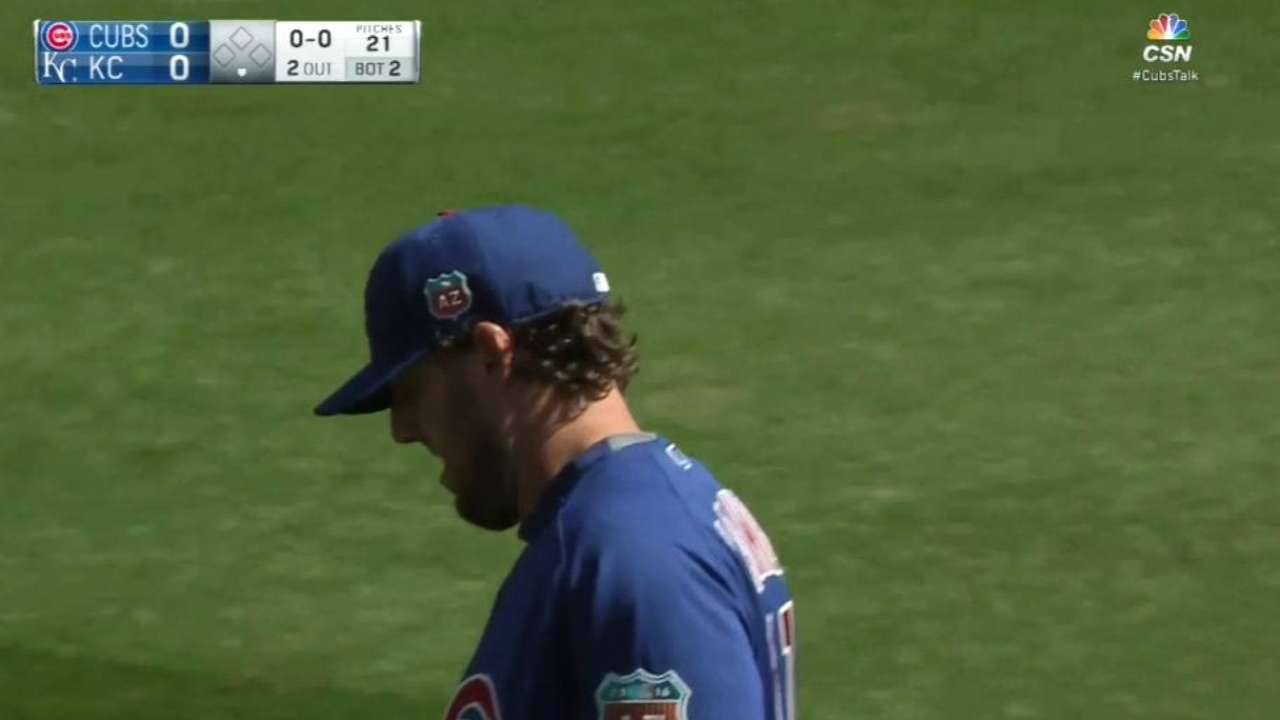 AL West showdown: TEX@LAA, 10:05 p.m.
When the Rangers and Angels last met, they were closing the 2015 regular season with what turned out to be a memorable four-game split in Texas. The Halos, who won 12 of 19 in the season series, nabbed one of their craziest victories of the year by scoring five runs in the top of the ninth for an 11-10 triumph on Oct. 3, in the penultimate game on the schedule. In the end, however, the Rangers held on for an American League West title, while the Angels fell one game short of the Astros for the second Wild Card spot. Now the clubs start a four-game series in Anaheim, with the Angels' Hector Santiago squaring off against fellow lefty Derek Holland.
Andrew Simon is a reporter for MLB.com. Follow him on Twitter @AndrewSimonMLB. This story was not subject to the approval of Major League Baseball or its clubs.