Gray outduels Rodon for A's first win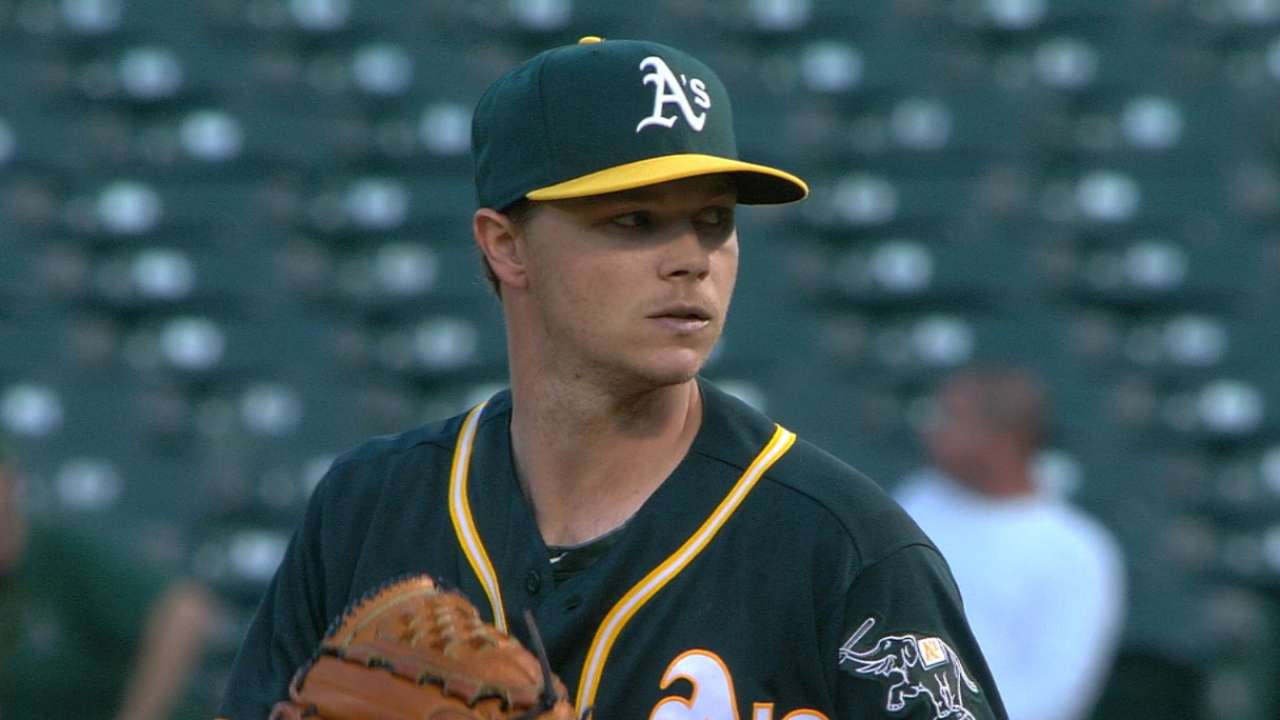 OAKLAND -- Sonny Gray outdueled Carlos Rodon, firing seven innings of one-run ball with just three hits allowed in his season debut. Mark Canha homered in support of the ace as the A's pulled out a 2-1 victory over the White Sox at the Coliseum on Wednesday for their first win of the season.
"Sonny was Sonny," A's manager Bob Melvin said. "We've seen him pitch that type of game often. Especially when we lost a couple of tough ones, I think he gets even more inspired to be the guy to go out there and get deep in the game and give us a chance to win. He did."
Gray, who was scratched from his Opening Day start on Monday because of the flu, worked around four walks and struck out five, the lone run off the right-hander coming in the third inning when Austin Jackson doubled and later scored on Jimmy Rollins' sacrifice fly. Right-hander Ryan Madson notched the save with a scoreless ninth.
• Gray's belated debut is worth the wait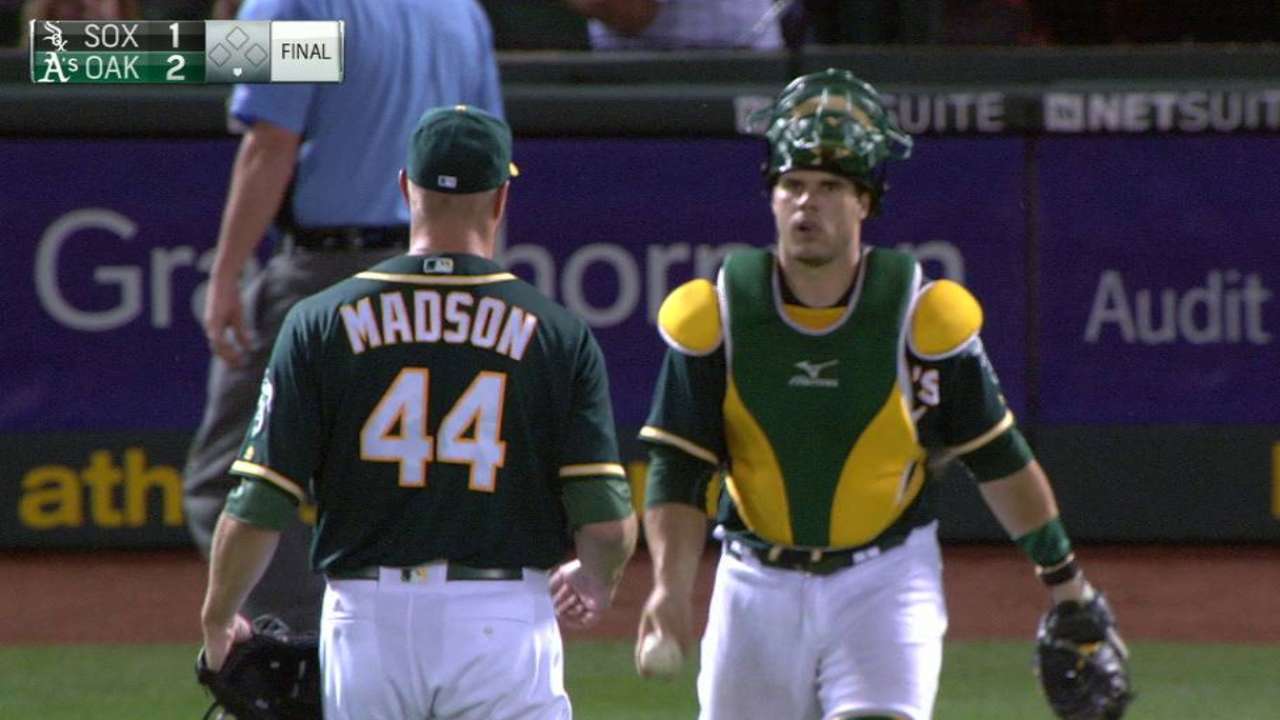 "It was a big game for us," Gray said. "You definitely don't want to start 0-3, and we kind of needed somewhat of a deeper start."
"We were chasing some stuff away. He had good movement on that when he needed to," White Sox manager Robin Ventura said of Gray. "Caught us being aggressive and wasn't throwing strikes when we were looking for strikes. He probably wasn't feeling that great but he's still a very talented pitcher and he has great stuff."
The left-handed Rodon also made it through seven innings, yielding seven hits -- including a single to Billy Burns on the first pitch of the game. Khris Davis followed with his own base hit, and Jed Lowrie got the A's on the board with a sacrifice fly, giving him five RBIs in this four-game series, which concludes at 12:35 p.m. PT on Thursday and will be available free on MLB.TV.
• Rodon settles in after early runs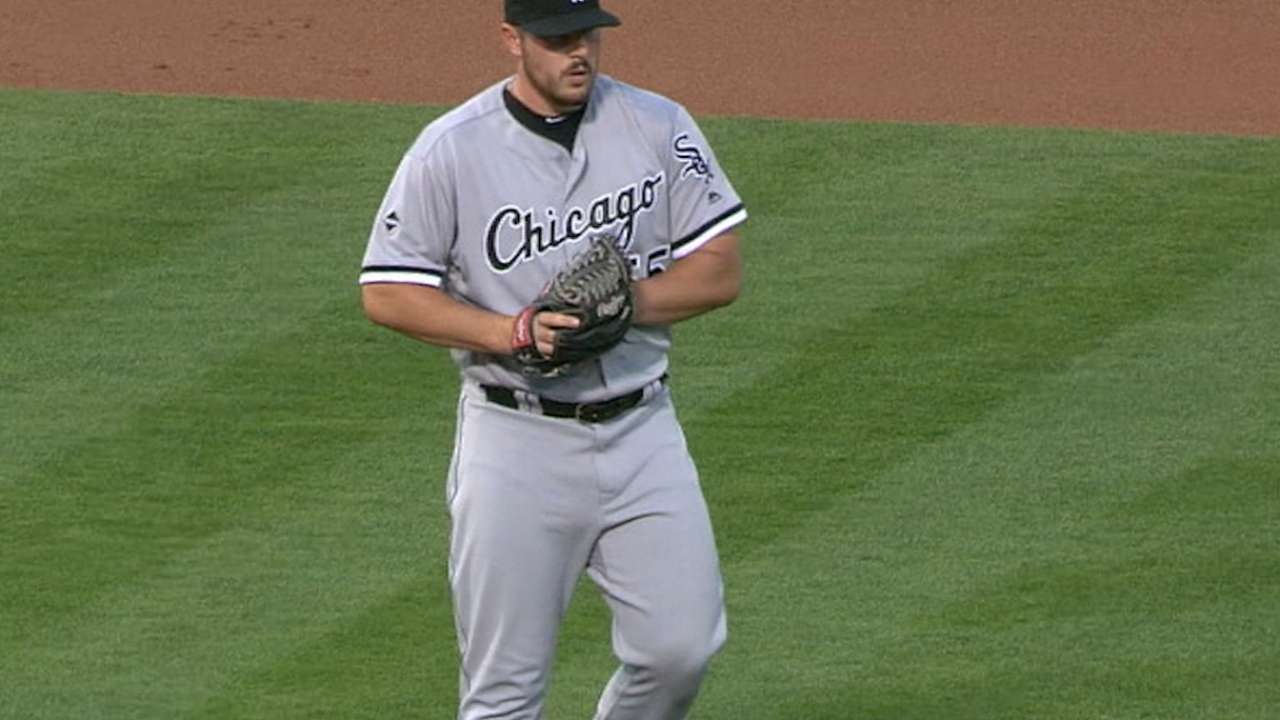 MOMENTS THAT MATTERED
Platoon power: Melvin has promised to find at-bats for Canha against left-handers, and on Wednesday that meant a rare start in right field, just the second of Canha's career. Canha made good on the decision by coming up with Oakland's first home run of the season, a solo shot to right field off Rodon with one out in the second on the first pitch. Canha hit 16 home runs as a rookie last year.
Be aggressive: The White Sox scored a run in the third on Rollins' sacrifice fly, but it was more a tribute to good fundamental baseball. Jackson opened with a double, moved to third on Adam Eaton's grounder to second and got the go-ahead from third-base coach Joe McEwing on Rollins' short fly to Davis in left. Davis' throw was well off the mark.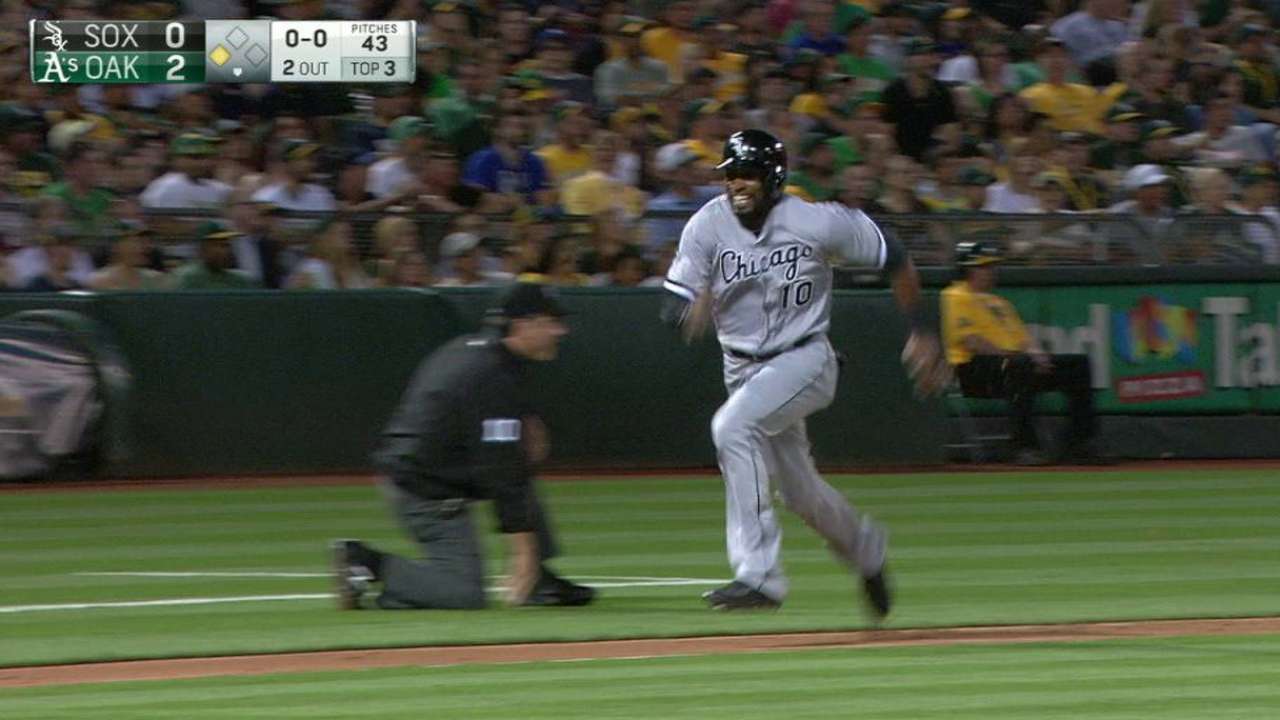 Axford delivers: The A's found themselves on the wrong end of a challenge in the eighth inning when White Sox leadoff man Eaton was confirmed safe at first base on an infield single, but right-hander John Axford managed to wipe him off the bags anyway, by getting Rollins to ground into a critical double play that capped an eight-pitch battle.
"Those are veteran guys that aren't afraid to pitch with some guys on base," Melvin said. "Ax has been really good about being quicker to the plate. There was a time when he had trouble slide-stepping and being quick to the plate, and he had a couple base runners on that he needed to be quick to the plate to hold the running game down, and he did. Very effective."
Missed opportunities: Singles from Eaton and Melky Cabrera put the leadoff hitter on base in the eighth and ninth innings, respectively, for the White Sox in a one-run game. But Ventura decided against the bunt in both cases. Rollins hit into a double play in the eighth, after trying to go the other way to left against a pronounced shift, and the White Sox never got a runner to second in the ninth, with catcher Alex Avila striking out to end the game.
"On the road, you want to try to get a little more than that," Ventura said. "You're looking to win it and we had guys coming up that we liked. We thought about it, but we wanted to get a couple there."
QUOTABLE
"He's a [darn] good pitcher. I asked him, 'How are you feeling?' and he said, 'Not too good.' It didn't seem that way." -- Avila, on Gray
WHAT'S NEXT
White Sox: Signed to a one-year, $3 million deal as a free agent, Mat Latos provides the right-handed relief among a quartet of southpaws in the White Sox rotation for the finale of this four-game set, which begins at 2:35 p.m. CT on Thursday and is available free on MLB.TV.
A's: Right-hander Kendall Graveman makes his season debut Thursday, and he'll be looking for his first win since July 4. Graveman lost each of his final five decisions last year before succumbing to an oblique strain that prematurely ended his season. The series finale is available live for free on MLB.TV. at 12:35 p.m. PT.
Jane Lee and Scott Merkin are reporters for MLB.com. This story was not subject to the approval of Major League Baseball or its clubs.