Bauer concerned with winning, not role in 'pen
Francona said right-hander will likely make some starts this season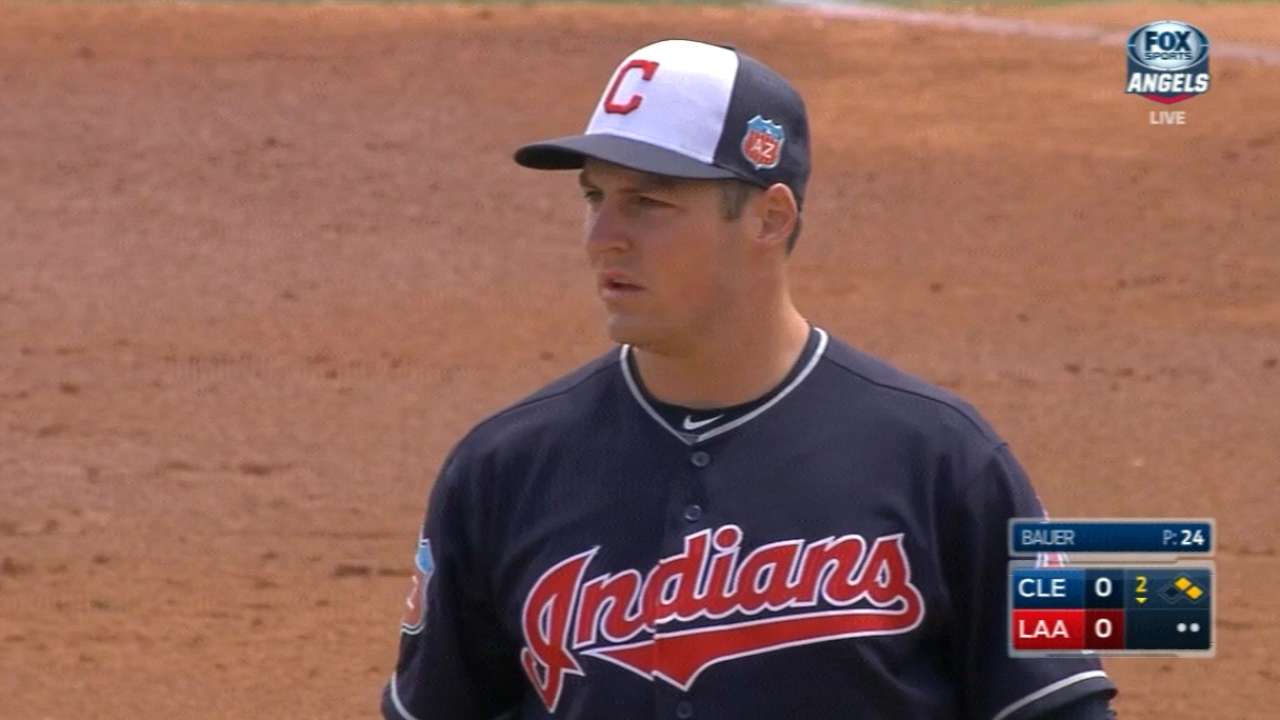 CLEVELAND -- Trevor Bauer needed time to absorb the news that he would begin this season in the bullpen for the Indians. The right-hander waited a week before inviting reporters to his locker on Wednesday afternoon to discuss the club's decision.
Bauer kept his comments succinct.
"As long as the team wins," Bauer said, "everything is fine. It will all work out."
At the end of Spring Training, the Indians opted to hand the last two rotation spots to righties Cody Anderson and Josh Tomlin, respectively. With no Minor League options, Bauer was sent to the bullpen to fill a role that has yet to be determined. He can handle multiple innings, features plus velocity on his fastball and can throw a wealth of pitches.
Even though Bauer could be a valuable weapon out of the 'pen, the news was surely tough to swallow after his strong showing during Spring Training. In 21 spring innings, Bauer struck out 20, walked five and logged a 2.14 ERA. Based purely on the spring stats, Bauer looked like the best of the three choices for the last two starting jobs.
"I think I had the best spring that I've had in pro ball," Bauer said. "I'm in a good spot to start the season."
Spring stats, however, were not the deciding factor.
"He had a pretty good spring," manager Terry Francona said. "It can't just be by Spring Training at-bats or innings. Certainly, you're looking for health, how guys are doing things, but if you turn it around, I'm not sure what we would have said to Josh Tomlin [or] Cody Anderson."
Both Francona and president of baseball operations Chris Antonetti have added that Bauer will still probably make starts this season. Francona reiterated that point again on Wednesday.
"It's being realistic," Francona said. "You don't go through the year with five starters. I wish we did, but the chances of that are very slim. And he's the one guy who can probably be in the bullpen for a period of time and come back and pitch ... because his arm is conditioned to throw so much."
During Tuesday's 6-2 loss to the Red Sox, Bauer made his season debut out of the bullpen in the ninth inning. He issued a leadoff walk and later allowed a two-run home run to David Ortiz before escaping further damage. Bauer said getting ready on short notice and coming out of the 'pen will require an adjustment period.
"It's different, for sure," said Bauer, who had a 4.55 ERA in 31 games [30 starts] last season. "I didn't really have a lot of experience last year. I only pitched once [as a reliever], so I'm still pretty new to this whole thing. ... Anytime something changes, it's just different. It takes a while to get used to."
Francona was respectful of the fact that Bauer needed time to come to terms with the team's decision.
"I thought the first day he was mad, which we expected," Francona said. "If somebody told me, I'd probably have been mad, too. If he was glad that would have sent up a worse message. I didn't think he was disrespectful, which is important. He knows he's not been banished to the bullpen. I think there's a difference. I think we fully expect he'll help us in one way or another when he pitches."
Jordan Bastian is a reporter for MLB.com. Read his blog, Major League Bastian, follow him on Twitter @MLBastian and listen to his podcast. This story was not subject to the approval of Major League Baseball or its clubs.