Greene's tunnel vision paves way for first save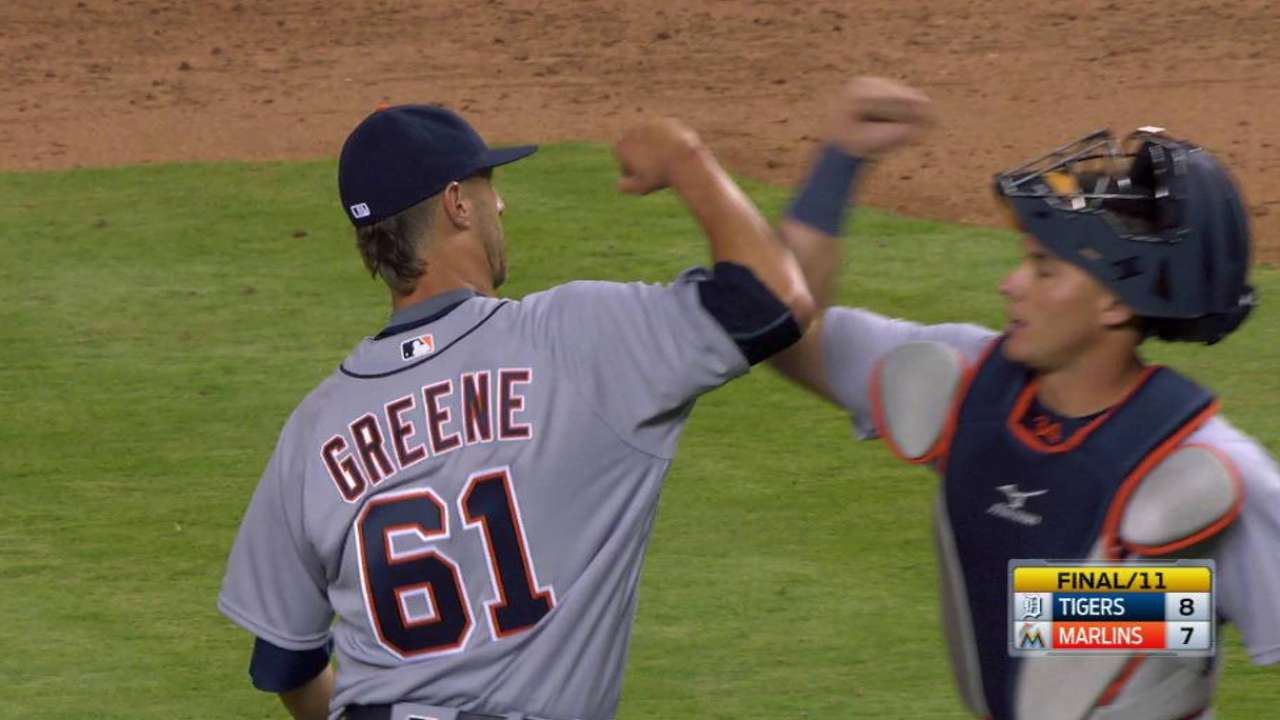 MIAMI -- Technically, Shane Greene began this spring pitching out of the bullpen. He was a starting pitching candidate, but he followed fellow fifth-starter contestant Daniel Norris in the pitching order. And as Greene warmed up that day a month ago, he felt an antsiness -- not nervousness, he said, because he never gets nervous.
As the right-hander warmed up in the visitors' bullpen at Marlins Park on Tuesday night in the 11th inning, preparing to protect a one-run lead after closer Francisco Rodriguez struggled to hold down a three-run lead in the ninth, it wasn't nervousness Greene was feeling. It wasn't antsiness, either.
"I had a lot of adrenaline," he said. "Never pitched in extra innings before at the big league level. And getting ready faster gives me a little bit more adrenaline as well. I'd say I had a little bit more adrenaline than normal."
Greene channeled his adrenaline like he channeled his antsiness in Spring Training, and he treated the 11th inning like it was the first. Three batters and three outs later, he could bask in the first save of his life and say the energy rush helped him through.
"It makes it a little bit easier," Greene said. "You don't think as much. You just kind of go with it, I guess."
Greene's temperament to treat his first save situation like any another outing was one reason manager Brad Ausmus turned to him to protect the extra-inning lead. Ausmus knew he had Greene as an option, since the righty isn't scheduled to make his first start until Monday against the Pirates at Comerica Park. But Ausmus also had Buck Farmer and Logan Kensing available in his bullpen if he wanted.
"It was temperament and the fact that they had mostly right-handed batters," Ausmus said. "They didn't have any left-handed bats on the bench. Dee Gordon was the one lefty coming up that inning for sure, and he actually hits lefties better than righties."
But Ausmus also knew what Greene's teammates know: He doesn't complicate his outings by overthinking the situation.
"He just wants to pitch," Ian Kinsler said. "He keeps it simple. He wants to pitch and he wants to get outs."
Ausmus called it tunnel vision.
"It's almost like he doesn't see anything else going on around him," Ausmus said. "I don't mean that in a negative way. He sees the catcher, gets the sign, throws the pitch. His whole world is 60 feet, six inches."
As Greene put it, "When they call my name, I'm going to go out there and try to get as many guys out as I can."
It's the same line Greene used in Spring Training when he was competing with Norris for the rotation opening. If Norris rejoins the rotation upon his return from the disabled list, or maybe later, Greene's approach could make him an intriguing option to deepen the bullpen. But that's not a given.
"If he pitches well, he'll stay [in the rotation]," Ausmus said.
Jason Beck is a reporter for MLB.com. Read Beck's Blog, follow him on Twitter @beckjason and listen to his podcast. This story was not subject to the approval of Major League Baseball or its clubs.