Stanton's smash worthy of top GIFs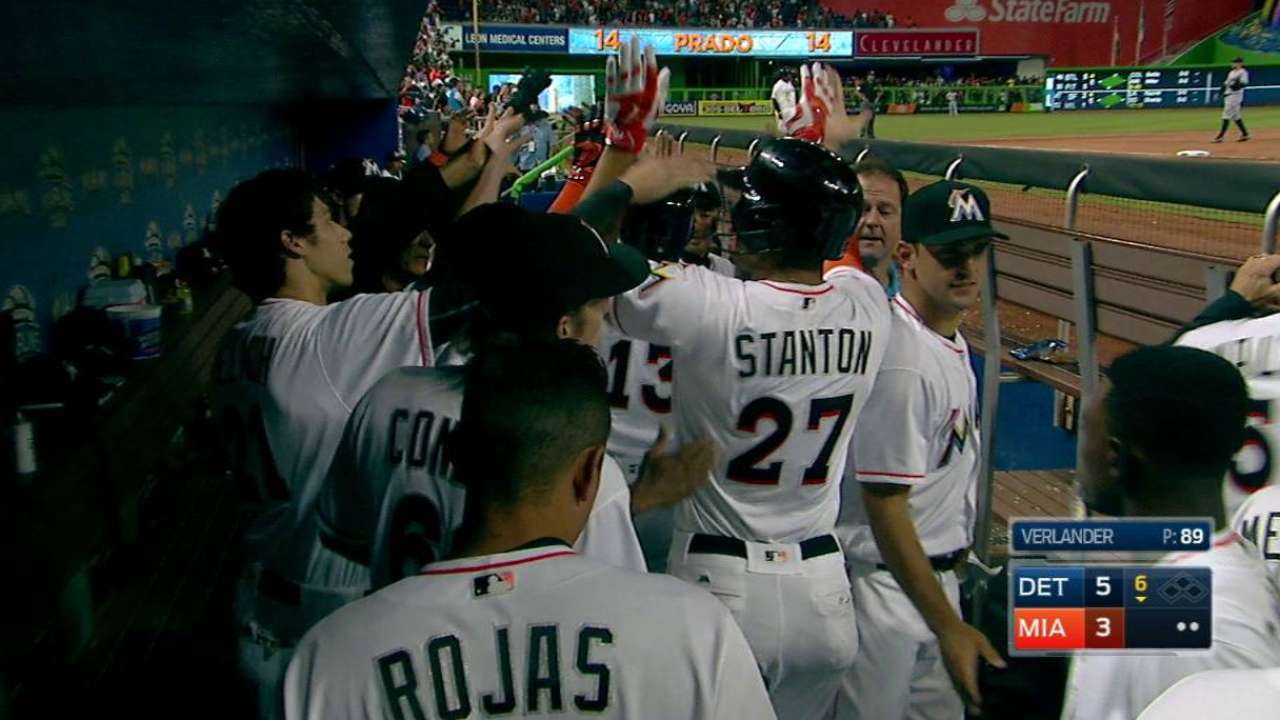 Here are the Top 7 GIFs from Tuesday's games, courtesy of @MLBGifs.
1. Good to see you, Stanton
Playing his first regular-season game since last June 26, Marlins slugger Giancarlo Stanton picked up where he left off, demolishing a Justin Verlander pitch into the left-field seats.
2. "Champs" has nice ring to it
Before a 2-0 loss to the Mets at Kauffman Stadium, the Royals received their rings from last season's World Series championship. It's fair to say Lorenzo Cain and Alcides Escobar enjoyed the festivities.
3. Pirates fan none too pleased
A devoted Pirates fan was ready to make someone walk the plank in the ninth inning of Tuesday's game against the Cardinals, but he likely was much happier after his team pulled out a 6-5 win in 11 innings.
4. Rays ice win
A violation of baseball's new slide rule helped the Rays beat the Blue Jays, 3-2, at Tropicana Field, but Tampa Bay pitcher Chris Archer opted for an old-fashioned celebration, dousing Logan Forsythe with the icy cold contents of a Gatorade cooler.
5. Slide rule enforced
As for that slide, it was clear that Toronto's Jose Bautista reached out and grabbed Forsythe's leg as he went into second base, trying to break up a double play in the ninth inning. That's a no-no.
6. Speedy Dee on the move
Dee Gordon had good reason to be pumped up, smacking a triple and two doubles as the Marlins rallied from deficits of 5-0 and 7-4 to force extra innings. Alas, the Tigers won, 8-7, in the 11th.
7. Is Price happy? You Betts
David Price had many reasons to smile on Tuesday, as he struck out 10 to win his Red Sox debut. In this particular case, a great leaping catch by right fielder Mookie Betts brought joy to his heart.
Andrew Simon is a reporter for MLB.com. Follow him on Twitter @AndrewSimonMLB. This story was not subject to the approval of Major League Baseball or its clubs.