Lane has Yount to thank for exhibition homer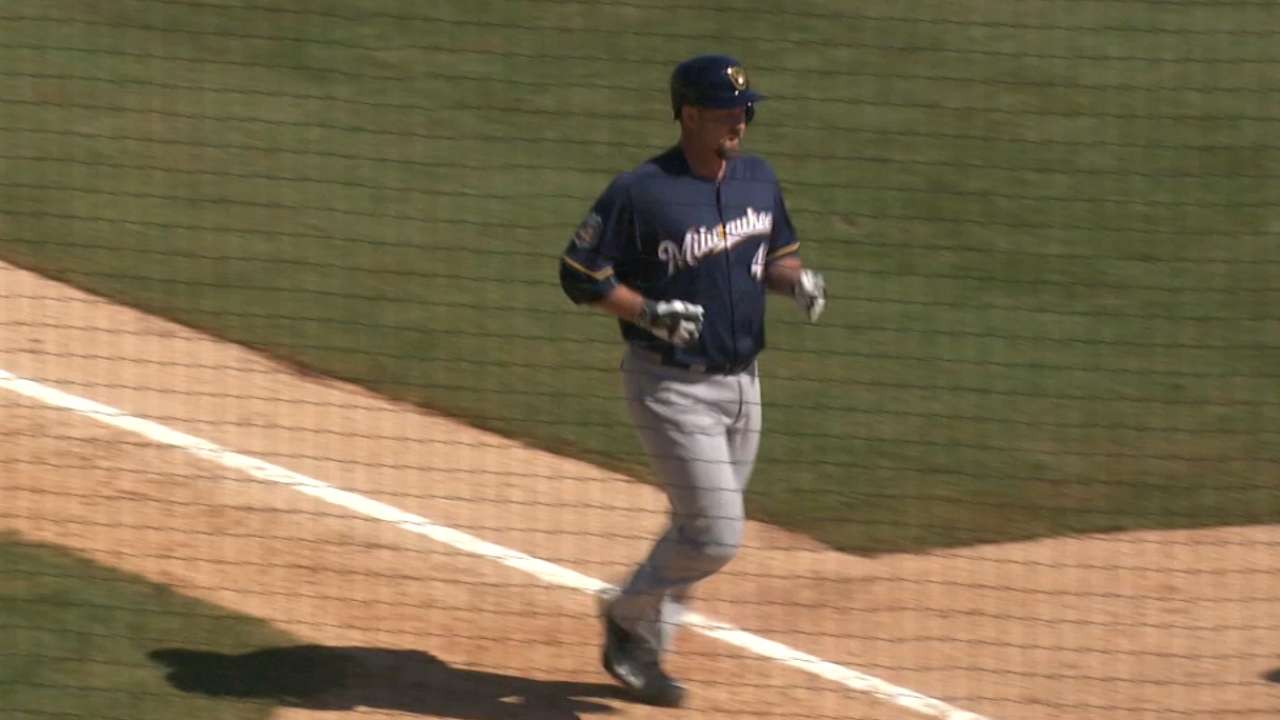 MILWAUKEE -- How in the world did Brewers coach Jason Lane come to hit a home run in an exhibition game on Saturday?
It all started with Hall of Famer Robin Yount playing catcher, if you'd believe it.
Manager Craig Counsell laughed while telling the story on Tuesday, three days after Lane, the assistant hitting coach, slugged a home run in Biloxi, Miss., against the Double-A Shuckers. Counsell got the idea years earlier, when then-Diamondbacks coach Yount caught an inning of an exhibition against Arizona's affiliate in South Bend, Ind.
"[Yount] was about 50 years old," Counsell said, "but he put on the catcher's gear and he caught an inning. And he's always said it was one of the most fun things he's ever done. He had a blast doing it.
"This was during the season. This was an in-season exhibition game. But he caught. The pitcher was a whole different story. But you can imagine going there during the season, it's not ideal for a Major League team to be doing that on your off-day."
If players were irritated about losing their time off to an exhibition game, they stopped complaining when they saw a Hall of Famer catching pitches.
Lane never saw action in the field on Saturday, but he did add to his unofficial home run total, which includes 61 in the regular season for the Astros from 2002 to 2007, plus four in the postseason before he converted to pitching in an effort to extend his career.
He retired and joined the Brewers' coaching staff in December.
After Lane went deep against Minor Leaguer Stephen Peterson, what was said in the Brewers' dugout?
"Well, he got the silent treatment," Counsell said, "so not much was said. He did have another at-bat coming up, but we didn't follow the batting order in the game, and I passed over him.
"I didn't think his day could get any better."
Adam McCalvy is a reporter for MLB.com. Follow him on Twitter @AdamMcCalvy, like him on Facebook and listen to his podcast. This story was not subject to the approval of Major League Baseball or its clubs.