MLB.com Columnist
Paul Hagen
Rickard rises to occasion in big debut
Outfielder notches single in first MLB at-bat, later doubles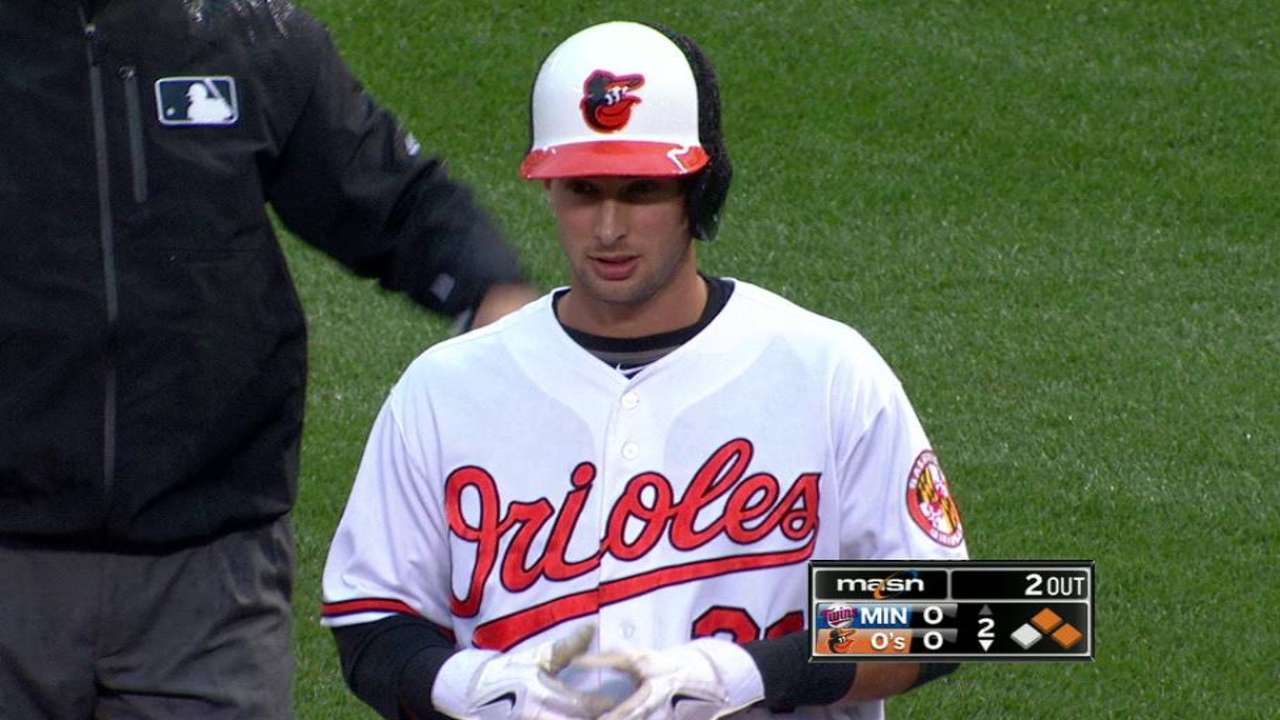 BALTIMORE -- A few years ago, in Spring Training, then-Phillies manager Charlie Manuel was trying to get across the point that he was serious about giving every player in camp a fair shot at earning playing time. Results would matter more than reputation or contracts.
"Ain't no gimme baloney," Manuel said, actually employing a slightly earthier expression.
Orioles manager Buck Showalter didn't have to say that before the Birds opened the 2016 season with a dramatic walk-off 3-2 win over the Twins at Camden Yards on Monday. All he had to do was pick up a pen and write Rule 5 Draft pick Joey Rickard, making his Major League debut in left field, into his starting lineup.
By the sixth inning, when Rickard stepped to the plate for the third time after getting a single and a double his first two at-bats, the crowd was chanting his name.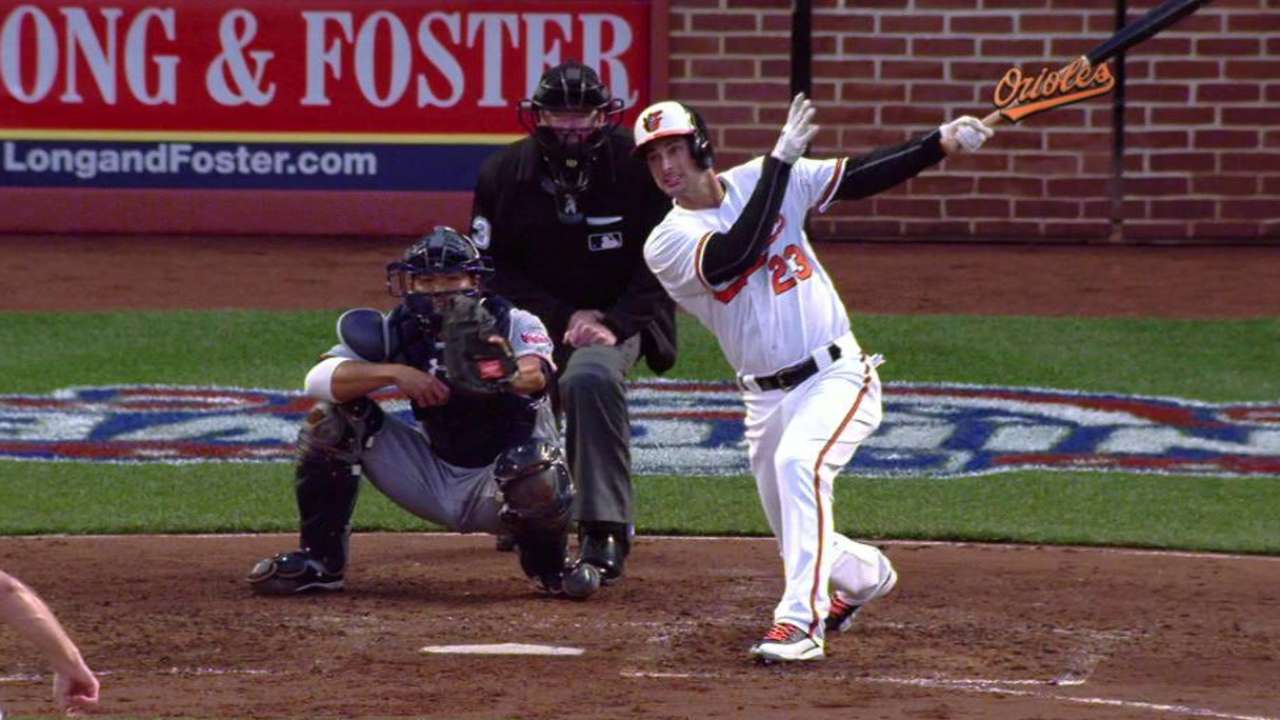 That sort of obscures the fact that the easy thing for Showalter would have been to use Hyun Soo Kim, even though he batted just .178 without an extra-base hit in Grapefruit League play. After all, the front office had committed $7 million to sign the Korean star to a two-year deal with the intention of having him be the regular at that position.
Showalter could have easily justified it, too. He could have suggested that the added adrenaline Kim would surely feel might be just what he needed to get going. Showalter could have said he wanted to take some pressure off Rickard, who had played only a handful of games above Double-A. He could have pointed out there's no guarantee his eye-popping exhibition numbers (.397 batting average, 1.044 OPS) would carry over to the regular season.
Showalter didn't do that, though. He went with the guy who, by any yardstick, won the job. That doesn't always happen.
"I don't care how long you've been playing," Showalter said. "Playing in a new venue, in a new park and with new teammates, you want to get off right. And I think all our guys were pulling for him because they've been in those shoes."
There's an added layer of complexity here, of course. The O's asked Kim to go to Triple-A Norfolk to try to find the swing that had motivated the team to sign him in the first place. He declined, exercising a clause written into his contract that prevents him from being sent down without his permission.
While that might have created a little bit of awkwardness, it underscored the point that that while Kim can dictate that he won't be demoted, he can't force Showalter to play him.
• Kim not concerned after declining Minors assignment
Look, it's a long season. Just going out on a limb here, but Rickard probably isn't going to hit .400 this year. And there will inevitably be times when Kim plays, times when he helps the Orioles win.
"The good news is, if he hits like it says he can hit in the book, I think that we have a need for a left-handed hitter on our roster, and hopefully the next part of his hitting will be a stronger sample than what we saw in the spring," executive vice president of baseball operations Dan Duquette said during Sunday's workout.
In the opener, though, the 24-year-old Rickard did his part to make Showalter's decision look good. He singled in the second for his first Major League hit in his first plate appearance.
In the bottom of fifth, in a scoreless game, Rickard ignited a rally with a leadoff double to right. It looked like it would be a single as the ball bounced once and landed in the glove of Minnesota right fielder Miguel Sano, but when he got to first, he kept right on running and slid into second.
Who knows? Maybe Twins reliever Casey Fien would have immediately given up a single to Manny Machado and a double to Adam Jones to account for the first two runs of the game. Or maybe not.
Rickard lined out to right his third time up. The only thing that kept this from being a complete fairy tale was that, with two outs and the potential winning run on second in the bottom of the eighth, he struck out. Rickard also made a nice catch of Kurt Suzuki's foul fly to left in the seventh, even though it allowed the tying run to tag up and score. Showalter said it was the right play.
After the game, Showalter handed Rickard the lineup card and the baseball from his first hit.
"That's just icing on the cake for how my day's been," Rickard said. "It's been special. On the outside, I might have looked calm, but on the inside, my heart was racing. But at the end of the day, it's baseball, and these guys around me helped me out a lot."
The only concession to his inexperience was that he batted ninth. But Showalter gave him the chance to start on Opening Day. Scratch that. This was no gimme baloney. Rickard earned it.
Paul Hagen is a reporter for MLB.com. Brittany Ghiroli contributed to this column. This story was not subject to the approval of Major League Baseball or its clubs.