Brantley DL'd, misses 1st opener in 7 years
LF still recovering from shoulder surgery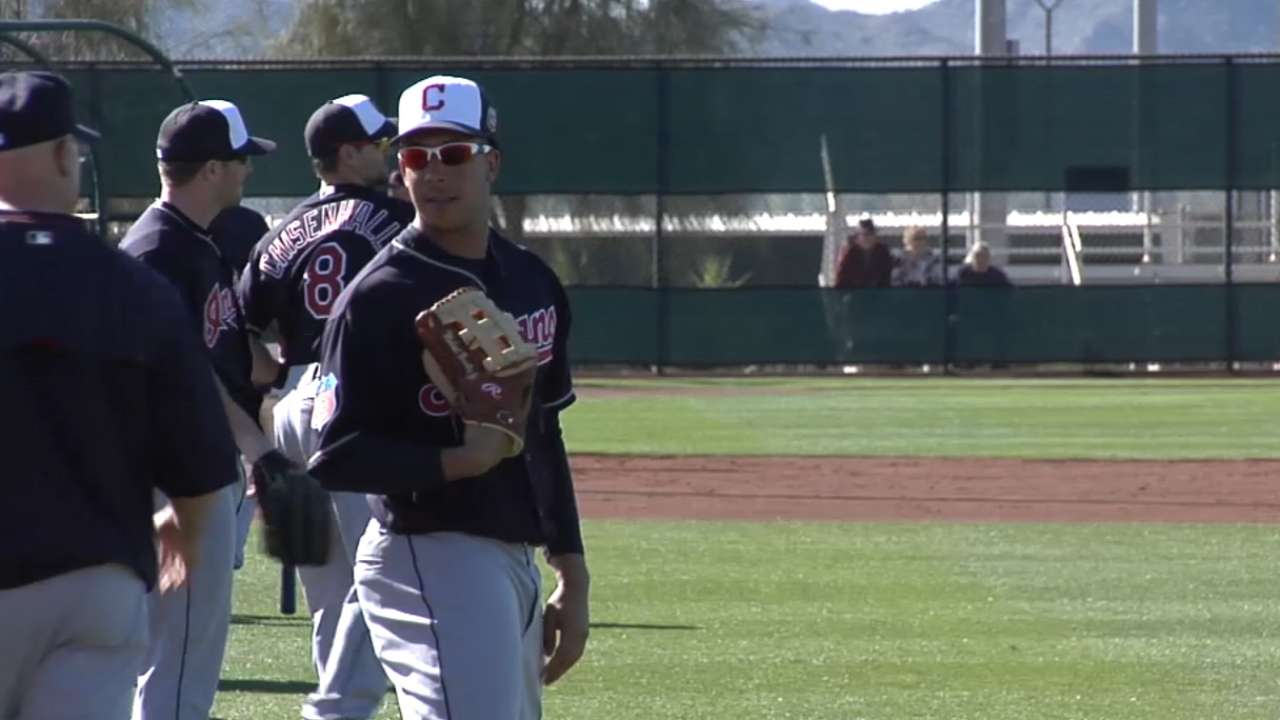 CLEVELAND -- For the first time in seven seasons, Michael Brantley's name will not be in the Opening Day lineup for the Indians. Cleveland planned for this scenario over the winter and this spring, but the impact will still be felt up and down the batting order.
"We'll obviously miss him," Indians second baseman Jason Kipnis said. "He's a big part of what we're trying to do here. We'll miss him right in the middle of our order. That being said, a lot of guys are swinging the bats really well out of spring right now. Hopefully that carries over."
• Perez concussion test holds up final roster
With Brantley officially placed on the 15-day disabled list on Sunday, giving the left fielder more time to work his way back from November surgery on his right shoulder, Indians manager Terry Francona had to face the reality of writing a lineup without his No. 3 hitter. Last season, the Tribe's more productive combination at the top included Kipnis leading off, Francisco Lindor batting second and Brantley third.
For Tuesday's season opener against the Red Sox, who will hand the ball to lefty David Price, Francona opted to slot Kipnis into the No. 2 slot and bump Lindor into Brantley's usual spot. Rajai Davis is expected to lead off, while Mike Napoli and Carlos Santana will hit fourth and fifth, respectively.
"What he did last year, he can hit anywhere," Francona said of Lindor. "I would say the same thing with Kipnis and Brantley. Some of where our guys hit is not just because, 'Oh, we think they should be a three hitter.' When Brantley comes back, certainly, we will adjust our lineup."
Here is a look at Tuesday's projected Opening Day lineup:
1. Rajai Davis, CF
2. Jason Kipnis, 2B
3. Francisco Lindor, SS
4. Mike Napoli, 1B
5. Carlos Santana DH
6. Yan Gomes, C
7. Marlon Byrd, LF
8. Juan Uribe, 3B
9. Collin Cowgill, RF
When the Indians face a right-handed starting pitcher, Francona said, utility man Jose Ramirez will likely be in the mix. Rookie center fielder Tyler Naquin will be held out of the starting nine for the opener, but he will likely see action against right-handed pitching as well. Francona also did not think it was ideal for Naquin's first taste of the big leagues to come against a pitcher like Price.
"I don't want him just sitting here for two, three days without playing, because I'm sure the anxiety will build," Francona said. "So, we want to get him in there, but I just don't know that Price makes the most sense. It just kind of makes sense to play your right-handers, if you have them."
Brantley went through Sunday's workout with the Indians, but the left fielder said he was not scheduled to take batting practice. He did take BP on Saturday in Texas prior to the Tribe's exhibition game with the Rangers. Right now, Brantley is having his shoulder evaluated each day before the medical staff approves increasing the intensity or volume of his rehab.
For now, Brantley said, it remains unclear when he will begin a Minor League rehab assignment.
"That's too far ahead. I don't know that right now," Brantley said. "We've got to take some back-to- back BPs and get back into the flow of things again before we find out the gameplan for rehab games. ... I just want to build back that strength that I need to hopefully get through the course of a long season, and be back with my teammates at 100 percent."
Until then, the Indians' lineup will have a different look.
"We've got a lot of guys that are very capable of stepping in," Kipnis said. "Obviously, you don't replace a guy like that, but we like the lineup that we're going to be throwing out there. We've got guys who can run and go get it in the outfield, play defense, and guys that are going to have some good veteran ABs for us. We're excited."
Jordan Bastian is a reporter for MLB.com. Read his blog, Major League Bastian, follow him on Twitter @MLBastian and listen to his podcast. This story was not subject to the approval of Major League Baseball or its clubs.