Mariners aim to tie record 10-game OD streak
Hernandez begins season for ninth time in past decade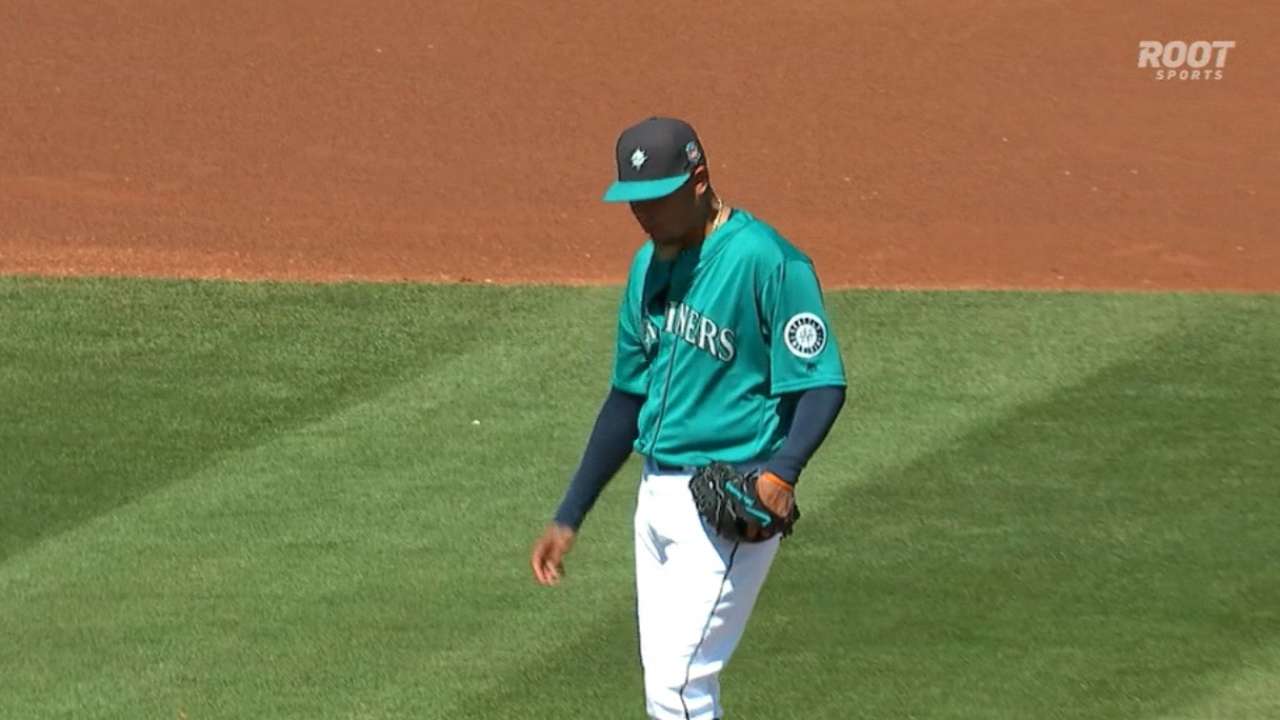 ARLINGTON -- The Mariners will be looking to make a little history Monday when they face the Rangers on Opening Day with ace Felix Hernandez on the mound. Seattle has won nine straight Opening Day games, one shy of the Major League record of 10 in a row by the Boston Beaneaters from 1887-96.
No other team has won nine straight since the Reds from 1983-91, so Seattle can put itself alone in the modern era if the club stops Texas in the 1:05 p.m. PT contest at Globe Life Park.
Hernandez has been on the mound for eight of those nine openers, with Erik Bedard making the other season debut against the Rangers in 2008, the last time these two American League West rivals opened against each other.
Having Hernandez begin the season has certainly helped the Mariners streak, as he's 6-0 with a 1.49 ERA in his eight openers. And having Hernandez lined up to face Rangers lefty Cole Hamels helps first-year manager Scott Servais' comfort level heading into his own debut.
"The fact of having an experienced guy, a veteran that has a track record, certainly allows me to sleep a little easier," Servais said. "But every game, everything is different. Obviously, Texas has a very good club. They won the division last year and they've got their sights set on that again this year. But I like our matchup.
"I think for the most part, we've swung the bat pretty well this spring. It'll be two good pitchers, a packed house. ... That's the way it's supposed to be on Opening Day."
Critics are quick to point out that although Hernandez and the Mariners have started well over the past decade, they've never made the postseason in his 11-year career and Seattle has the longest postseason drought of any MLB team dating back to 2001.
That point isn't lost on Servais, who helped put together a pair of World Series teams as the Rangers' farm director from 2006-11 before spending the past four years in the Angels' front office.
Servais believes Hernandez's lack of postseason history should be a driving force for the ace as he approaches his 30th birthday on Friday.
"To be blunt, I would hope it would," Servais said. "I think it defines everybody in their career at some point. The legacy you leave is durability; it's being good, good, good for a long time that makes you a great pitcher. But sometimes the separator is what you do in the postseason.
"I think it's time. I talked about it when I got the job, I've talked about it through Spring Training and I've talked about it with Felix. To lead the day you take the ball is big, to go out and lead by example. But be part of something that is bigger than yourself. He's only going to take the ball 34-35 times in a regular season. It's going to take more than 35 wins for us to get where we want to go, so he needs to be a part of the whole thing, which he's primed to do."
All-time MLB Opening Day win streaks
Boston Beaneaters, 10 (1887-96)
Seattle Mariners, 9 (2007-present)
Cincinnati Reds, 9 (1983-91)
New York Mets, 9 (1975-83)
St. Louis Browns, 9 (1937-45)
Boston Beaneaters, 8 (1906-13)
Top MLB Opening Day records since Mariners' debut in 1977
New York Mets, 29-10 .744
Baltimore Orioles, 25-14 .641
Seattle Mariners, 24-15 .615
Chicago White Sox, 24-15 .615
Greg Johns is a reporter for MLB.com. Follow him on Twitter @GregJohnsMLB and listen to his podcast. This story was not subject to the approval of Major League Baseball or its clubs.