MLB.com Columnist
Alyson Footer
What's New: Ballpark additions for all 30 teams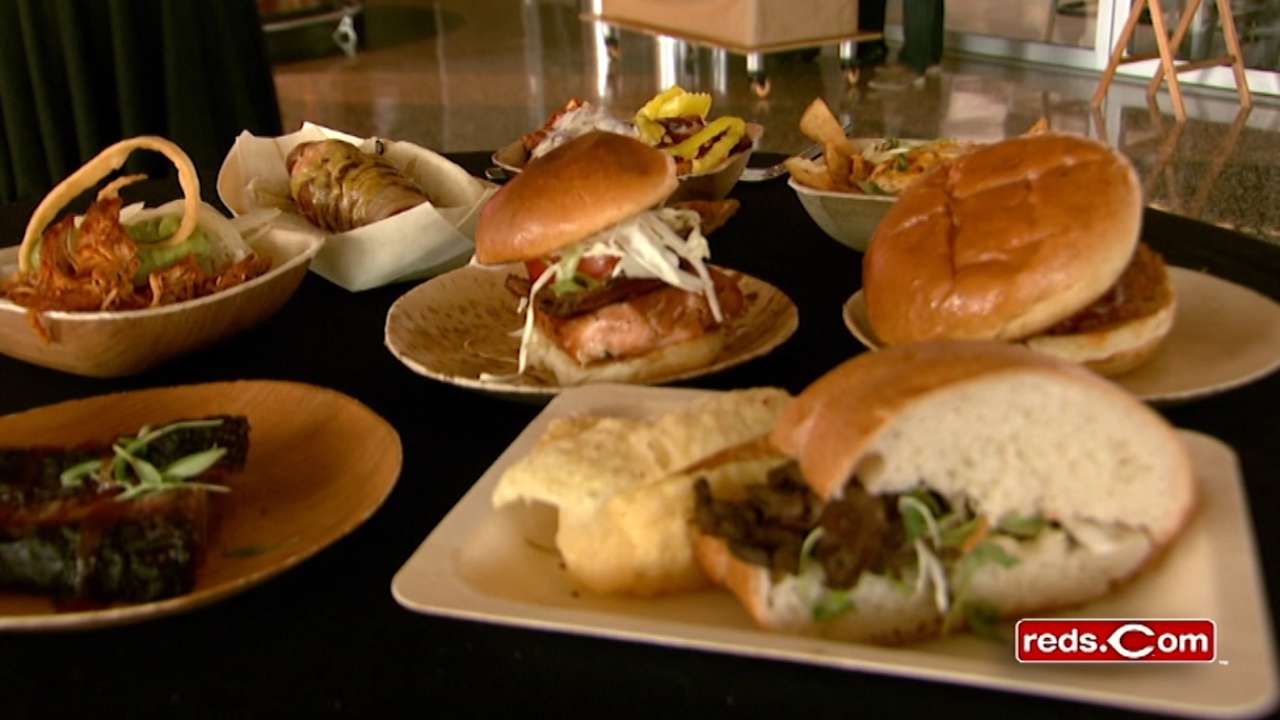 Welcome to a brand new baseball season, where teams work tirelessly to put a winning product on the field, while also making the ballpark experience a memorable one for the fans.
All 30 teams have added something to the agenda for this campaign -- whether it's a new scoreboard, mascot, a sweet retro uniform or a delectable food item designed to appeal to the masses.
The following is a general overview, team by team, of what's new for 2016. And if you're into grilled cheese, keep reading: Apparently, you're not the only one.
Astros
The Astros are introducing a slew of new menu items at Minute Maid Park. Among the most mouthwatering are a sweet-potato waffle chicken sandwich, hand-dipped corn dogs, and two delectable dishes tied to a Houston legend: the Nolan Ryan Jalapeno Cheese Dog and the Nolan Ryan Steak Fingers and Fries (served with country gravy, no less).
Angels
The Angels have introduced the Angel Stadium Muscle Maker Grill, which will offer several options. Among them: the Signature Wrap (with chicken breast), the Arizona, an all-natural, grilled chicken breast and turkey bacon over brown rice with tomatoes and scallions, served with its zero-carb signature sauce; and its famous Turkey Chili, made with lean ground turkey, red beans, reduced-fat cheddar cheese, salsa and fat-free sour cream served over brown rice.
The Angels have also welcomed Fresca's Mexican Grill to their ballpark, whose menu will include Mucho Nachos, three Street Tacos and its Killer B Burrito -- a warm 12-inch flour tortilla filled with rice, black beans, sour cream, guacamole, salsa fresca and either char-broiled chicken or steak.
Athletics
New food in Oakland includes A's Loaded Chips, where they'll slice the bag open and load various toppings. You can order the Gilroy (sea salt metro deli kettle chips, parsley, parmesan, garlic hollandaise sauce), the Bases Loaded (sour cream & chive deli kettle chips, scallions, burnt pork ends, beer cheese sauce) or the Tex-Mex BBQ (hickory BBQ metro deli kettle chips, superfood slaw: red cabbage, green cabbage, kohlrabi, Brussels sprouts, broccoli, kale, carrots; pork carnitas, BBQ ranch sauce).
Blue Jays
At Rogers Centre in Toronto, the Blue Jays are sporting, for the first time in ballpark history, a dirt infield. Before that, they had dirt cutouts around the bases. But construction took place over the last two months to tear up the concrete and install a natural surface.
Braves
It's been a while since anyone has referred to Turner Field as "The Ted," but there are still remnants of the affectionate nickname in the form of a gigantic hot dog that's new to the Braves' menu this year. The T.E.D., also called "The Everything Dog," is a foot-long and layered with fries, chili, nacho chips, beer cheese and jalapenos, topped with popcorn, drizzled with Coca-Cola-infused BBQ sauce and served in a pretzel bun.
Yes, really.
Other items include the Tater Tot Chop, The Punisher (country-fried smoked rib meat slathered in a Monster energy drink-infused BBQ sauce), Sausage Sundae, Burgerizza and something called Top-N-Go, which includes your choice of Fritos topped with chili and cheese sauce or Doritos topped with pulled pork, pulled chicken and cheese sauce.
Brewers
The Brewers are hearkening back to the good old days with a new alternate jersey, adorned with the retro ball-and-glove logo, with a new navy color and retro yellow.
The uniform top will have the "Milwaukee" script displayed on the front, with the updated logo on the sleeve. The Brewers will don the jerseys and caps on most Sundays, both at home and on the road.
Cardinals
The Cardinals have installed a pair of new videoboards and stadium-wide Wi-Fi at Busch Stadium. Two new HD LED scoreboards are completely programmable for video, and the new main videoboard is almost three times bigger in size than the old one -- with twice the resolution and brightness. The out-of-town scoreboard will be about 2 1/2 times bigger, also with twice the resolution and brightness of the previous one. These will be the first new scoreboards installed since Busch Stadium III opened in 2006.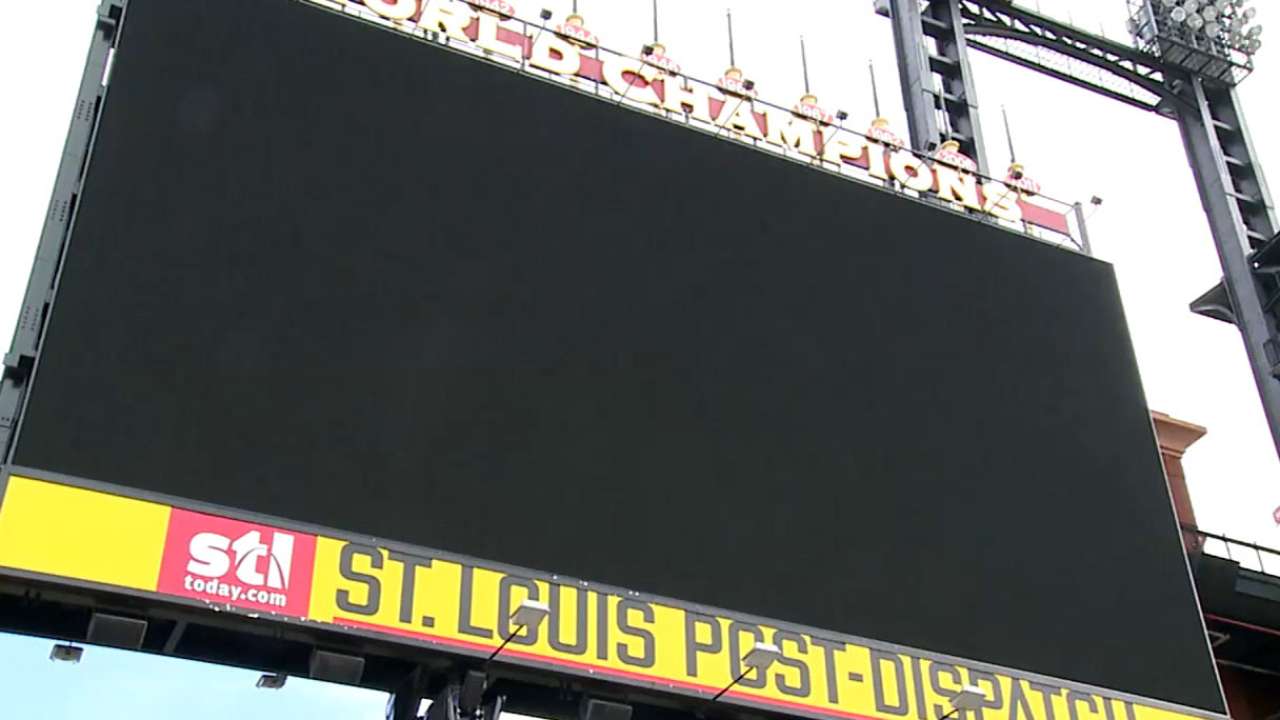 Cubs
Fans sitting in the Budweiser Bleachers will notice a new Budweiser Bleacher Bar as they enter the gates at the corner of Sheffield and Waveland Avenues. This sizeable bar offers an array of beer, cocktails and wine on the main concourse level. Bleacher guests will also enjoy five new display cases showcasing Cubs and Wrigley Field history, a replica ivy wall perfect for photo opportunities and additional décor throughout the bleacher concourse.
D-backs
Never underestimate the good folks who once brought you the Churro Dog and an 18-inch corn dog. The D-backs have won their own game of "Top This," adding some drool-worthy delights to their ballpark menu that are sure to be a hit at Chase Field. This year's theme is "cheesy," found en masse at the Arizona Farms Grilled Cheese Cart. Among the options: The Arizona Cheese, featuring Arizona Colby; the Pit-Smoked Grilled Cheese, featuring smoked BBQ brisket with Arizona Cheddar; the Southwest Grilled Cheese, with pico de gallo with Arizona Pepper Jack; and the Applewood Bacon Cheese, with crispy Applewood-smoked bacon and Arizona garlic-black pepper Cheddar.
Also, Chase Field will feature the PetSmart Patio -- an air conditioned dog park -- and will host Dog Days of Summer at all 13 Sunday home games. The area includes room for four humans and one dog in private lounge pods.
Dodgers
The Dodgers made six additions to their menu this year, among them a Kobe beef burger, buffalo chicken wings and a chicken sandwich for those in search of a healthier option.
Giants
The AT&T Park experience is mostly about the play on the field, but the food there is known throughout baseball circles as arguably the best of the best. And now, there's more to choose from. New food items include Porcini Doughnuts and a slew of healthier options at The Garden's Hearth Table Bistro, where fans can find options with gluten-free ingredients like flatbread pizzas -- including a fennel sausage with roasted eggplant, caramelized leeks and goat cheese and a grilled garden zucchini with shaved parmesan, olive oil, garden thyme and toasted almonds. Fans will also find fried Brussels sprouts topped with lemon aioli and a shrimp sandwich.
Indians
The Indians have a new videoboard, the largest in the Majors. They also renovated the area behind home plate, now called the Infield District -- a continuation of last season's upgrades in the Right Field District.
This club will include a full bar, access to a variety of new concession options within the space, a customer-service center and a glass front for prime viewing. The club will remain open after games to offer season-ticket holders an option to let traffic clear on high-demand games.
The club will also significantly improve views of the field for all fans using the main concourse behind the home-plate area.
Mariners
Count the Mariners as another team jumping into the grilled-cheese fray, with the help of Seattle's own Beecher's Cheese. The Big Cheese grilled-cheese sandwich bar near section 111 on the main level features the Just Jack: Beecher's Just Jack cheese on buttered, toasted Baker Boys Northwest brioche bread; and the bacon, cheese & tomato grilled cheese, consisting of Beecher's Just Jack cheese with Hempler's Meats cottage-style bacon and sliced tomato on buttered, toasted Baker Boys brioche bread.
Marlins
Giancarlo Stanton will enjoy this one and, by extension, so will you. Marlins Park is lowering its fences in some parts, giving hitters a bit more of a chance to go deep. In Year Five of the ballpark, the center-field wall is moving in from 418 feet to 407.
Mets
The Mets will celebrate the 30th anniversary of their 1986 World Series championship in May, but nostalgic pieces of that magical season will be on display all season. The team will wear the classic '86 jerseys -- with the blue vertical stripe between two orange stripes along the sides of the jersey and pants -- for every Sunday home game.
Take a peek inside all the new things you'll experience at @CitiField this season >> https://t.co/i1iDIxPtXF pic.twitter.com/isXZqDCguW

- New York Mets (@Mets) March 31, 2016
Other new additions include a new patio and interactive area high atop the 300 section in right field. Named the Coca-Cola Corner, the area inspires images of both tailgate and funhouse, all bathed in bright red.
Nationals
Two local businesses, Maryland-based Pinch Dumplings and Virginia-based Haute Dogs and Fries, were declared the winners of the Pitch Your Product competition and will be featured at Nationals Park during the 2016 season.
Pinch Dumplings offers a variety of locally-sourced, hand-made Chinese dumplings -- including pork, beef and vegetarian options.
Haute Dogs and Fries offers hot-off-the-grill, gourmet hot dogs and hand-cut fries. Their franks are made with local products and are served on a New England-style bun with fresh condiments.
Orioles
They say everything tastes better with bacon, a theory you can weigh in on this season at Camden Yards with the purchase of a jalapeno bacon-wrapped hot dog. If that doesn't appeal to you, perhaps you'll try one of these new items: the smoked brisket BBQ sandwich; a spicy chicken chipper with house-made Yukon Gold kettle chips with smoked buffalo-style pulled chicken and blue-cheese dressing; the High Heater Burger -- two fresh beef patties with sautéed jalapenos, pepper jack cheese, smoked bacon, and chipotle aioli and the Roma chorizo sausage, a fresh chorizo sausage with tequila-lime caramelized onions and cotija cheese.
Padres
Sun, fun and beach life will appropriately be front and center at Petco Park this season with the addition of The Sun Diego Deck and The Pier, a group space in right-center field modeled after San Diego's iconic piers.
The Sun Diego Deck and The Pier are available to be purchased as one hospitality space for large groups or can be split to accommodate two separate parties. The lower level can accommodate between 30 and 200 guests and the top level can hold up to 300.
Phillies
The Phillies have added some food items this year -- including Chick-Fil-A, which will be served at all home games, excluding Sundays. Also new at Harry the Ks, the popular outdoor restaurant located below the left-field scoreboard: Andrew Zimmern's Korean Fried Pork Belly Sandwich, created by the three-time James Beard Award-winning TV personality and host of the Travel Channel's Bizarre Foods. More new items include Amish Turkey Burger with sharp cheddar and shallot marmalade on a griddled sesame bun and smoked brisket with whiskey barbecue sauce and creamy cider slaw.
Pirates
Is there a rallying cry more famous in baseball history than the Pirates' "We Are Family" from their 1979 championship run?
Those particular good ol' days -- modernized slightly; it's now #WeAreFamALee -- will be front and center on Sundays this season, when the Pirates wear the gold pullover jersey that is so closely tied to the World Series-winning Bucs of 37 years ago.
Official: #Pirates unveiled the NEW Sunday alternate unis for 2016!
We're throwing it back to 1979. #WeAreFamALee pic.twitter.com/3lBTO467nL

- Pittsburgh Pirates (@Pirates) February 18, 2016
The uniform also includes black pants with black-and-gold piping on the sides, and the Pirates pillbox cap.
Andrew McCutchen channeling his inner Willie Stargell? Yes please!
Rangers
The Rangers installed a new videoboard and new foul poles at Globe Life Park for the upcoming season. The 34-by-94-foot LED video display will be located on the far left side of the center-field office building, above the visitors' bullpen, and should be visible from almost everywhere in the park.
The park also has new, thicker foul poles for the first time since opening as the Ballpark in Arlington in 1994. The Rangers replaced the original foul poles that were brought over from Arlington Stadium and have been in use since 1972.
Rays
The Rays have a new brew with a nifty name: the 2-seam Blonde, a craft beer masterpiece created by the club for Rays fans. This original craft beer (4 1/2 percent ABV) was a collaborative effort with Green Bench Brewing in St. Petersburg and will debut on Opening Day. The beer will be sold exclusively at Tropicana Field and will be available at nearly 30 locations in all areas of the stadium.
Red Sox
The Red Sox are offering a virtual-reality experience at Fenway Park through a series of 360 videos that give exclusive, all-access views of what it's like to be a Red Sox player during the 2016 season. From the action of Spring Training to game preparation at Fenway Park, fans will have the ability to experience behind-the-scenes moments through new virtual-reality headsets that will be set up in a re-created Red Sox dugout.
Virtual-reality stations will be available to kids in Wally's Clubhouse and to all fans in the Kids Concourse. The videos will also be available to fans online.
Also new to the team this year -- Tessie the Green Monster, kid sister of that lovable, precocious favorite, Wally the Green Monster. Tessie will take up permanent residency in the Kids Concourse, where she will be prior to and during Red Sox home games throughout the season.
Reds
New to Great American Ball Park this season is the All-You-Can-Eat Stand, which fans with tickets in any section can gain access to with the purchase of a special pass. Enjoy unlimited hot dogs, sodas, popcorn, peanuts and chips for the low price of $20 per person at this new stand, located on the View Level down the first-base line behind section 530.
Also new this season: a Fioptics District, an entertainment destination located in the left-field corner of the View Level that includes a Fioptics GigaBar -- featuring domestic, imported and craft beers, plus wine and mixed drinks. The rooftop located on top of the GigaBar features lounge furniture, a 15-foot videoboard and panoramic views of downtown Cincinnati.
Rockies
The Rockies have raised the fences at Coors Field. The fence from the center-field end of the visiting bullpen to the right-field, out-of-town scoreboard has been raised 8 feet, 9 inches, so that it is consistent with the height of the out-of-town scoreboard at 16 feet, 6 inches. Also, 5 feet was added to the wall from the left-field foul pole to the beginning of the pavilion seating in center.
Royals
Remember when the Royals won the World Series and more than three-quarters of a million people showed up to the victory parade? An aerial photograph of that breathtaking scene will now adorn the front glass of the Royals Hall of Fame building in left field.
It was a busy offseason at #TheK! Check out the new changes to the ballpark in 2016: https://t.co/bpm3Z6UO4M pic.twitter.com/KQ2SXvONH6

- Kansas City Royals (@Royals) March 29, 2016
The Royals Hall of Fame features many great exhibits from the 2015 World Series championship season -- including the World Series trophy. The north side of the building that faces the concourse features photos of great moments from the World Series.
Tigers
Keeping with the theme that everything tastes better when it's deep-fried, you may feel like you hit the jackpot at Comerica Park if you try any of the seven new dishes the Tigers are introducing in 2016. How about this trifecta: a fried bologna sandwich with grilled banana pepper and onions; a brat pop -- brat patty battered, fried, and served on a stick and, for dessert, deep-fried Oreos!
Twins
Sparkling Target Field isn't that old yet, but there's always room for small tweaks here and there. Replacing an underutilized section above the batter's eye in center field will be a multi-level fan space, with the upper level called Minnie & Paul's and the lower level called CATCH.
The upper or club level is open to all fans, and will include a pub under the Minnie & Paul sign in center field. There will also be Minnesota-themed food options available.
The new area in center field will include a 3,700-square-foot expansion, 3,200 square feet of which will be in the shade. There will also be two canopies, with the larger one at 2,240 square feet.
White Sox
U.S. Cellular Field will go from sporting the smallest scoreboard in baseball to something a little more in line with the times. The Sox recently installed three new videoboards in left field, center and right. The right-field and left-field boards will cover somewhere around 2,500 square feet and the center-field board is between 7,000 and 8,000 square feet.
Yankees
Everything's bigger in ... the Bronx?
Introducing the Yankees' newest culinary feat -- the "Tape Measure Cheesesteak," a two-footer (that's not a typo: 24 glorious inches) topped with your choice of white American cheese or Cheez Whiz and served on a classic hoagie roll that is baked fresh daily. It's the perfect sandwich to share. Peppers and/or onions are available upon request. Location: Carl's Steaks at section 107.
Bring friends.
Alyson Footer is a national correspondent for MLB.com. Follow her on Twitter @alysonfooter. This story was not subject to the approval of Major League Baseball or its clubs.