Saladino leads White Sox into old stomping grounds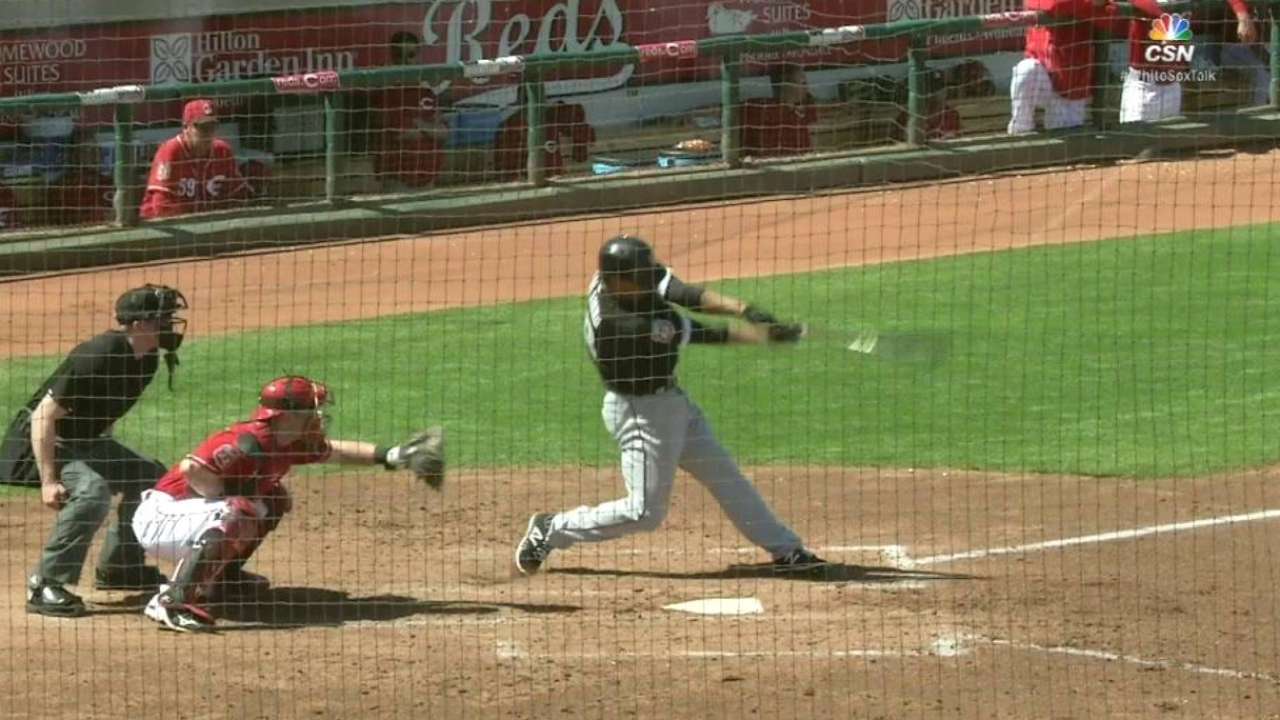 SAN DIEGO -- Tyler Saladino had a productive off-day on Thursday as he returned home to San Diego.
The utility infielder went fishing in Mexican waters with White Sox bullpen coach Bobby Thigpen and actually caught dinner to be served to the team Friday night at Petco Park.
"It's in the kitchen. They are fixing it up for after," said a smiling Saladino before the South Siders took on the Padres at Petco Park in the penultimate game of the exhibition schedule. "A bunch of stuff from the bottom, but all good stuff for fish tacos."
Saladino, 26, will be on his first Opening Day roster on Monday, when Chicago faces Oakland on the road at 9:05 p.m. CT, although he played 68 games for the White Sox in 2015. His bonus prize stands as these two exhibition games in San Diego, with numerous friends and family members expected to be in attendance.
As a Little Leaguer in Mira Mesa, Calif., Saladino was coached by his grandfather, Artolo, and his dad, Arthur. They were proudly in attendance, with Tyler's grandfather watching him for the first time outside of Cactus League action.
"Yeah, it's awesome. I'm so happy to be here right now," Saladino said. "I'm excited for this whole experience."
Jimmy Rollins gets the Opening Day start at shortstop, but Saladino will be ready for his share of games there, as well as numerous other spots across the diamond. The addition of Rollins relaxed Saladino during camp, primarily because of Rollins' relaxed persona amidst their working relationship.
"A lot of how he thinks and goes about it," Saladino said. "His level of professionalism but at the same time, his calm demeanor for the way he goes about it. I was just feeding off of him and how he handles everything."
Big league view
Shortstop Tim Anderson, third baseman Trey Michalczewski and pitchers Euclides Leyer and Brian Clark came from the Minor League side of camp to join the White Sox in San Diego. Anderson, who is the team's No. 2 prospect per MLBPipeline.com, was the only one who previously had been part of big league camp. Michalczewski is ranked fifth, Clark is ranked 12th and Leyer is ranked 22nd.
White Sox ready for the regular season
White Sox manager Robin Ventura on Friday could sense the feeling of regular-season readiness coming from his team.
"Everybody gets here and you get going," Ventura said. "You can just sense the excitement of guys getting out of Spring Training and ready to go, no matter if they played a long time or not.
"It's a fun experience when you leave Spring Training, and even if you go play in these games. You get into a big league ballpark, and it's different. There's a coolness to the air. They get excited."
Scott Merkin is a reporter for MLB.com. Read his blog, Merk's Works, follow him on Twitter @scottmerkin, on Facebook and listen to his podcast. This story was not subject to the approval of Major League Baseball or its clubs.