Pomeranz wins spot in Padres rotation
Rea and Erlin remain as candidates for No. 5 job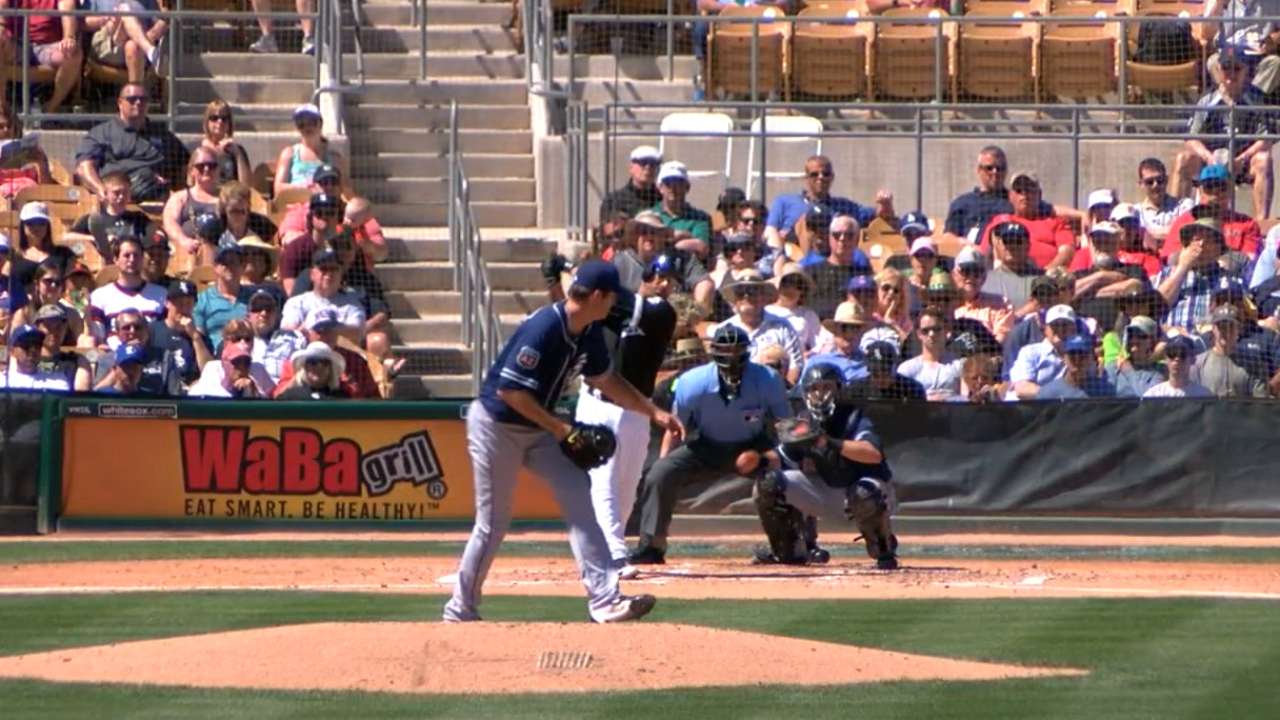 SAN DIEGO -- The Padres cleared up half of their rotation dilemma Friday evening, announcing that left-hander Drew Pomeranz will begin the season as a starter.
Pomeranz already had a spot on the roster locked up, but it was unclear whether he'd begin the season as a starter or a reliever. His inclusion in the rotation means the fifth spot will go to either Colin Rea and Robbie Erlin.
Manager Andy Green essentially declared Pomeranz's stint in the rotation an experiment before the Padres lost to the White Sox, 5-3.
"He showed enough in Spring Training to warrant the opportunity to start," Green said. "It was one of those things that -- once you choose to put him in the bullpen, it's pretty much over, he's a bullpen guy from then on out.
"We're taking the opportunity for him to start, to see how he does in the rotation. You ride that as long as possible. If it doesn't work out, he slides to the bullpen."
Pomeranz made two Cactus League starts, and he'll get another on Saturday in the club's final exhibition game of the spring. His first two starts could not have been more different. Pomeranz allowed one hit over four innings against the White Sox on March 28, but he allowed six earned over three innings against the Royals on Monday.
Obviously the Padres are hoping to get more of the former. How exactly can they get that version?
"He's got to consistently step on the gas if he's going to be great," Green said. "... It's not a matter of just pacing yourself all the time. He can pitch with some energy. And when he does, it's really good."
Pomeranz's inclusion in the rotation locked up a roster spot for reliever Kevin Quackenbush, and Green confirmed that the right-hander will indeed make the Opening Day roster on Friday.
With Quackenbush on board, the Padres still have two spots available in the 'pen. Fernando Rodney, Brandon Maurer, Carlos Villanueva, Matt Thornton and Quackenbush have all assured themselves a place in the relief corps.
Quackenbush was sharp for most of Cactus League play, posting a 3.00 ERA in an extremely hitter-friendly environment. In two seasons with the Padres, he has a 3.28 ERA and a 1.172 WHIP.
Pomeranz, meanwhile, was 5-6 with a 3.66 ERA last season for Oakland. Forty-four of his 53 appearances came as a reliever. Throughout his career, Pomeranz's splits have been much better as a reliever (2.14 ERA, 1.02 WHIP) than as a starter (4.60 ERA, 1.43 WHIP). But he added a splitter to his arsenal in the offseason, which the club believes could be the key to his success in a starting role.
Pomeranz's first start will come either April 8 or 9 in Colorado, where he spent the first three years of his big league career.
AJ Cassavell is a reporter for MLB.com. Follow him on Twitter @ajcassavell. This story was not subject to the approval of Major League Baseball or its clubs.