Even-keeled MadBum gets 3rd opening start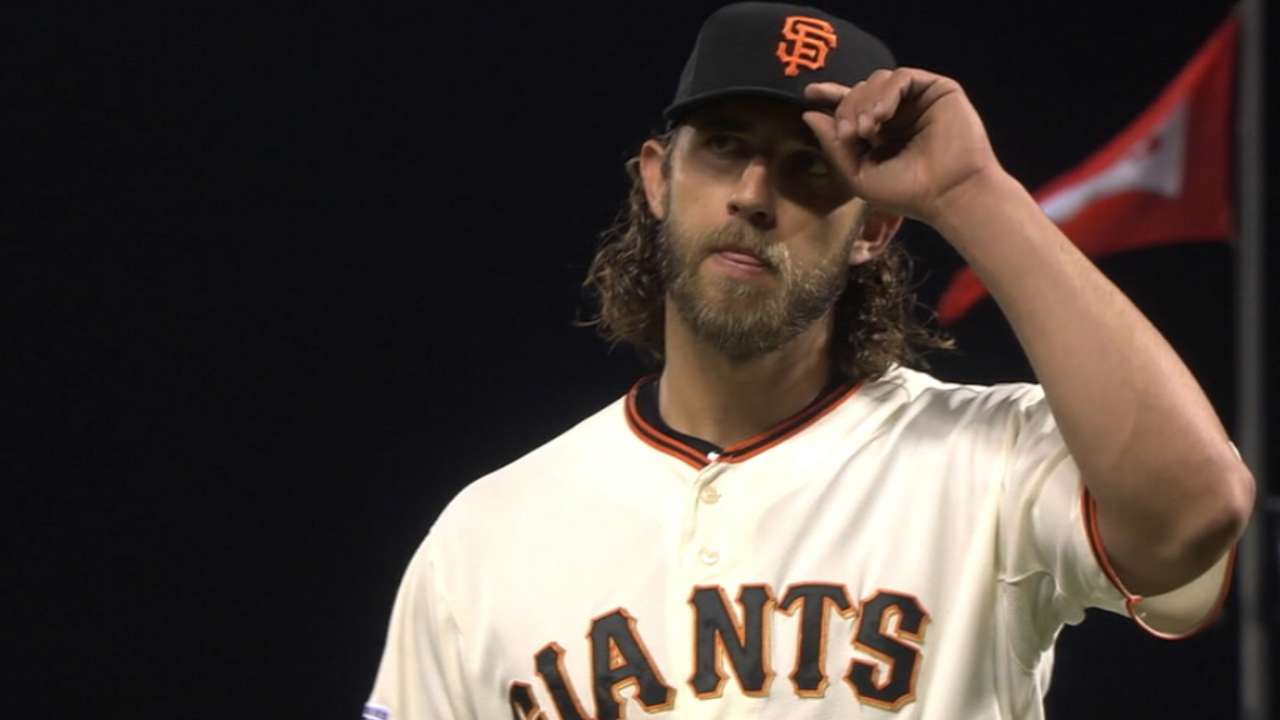 SAN FRANCISCO -- Giants left-hander Madison Bumgarner realizes that greatness usually isn't achieved in a single bound, as if one were Superman. Greatness, he knows, is an edifice built one step at a time.
Bumgarner didn't say this word for word, but it's easy to decipher this is what he believes.
Consider, for example, Bumgarner's attitude toward his job as a starting pitcher. It would be easy for him or anybody in his role to regard Opening Day as a special event. Yet he sets nothing apart -- which, of course, is an element that sets him apart in the first place.
Bumgarner, who'll make his third consecutive Opening Day start Monday when he confronts the Milwaukee Brewers at 11:10 a.m. PT, recently was asked about the importance of "setting a tone" at the outset of the season.
"You can say that about any of the starts," Bumgarner said. "You can say that for the first one and then the next one comes around and you say the same thing. Say the same thing for the next 30 of them. You can always find a reason to want to go out there and pitch good. It's not very hard to find a reason."
That outlook is helping Bumgarner cement his status as one of the franchise's finest performers. With 15 more wins, a figure he has topped three times in the last four years, he'll become the sixth Giant in the club's San Francisco history to reach 100. The only West Coast Giants with at least 1,000 innings pitched who compiled a lower career ERA than Bumgarner's current 3.04 are Hall of Famers Juan Marichal (2.84) and Gaylord Perry (2.96). And Marichal is the sole San Francisco Giant with at least 140 decisions whose winning percentage (.630) exceeds Bumgarner's .594.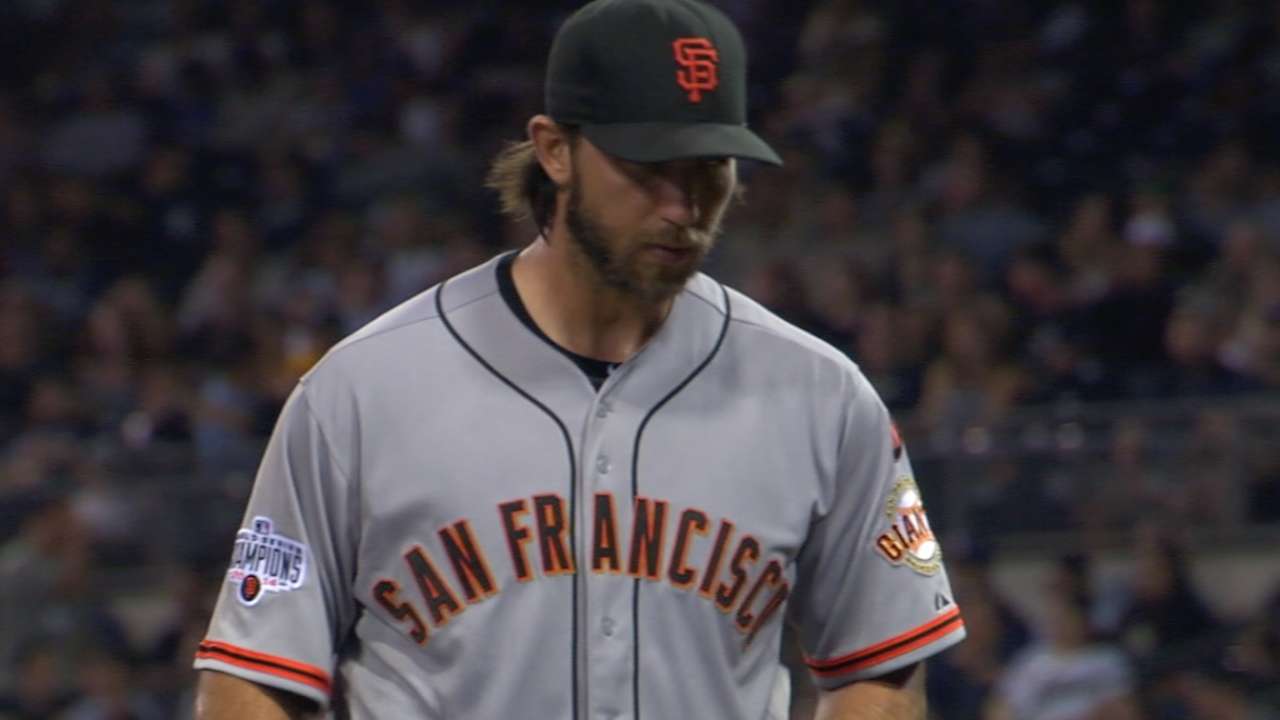 Bumgarner's consistency is almost scary. Despite enduring the workload of the 2014 postseason, when he accomplished as much as any pitcher could within the record 52 2/3 innings he logged, Bumgarner assembled statistics in 2015 that virtually duplicated the previous year's. In 2014, he finished 18-10 with a 2.98 ERA, four complete games, two shutouts, 43 walks and 219 strikeouts in 217 1/3 innings. In 2015, he went 18-9, 2.93 with four complete games, two shutouts, 39 walks and 234 strikeouts in 218 1/3 innings.
No less an authority than Marichal himself said of Bumgarner, "I love his style. He can throw the ball most of the time where he wants it, and that's what you need to be a winner."
It's possible to fathom that Bumgarner's getting better. His strikeout-to-walk and strikeouts-per-nine-innings ratios rose from 5.09 and 9.1 in 2014 to 6.00 and 9.6 last year, respectively. He posted a career-best WHIP of 1.008 in 2015, down from 1.090 the season before.
Should those trends continue, Bumgarner surely will be mentioned as a leading Cy Young Award candidate -- he has finished among the top 10 in voting for the last three years -- along with the National League's big three of Cubs right-hander Jake Arrieta, Dodgers lefty Clayton Kershaw and D-backs right-hander Zack Greinke.
Asked if he felt motivated to join that august group, Bumgarner said, "You'd be crazy not to agree with that, but that's not what I'm here for. But at the same time, if you are mentioned in that category, it means you are really doing something special for your team and that's why you are here."
Chris Haft is a reporter for MLB.com. Read his blog, Haft-Baked Ideas, follow him on Twitter at @sfgiantsbeat and listen to his podcast. This story was not subject to the approval of Major League Baseball or its clubs.