Vincent has surreal experience facing old team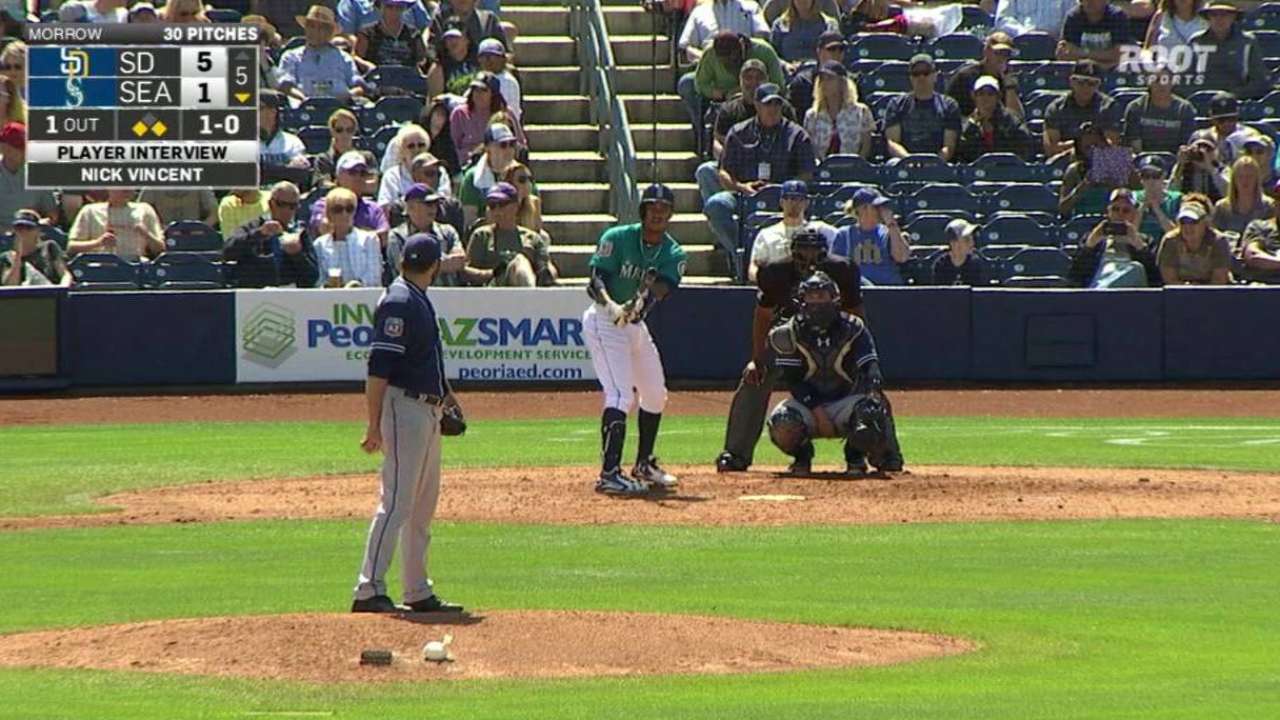 PEORIA, Ariz. -- New Mariners reliever Nick Vincent admits it was a bit of a bizarre sequence, facing his former Padres teammates in a Minor League contest on Thursday just a day after he'd been sitting in San Diego's clubhouse as part of their team.
The 29-year-old right-hander exchanged some smiles, hellos and good-natured chatter with his former teammates, but went about his business with a 1-2-3 third inning in a game on one of the Padres' practice fields where he'd spent many hours over the past eight years with the team that drafted him in 2008.
Vincent hasn't strayed far from his former team since Mariners general manager Jerry Dipoto acquired him for a player to be named and promptly announced that he'd be part of Seattle's Opening Day bullpen.
About two hours after the deal went down Wednesday, Vincent was in the Mariners dugout while his new team faced the Padres in a Cactus League game. Since the two teams share the same Peoria Sports Complex, he just needed to walk across the facility to reach his new clubhouse.
Then he was back out again Thursday actually facing the Padres in the Minor League contest.
"It's a little weird," said the San Diego native. "It was easier today than it was yesterday. It's part of the game. Everybody gets traded. It's a business. I'm just excited to see what I can do for this team this year."
But yeah, there was some strangeness in facing the Padres, particularly an at-bat against pitcher James Shields, who was getting a little extra work of his own with a three-inning start in the game and came to the plate to practice his hitting for the National League squad.
Shields struck out, then walked slowly back to the Padres dugout shaking his head.
"He was probably looking for my cutter," Vincent said. "I just gave him a fastball. Trying to be a good friend about that one and give him fastballs, but he was looking for the cutter I guess."
Vincent has pitched 161 games in the Majors with a 2.63 ERA over parts of the last four seasons, but said he had a few butterflies for this Minor League exhibition.
"There was definitely nerves out there for the first time in a while," he said. "Just new team, old pitching coach, trying to impress the new guys. It's good to get those nerves out early."
Vincent will pitch an inning in Saturday's Cactus League finale against the Rockies, then be ready to roll when Seattle opens at Texas on Monday. The 5-foot-11, 185-pounder says he feels healthy and strong this spring.
"I came in a lot more prepared this year," he said. "Last year my arm was dragging a little bit. I got through Spring Training, pitched three out of the first four games and they sent me down. I wasn't going to give them the option of doing that this year. I came in game ready to make the team and I feel great."
Greg Johns is a reporter for MLB.com. Follow him on Twitter @GregJohnsMLB, read his Mariners Musings blog, and listen to his podcast. This story was not subject to the approval of Major League Baseball or its clubs.