Kluber leads young Indians staff by example
2014 Cy Young winner set to start Opening Day vs. Red Sox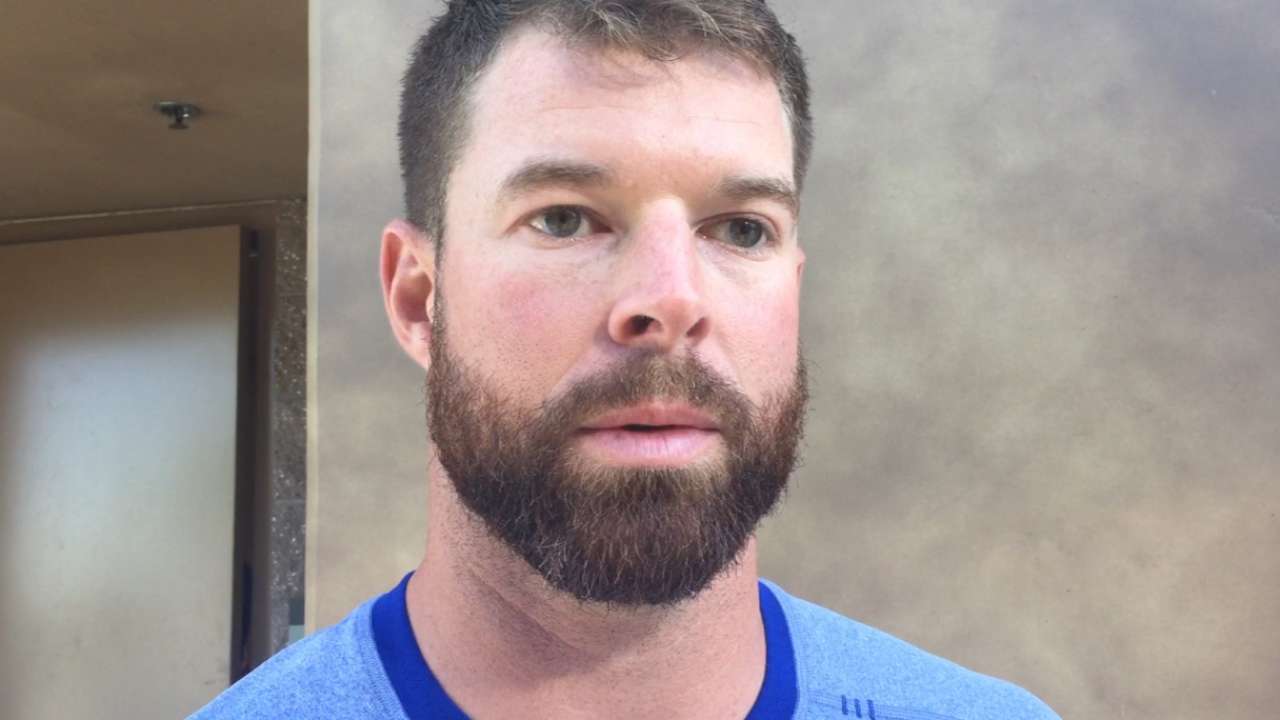 CLEVELAND -- Corey Kluber does not have to say much. As far as the Indians are concerned, the way their stoic starter goes about his daily work behind the scenes, and then how he attacks hitters on the mound, is leadership enough for the rest of the pitchers.
On Tuesday, Kluber will take the mound at Progessive Field at 1:10 p.m. ET for an Opening Day clash with Red Sox lefty David Price, another ace with a Cy Young Award in his trophy case. Before Kluber punches in, he will not need to give a of speech to rally his team for the long season ahead. His preparation and performance will set the tone.
There is no one that Chris Antonetti, the Indians' president of baseball operations, would rather see take the ball to start the season.
"It's a great thing organizationally," Antonetti said, "when you can point to your best pitcher and say, 'If you want to be like him, go do things the same way he does. You want to win a Cy Young? Go follow what Klubes does. Watch his routines. Watch the way he prepares for a start. Watch how diligent he is in the training room and in the weight room.' It's a pretty powerful message."
Kluber's story is well-documented by now, but it remains a great tale.
Selected in the fourth-round of the 2007 Draft by San Diego, Kluber piled up strikeouts on the farm, but never was deemed a top prospect. When Cleveland acquired him from the Padres in a three-team deal at the 2010 Trade Deadline, there was a collective yawn. A year later, Kluber began overhauling his pitching style, focusing more on a two-seam fastball and adding a cutter to go with his other offerings.
• Salazar poised for breakout 2016 season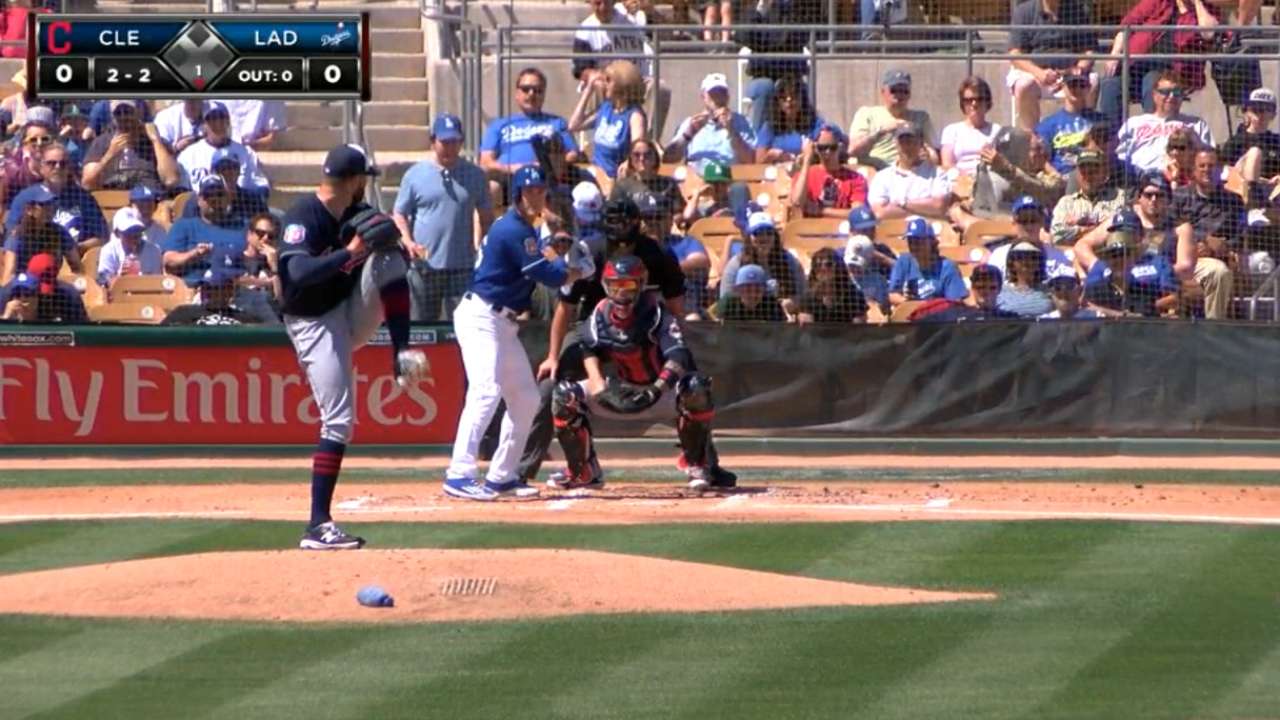 Finally, following mixed results for a few seasons, something clicked. Boy, did it ever click.
"The way you saw Corey kind of evolve into the guy he is now is not by coincidence," said fellow Tribe starter Josh Tomlin. "That guy puts his head down and goes to work every day. That's somebody we all need to look at, no matter if you're a position player, pitcher or bullpen guy. Whoever you are."
Hints of Kluber's potential were there down the stretch in '13, but everyone took notice in the following season. The right-hander developed one of baseball's best curveballs and, combined with his sinker and cutter, featured a combination of pitchers that baffled batters. The strikeouts came in bunches and the wins followed in '14, culminating in one of the more surprising Cy Young victories in recent memory.
Now, Kluber leads one of baseball's best rotations.
While Kluber is leading the way, right-handers Carlos Carrasco and Danny Salazar are right behind him to help form one of the top trios in the game. Cody Anderson and Tomlin -- a pair of hard workers with pinpoint control -- round out the staff. Another starting option, Trevor Bauer, will begin in the bullpen. Highly-touted prospect Mike Clevinger, who worked out with Kluber a few times over the winter, is also rising fast.
"That's the biggest key to our success," Indians pitching coach Mickey Callaway said of Kluber's emergence. "If you go back and look, once Kluber became the main leader, everything changed. Everything changed for Danny, everything changed for Carrasco. He's one of the biggest reasons why you start thinking of the Cleveland Indians, you think about pitching. That probably has more to do with Corey Kluber than anything."
• Carrasco, Salazar could contend for Cy Young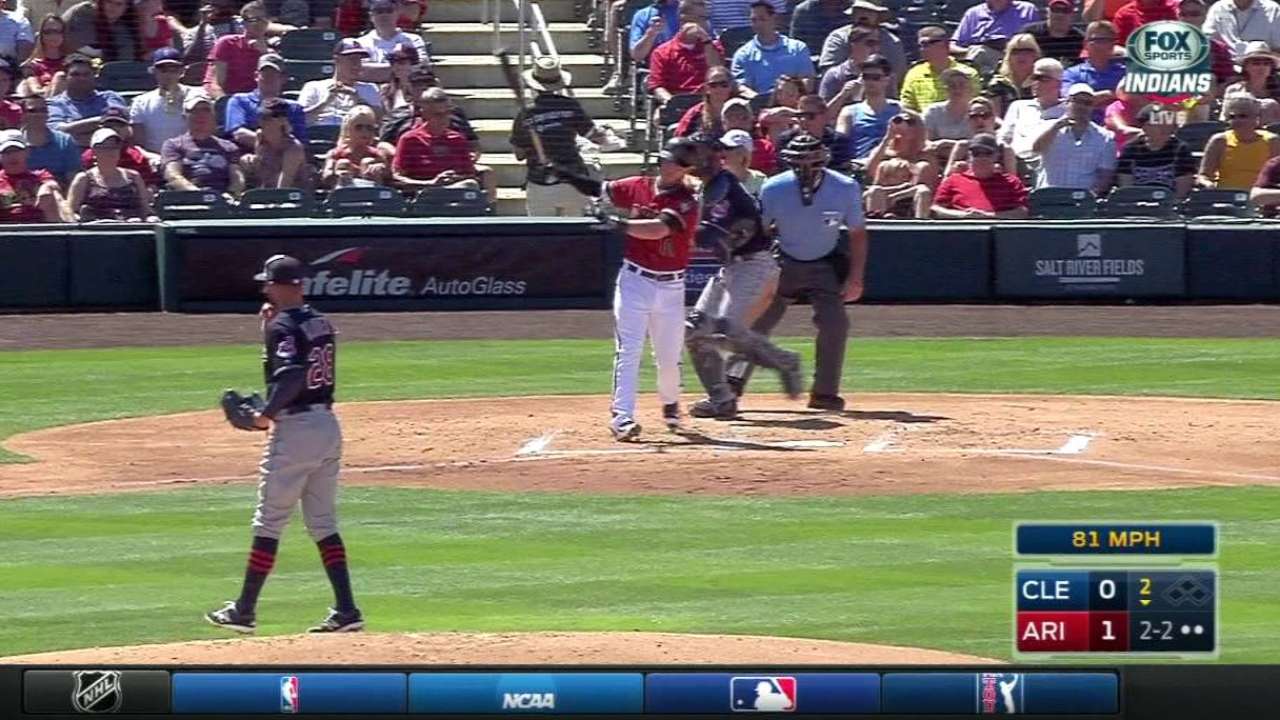 That said, Kluber will forever have 16 losses on the back of his baseball card for the 2015 season.
A year after his 18-win Cy Young campaign, Kluber went 9-16 for the Indians, though it is important to know that much of the blame can be placed on continuously low run support. His ERA rose to 3.49 last season, but he still struck out 245 hitters while walking only 45 in 222 innings. Despite the win-loss total, many peripheral statistics still painted a picture of Kluber as one of the best starters in baseball.
"He's pretty good," Indians manager Terry Francona said. "If he pitched the same identical way this year as he did last year, I'd be willing to bet his won-loss record would be a lot different."
None of that matters now.
• Clevinger aims to harness high energy
Kluber is not worrying about last season, just as he no longer cites his Cy Young success two years ago. There is work to do, and it begins on Monday, when Progressive Field will be packed for the raucous arrival of another baseball season. Kluber, who will be making his second straight Opening Day nod, smiles at the thought of the atmosphere.
"It'll be special," Kluber said. "It'll be my first chance to throw a home opener, Opening Day at home. I'm looking forward to it. I think it'll be fun. Like I said a couple times, all the lead-up to it is the really cool part. Opening Day sort of seems like a holiday."
Kluber knows that feeling will be fleeting.
"Once the batter gets in the box, and you're on the mound," he said, "it just turns into another one."
Jordan Bastian is a reporter for MLB.com. Read his blog, Major League Bastian, follow him on Twitter @MLBastian and listen to his podcast. This story was not subject to the approval of Major League Baseball or its clubs.