Casilla has lock on ninth-inning duties
Giants right-hander won't relinquish closer job any time soon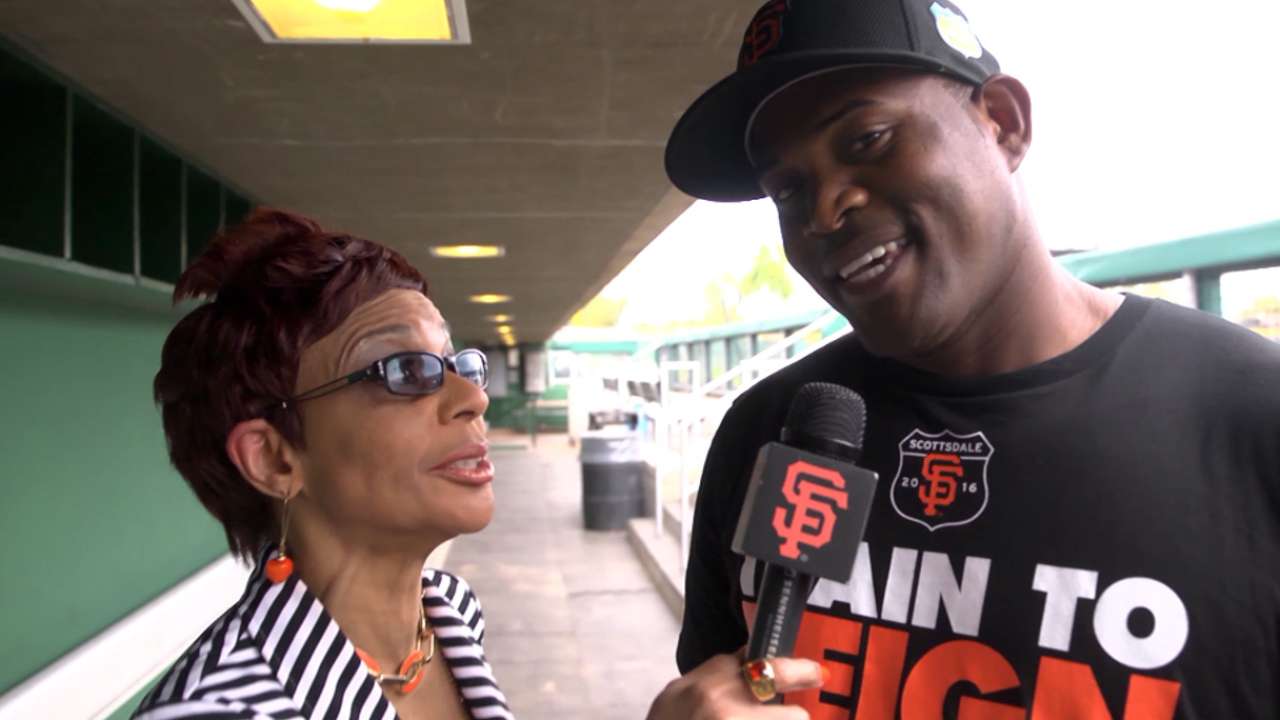 SCOTTSDALE, Ariz. -- If fan skepticism could be measured and established as a statistical category, Santiago Casilla might rank as the Giants' leader.
Since becoming the club's full-time closer during the 2014 campaign, Casilla has converted 57 of 67 regular-season save opportunities. That's an acceptable, even admirable, 85 percent success rate.
However, a sure way to prompt reaction on social media, radio talk shows or anywhere the Giants are discussed is to suggest that Casilla is somehow inadequate and must be replaced as the team's closer.
Try Hunter Strickland in the ninth inning. His fastball hovers at 97-98 mph. Now there's a closer. Or restore the responsibility to Sergio Romo. After all, he has that cool entrance music. Heck, just sign the batboy. It's as easy as ABC -- Anybody But Casilla.
The Giants themselves, though, maintain complete faith in the 35-year-old Casilla. He'd have to endure a pronounced slump to lose his job. And there's no evidence of that happening any time soon.
Giants pitching coach Dave Righetti, who kept his sanity despite spending seven seasons (1984-90) as the Yankees' closer, understands why fans haven't embraced Casilla. When the right-hander pitches, Righetti said, "It's not the classic 'Look at that guy!' kind of thing."
The primary mistake Casilla has made is not being Rod Beck, Robb Nen or Brian Wilson, whose pitches darted past hitters with hot sauce on them. Casilla performs more like a starter, varying his tempo and employing breaking stuff. According to fangraphs.com, only 59 percent of Casilla's deliveries in 2015 were fastballs. He threw almost 23 percent curveballs -- what closer does that? -- and more than 14 percent sliders.
Righetti had no complaints about Casilla's method.
"He's got three or four pitches, he's willing and able to handle the spotlight, so to speak, and the tough losses," Righetti said. "He's shaking those off better and he's growing. He's a tough, competitive guy. We know what we're going to get pretty much all the time. That's always comforting."
The 6-foot, 210-pound Casilla is among the strongest Giants. It's as if he has built his physical prowess to withstand the pressure of being a closer.
"I don't train for one inning," Casilla said. "I train myself to pitch three innings. If I put in my mind that I'm going to pitch only one inning, I might not finish that inning."
Casilla relishes the behind-the-scenes work that's essential for every successful ballplayer. This spring, for instance, he twice bicycled up Camelback Mountain, which dominates the landscape here.
"It's not exercise," Casilla said. "It's like a hobby."
Some alarmists might claim that Casilla slipped noticeably in 2015. His 2.79 ERA was more than a run higher than his corresponding figure of 1.70 in 2014. And his 1.276 WHIP rose from an astounding 0.857 in the previous year.
But he also averaged a career-best 9.6 strikeouts per nine innings last year. That's a positive sign for any closer.
Pitchers often refer to whether they have the right "feel" for what they throw. Casilla's take on this subject conveyed his confidence.
"If I have my feeling," he said, "forget it."
Chris Haft is a reporter for MLB.com. Read his blog, Haft-Baked Ideas, follow him on Twitter at @sfgiantsbeat and listen to his podcast. This story was not subject to the approval of Major League Baseball or its clubs.