Mirror, mirror on the ball: 30 bold predictions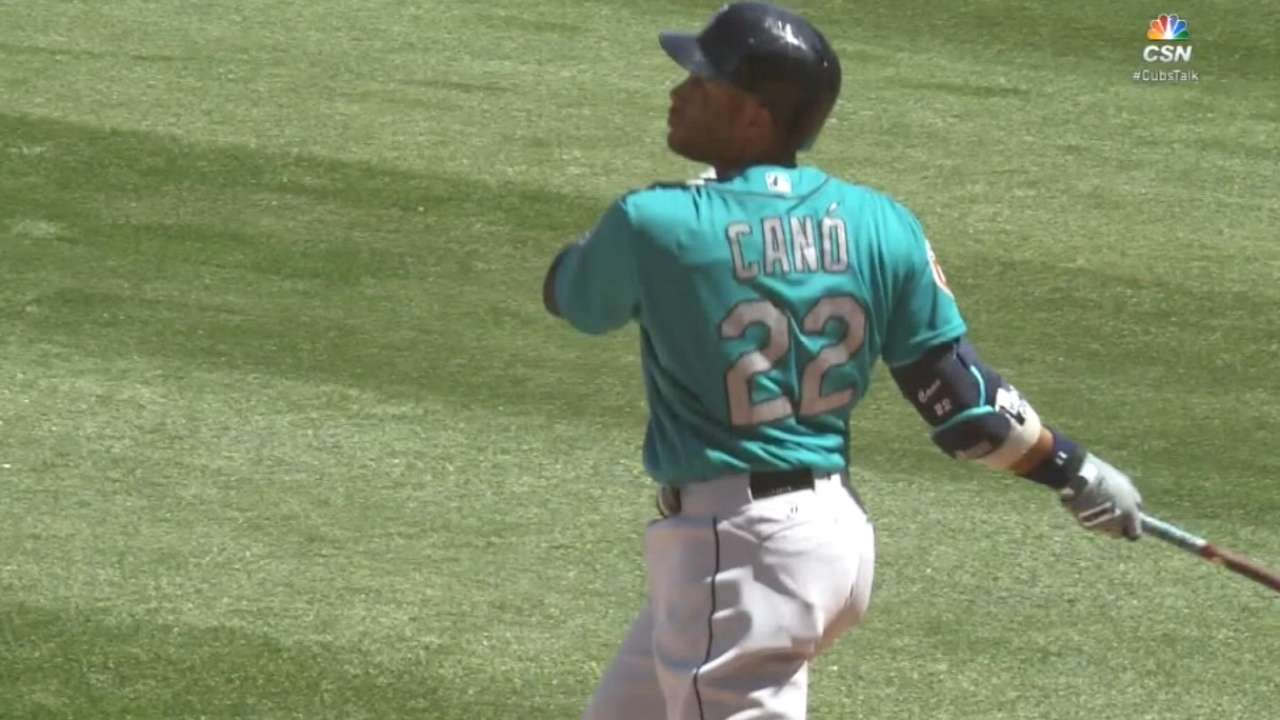 The prediction business is booming this time of year with Opening Day just around the corner and every baseball expert having something to say about how 2016 is going to turn out. Not all of them go out on the proverbial limb to make their prognostications, but this is as good a time as any to go for the bold.
Saying the Royals were headed to the World Series last year might have been a tad brazen, but saying they would the year before, as they did after a Wild Card ride through October, now that would be bold. Predicting a year ago that the Cubs would wind up four wins from their first trip to the Series since 1945 would qualify as bold. Saying they'll make it this year, well, it's a crowded limb you're climbing out on there, pal.
Really, bold is in the eye of the beholder, and not every prediction can be so far out there as to be unbelievable. So with teams getting ready to go from zero to 162 in six magical months, MLB.com takes you from team to team to provide a prediction into each one's future. Just how bold they go, we'll know once the season is through.
Here's a look a bold prediction for each of the 30 teams in Major League Baseball:
AL East
Blue Jays
: Toronto hadn't seen October baseball since the Jays went back-to-back as World Series champions in 1992-93, and then came the 2015 team, led by MVP Josh Donaldson. How about another repeat in 2016? More »
Orioles
: For all the offense the O's boast, it will be a revitalized rotation that will lead Baltimore back to the postseason promised land. After ranking 14th in starter ERA last year, Chris Tillman and Co. will provide a position of strength in 2016. More »
Rays
: The AL East has plenty of suitors for October glory getting more attention, but don't sleep on the gritty team that scratched out 80 wins last year. This is a team that is bound for playoff contention this year. More »
Red Sox
: A swan song that began in Spring Training and will continue throughout the season will be key to the team's fortunes. The final season for DH extraordinaire David Ortiz can't end in September, can it? More »
Yankees
: The stockpile of arms the Yankees have amassed at the back end of the bullpen will carry them into the postseason. Adding Aroldis Chapman to the mix that includes Andrew Miller and Dellin Betances? Imagine that trio in October. More »
AL Central
Indians
: Corey Kluber leaped into prominence and won the AL Cy Young two years ago, and he'll be considered a candidate this year. But would you believe it will be another Tribe hurler bringing home the hardware this year? More »
Royals
: The team concept that has been so evident in Kansas City's back-to-back trips to the World Series had them on top of the baseball world last year. But there's an MVP in the making, a leader on and off the field -- Eric Hosmer. More »
Tigers
: The constant on a Tigers pitching staff that has seen its share of changes over the last few years, Justin Verlander heads a revamped rotation -- and you can figure on another historic gem up his sleeve. More »
Twins
: So close a year ago, the Twins became September darlings, taking their postseason hopes deep under first-year manager Paul Molitor. A first playoff bid since 2010 is there for the taking. More »
White Sox
: His name has been in the mix for a few years now, and he has finished in the top five in voting each of the last three. It's about time for Chris Sale to step up to the Cy Young throne. More »
AL West
A's
: Having corrected some bad habits at the plate in a productive spring, the pieces are in place for Billy Butler to bounce back in Oakland. More »
Angels
: There's no question the individual greatness that exists on the roster, rocketing superstar Mike Trout and future Hall of Famer Albert Pujols in particular. But they're in it to win it, and October has got to be on the agenda. More »
Astros
: For all the ways the Astros turned heads in 2015 with their run into the playoffs, one player's arrival on the scene really stood out -- and Carlos Correa will make the jump from Rookie of the Year to the next level. More »
Mariners
: Heralded as a game changer from the time he signed, Robinson Cano has yet to break out in Seattle. After a monster Spring Training, this sets up to be the year Cano makes it happen. More »
Rangers
: Especially once Yu Darvish makes his way back, aiming for a return sometime in May, the Rangers will have a rotation that ranks with the very best in the American League. More »
NL East
Braves
: Not many are predicting big things for the Braves this season, but there's one area of the roster that figures to turn heads: the rotation. See where they might land by the All-Star break, and you might see a change in Atlanta's fortunes. More »
Marlins
: Give him a full season of health, and we'll really see what Giancarlo Stanton can do. It says here that if he stays strong and keeps swinging, a big single-season milestone for homers is in the offing. More »
Mets
: Plenty of observers who thought the team's run to the World Series was well earned still don't think they'll hold off the Nationals again. But behind a stellar rotation, the NL East is in New York until it's not. More »
Nationals
: All the promise and all the talent came together in one dazzling season for Bryce Harper, who walked away from 2015 with his first Most Valuable Player Award. Do we hear a second? More »
Phillies
: Don't look for them being predicted to go all the way back to October this year, but with talent like Maikel Franco on display, don't be surprised if the rebuilding process picks up some steam. More »
NL Central
Brewers
: His reputation for power precedes Chris Carter's arrival in Milwaukee, but so does a .199 average last year with the Astros. This year, we'll see more balls going out and fewer outs for the big first baseman. More »
Cardinals
: The Cardinals won an MLB-high 100 games without him last year, but Adam Wainwright is back to lead a rotation that will be a dominant force in the National League. More »
Cubs
: Baseball's darlings a year ago are right at the top of everyone's list of predictions this year, many thinking they will go all the way this time, at last. Is this the year? More »
Pirates
: The return to postseason play after a drought of 21 years was rewarded with a Division Series berth, but the last two years of being back in October have ended after one Wild Card Game. That figures to change in 2016. More »
Reds
: So much has changed in Cincinnati over the last couple of years, from last year's rookie rotation through the lineup. But Joey Votto remains a constant, and that means he'll be in the MVP conversation when the season is complete. More »
NL West
D-backs
: In a rewarding offseason for starting pitchers, nobody went bigger than the D-backs did by signing Zack Greinke to a record contract. Could that move and other adjustments to last year's third-place club put Arizona atop the NL West? More »
Dodgers
: If the Dodgers reach the postseason for an unprecedented fourth consecutive season, their first-year manager Dave Roberts could be in line for some hardware that hasn't been seen in Hollywood since the 1980s. More »
Giants
: Their pitching staff has been a hallmark of the Giants' run to three World Series titles in the last six years, and that staff has seen some changes. But don't expect closer Santiago Casilla to be one of them. More »
Padres
: The predictions aren't as kind to the Padres this year after some offseason changes, but here's a bold call: A piece of unwanted history could disappear this year with the team's first-ever no-hitter. More »
Rockies
: He brings the highlights at third base, and he brings the power swing to the plate. This year, look for Nolan Arenado to vault into the national limelight and make his most impressive grab yet - the NL MVP Award. More »
John Schlegel is a national reporter for MLB.com. You can follow him on Twitter @JohnSchlegelMLB. This story was not subject to the approval of Major League Baseball or its clubs.