Cooper likes Latos' pitches, but efficiency lacking
Rollins praises fellow White Sox shortstop Saladino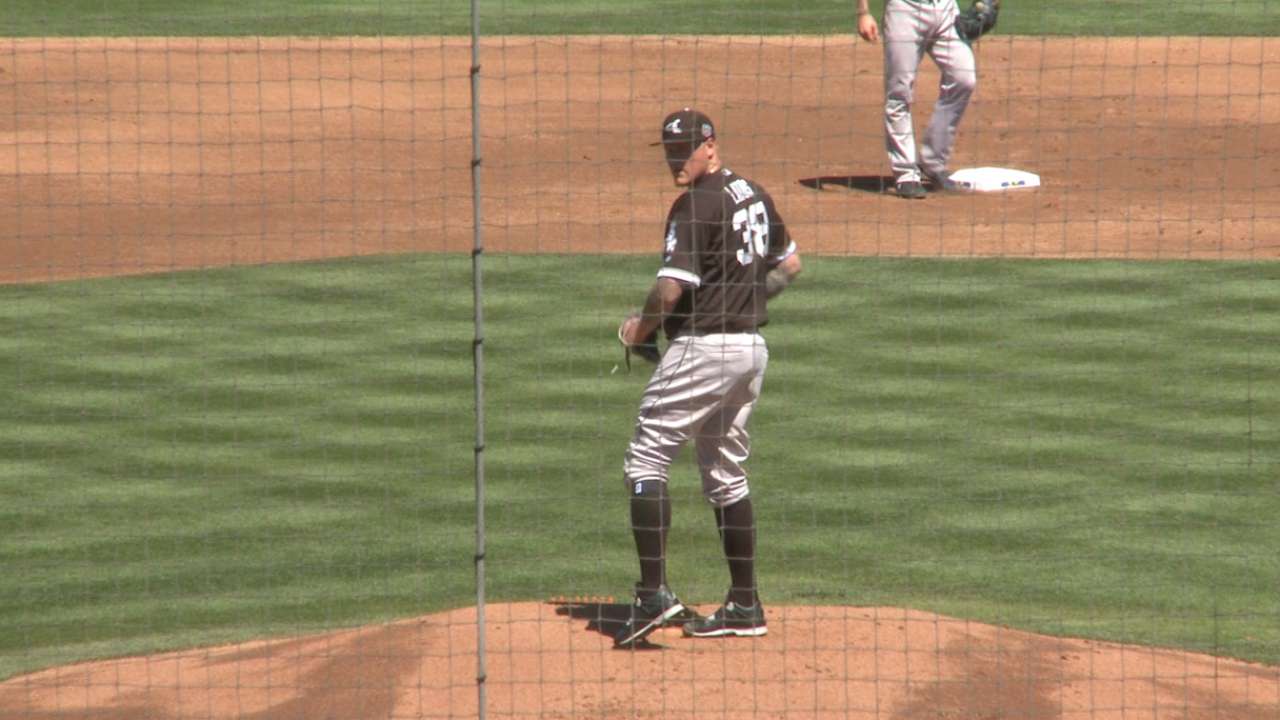 GOODYEAR, Ariz. -- Don Cooper listed off four positives Wednesday in regard to Mat Latos' Spring Training work. But the White Sox pitching coach didn't include Cactus League results in that plus-column for the veteran right-hander.
"His pitch total is certainly up, but he needs to be able to give us more innings," said Cooper of Latos, who allowed 12 earned runs on 18 hits over 8 2/3 innings. "He's had difficulty with efficiency and difficulty going past four. That's not the job description. So he needs to climb."
Latos threw a bullpen session Wednesday, with one of the focuses being on throwing his curve for strikes. Cooper likes the fastballs Latos has thrown to location, a better slider, a straight change for more strikes and a split that's more of a put-away.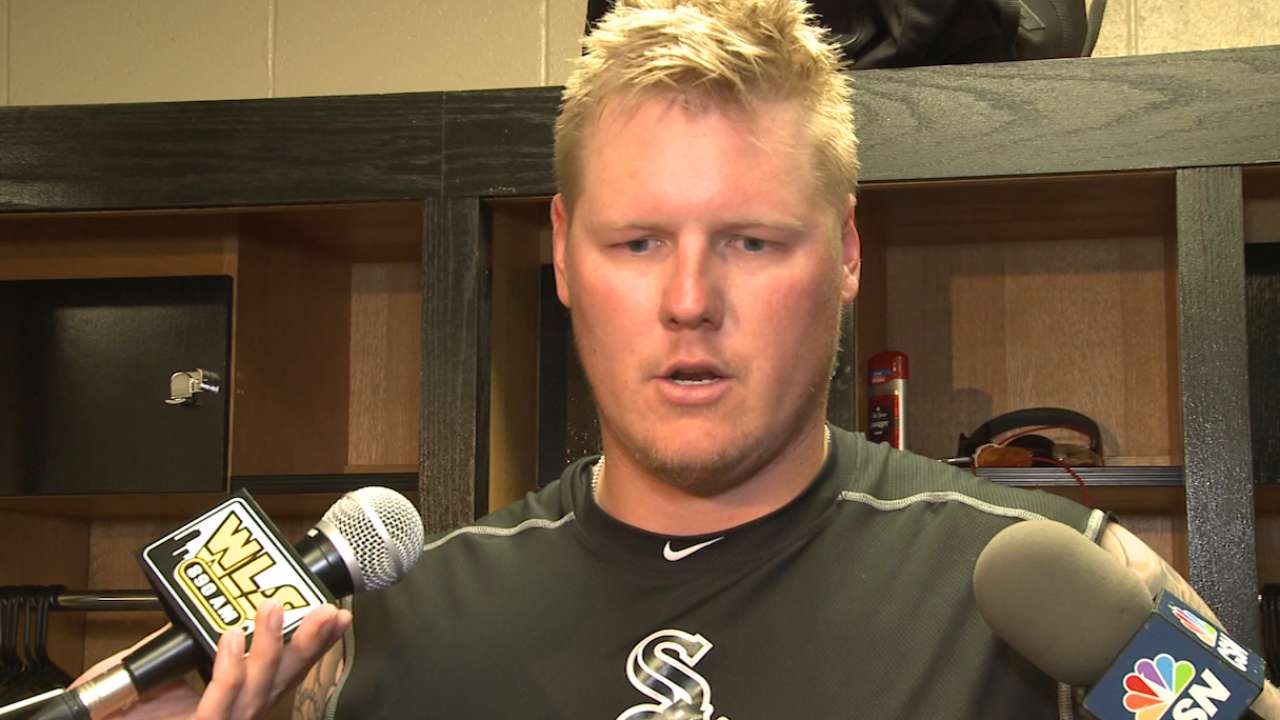 There's more work to be done in preparation for next Thursday's regular-season debut in Oakland, although don't look for Latos to work too deep in Friday's exhibition against the Padres.
"He's ready to go six innings now, for sure, as far as pitches go, if he's efficient," Cooper said.
Cooper feels comfortable overall with his starters going seven, and mentioned Chris Sale and Jose Quintana are ready to go nine if they can handle it. White Sox starters topped the Major Leagues with 1,011 innings and stood second with 936 strikeouts in 2015.
Rollins has respect for Saladino
Jimmy Rollins will be splitting time at shortstop with Tyler Saladino, and the 37-year-old former National League Most Valuable Player had some interesting praise and words of advice for the 26-year-old Saladino.
• Rollins thrilled to start at short for White Sox
"He can definitely play. We call him 'Emanski' out there," said Rollins, referencing baseball coach Tom Emanski, who is known for his baseball instructional videos. "He does everything so fundamentally sound. I got to work with him, gave him some pointers, on balls I felt he is better suited to backhand.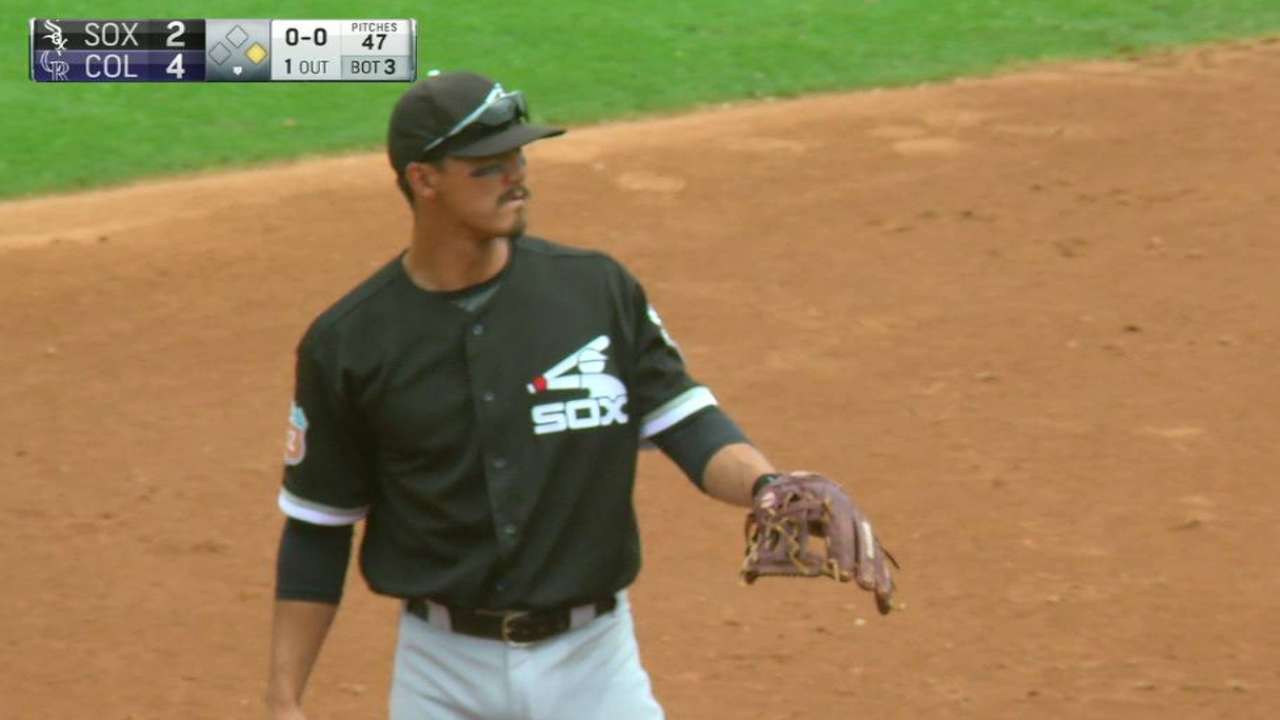 "I've noticed he's been doing it when we take ground balls and he's been looking good. And at the plate he's doing very well. He's a strong hitter."
Rollins also acknowledged that Saladino has youth on his side.
"When I punch him in the stomach, it's like hitting bricks and I'm like, 'Man it must be nice to be young. Your muscles are still tight,'" Rollins said. "But he seems to have the confidence he can play here, and that's big. It's a matter of him going out there and getting it done and building on that."
This and That
• Sale celebrated his 27th birthday Wednesday.
• Carlos Rodon is scheduled for six innings or 100 pitches during a simulated game at Camelback Ranch as part of the White Sox off-day Thursday.
They Said It
"I want to go out there and play hard for him every single day. I want to put it on the line for him because he represents the team well and myself well, and I couldn't be in a better spot to play for a better guy." -- Brett Lawrie, on playing for manager Robin Ventura
Scott Merkin is a reporter for MLB.com. Read his blog, Merk's Works, follow him on Twitter @scottmerkin, on Facebook and listen to his podcast. This story was not subject to the approval of Major League Baseball or its clubs.