Fiers, Feldman, Fister round out rotation order
Fiers to start April 7 vs. Yankees; Feldman and Fister to start April 8-9 vs. Milwaukee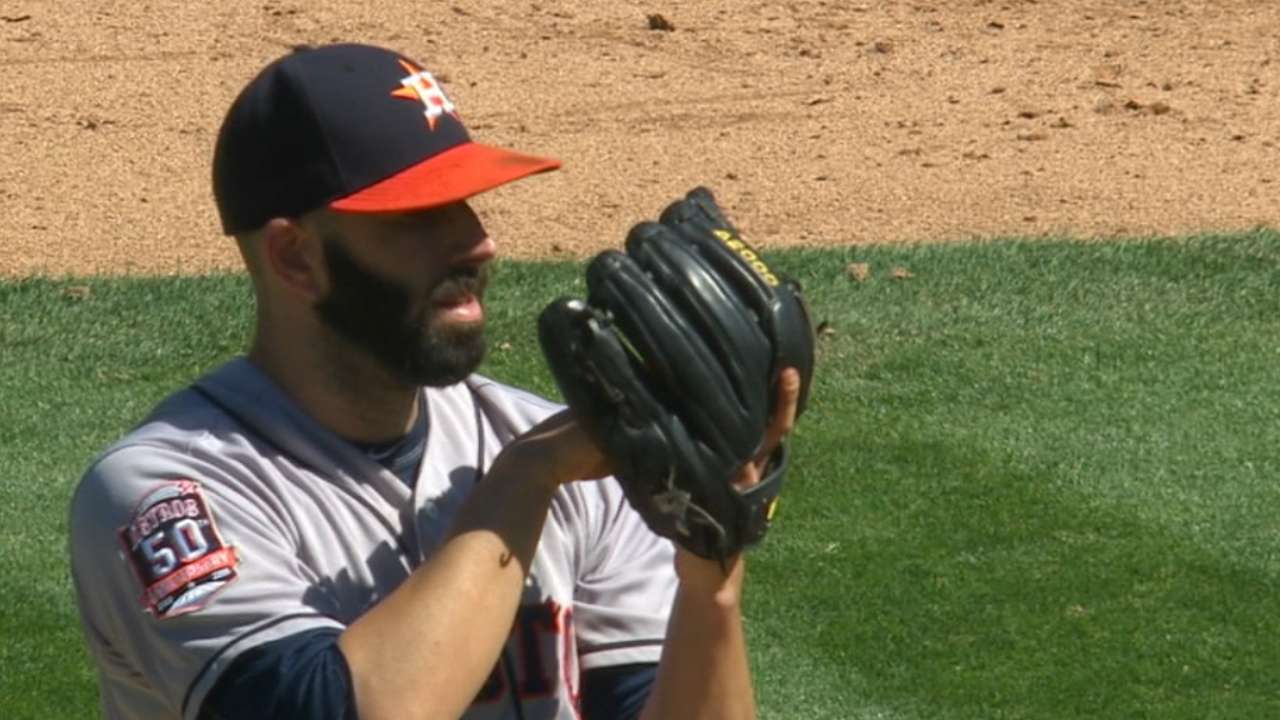 CLEARWATER, Fla. -- Astros manager A.J. Hinch set the rotation for the first five games of the season, announcing Wednesday before the Astros' 8-4 loss to the Phillies that Mike Fiers would pitch April 7 against the Yankees and Scott Feldman (April 8) and Doug Fister (April 9) at Milwaukee. Hinch had previously announced Dallas Keuchel would start Monday's season opener at New York, followed by Collin McHugh on April 6.
Hinch added that Keuchel could pitch on his regular four days of rest on April 9, pushing Fister to April 10 at Milwaukee, but that will be determined later. Fiers will start Friday's exhibition game against Milwaukee in Houston, but the Astros will keep him away from his former team, the Brewers, when they travel to Milwaukee a week later.
"You start with the first series and go from there," he said. "I'm comfortable with all of our starting rotation. The order in which they go -- obviously, Dallas is going to go first -- but other than that, it sort of falls in line with how we want to match up against our opponents. All the pitchers are aware and ready to go."
Worth noting
• The Astros will leave Florida following Wednesday's Grapefruit League finale with two spots on the 25-man roster still up for grabs. If they decide to carry 12 pitchers, which is likely, Matt Duffy would grab a spot on the roster as an extra infielder. If they carry 13 pitchers, Duffy would be out and Wandy Rodriguez, James Hoyt and Michael Feliz would battle for two spots instead of one.
"We flirted with the idea of going with 13 pitchers, which is why a couple of guys are still in camp," Hinch said. "Matt Duffy is still the leading candidate as a position player to fill out our bench if we go with 13 position players. Those two spots on our team will come down to one last discussion when we get back to Houston tomorrow as an entire group and should have something during the exhibition series [Thursday and Friday against Milwaukee]."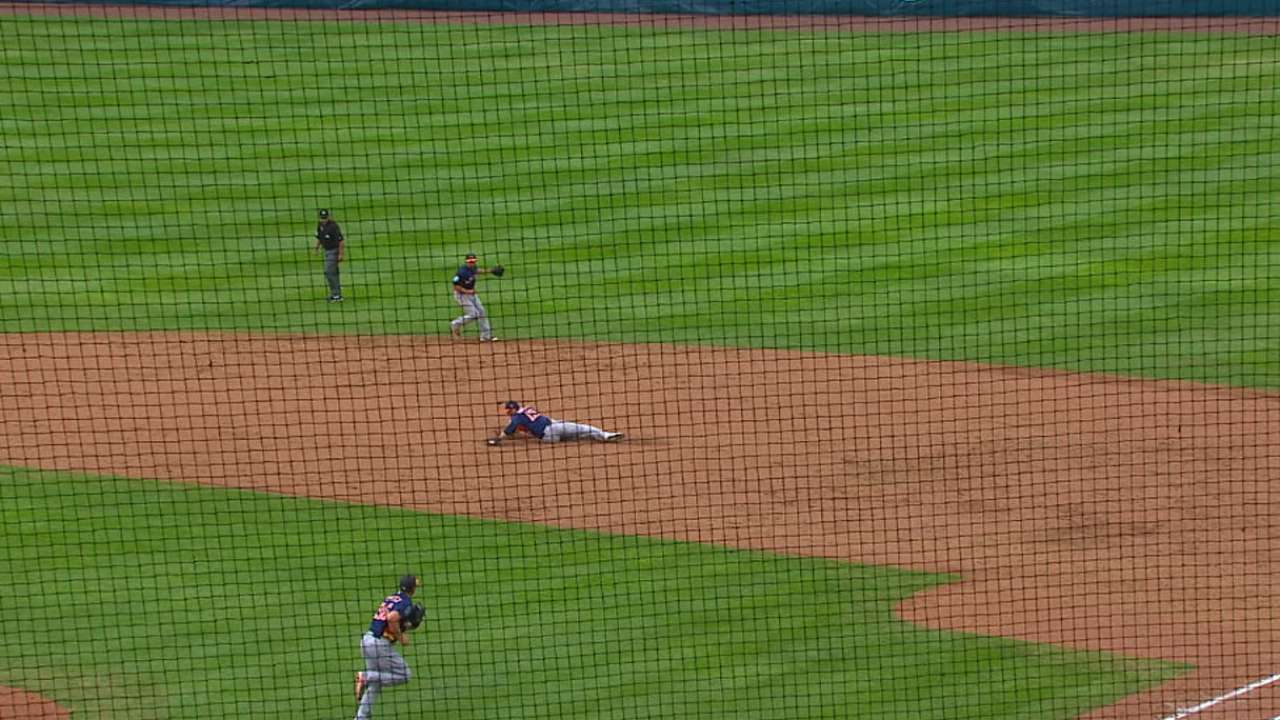 The Astros carried 13 pitchers for most of last year, carrying an extra lefty (Joe Thatcher and later Oliver Perez). Tony Sipp is the only lefty currently assured of being in the bullpen, and he could be joined by Rodriguez.
"It's comfortable to have 13 pitchers," Hinch said. "You're really picking your spot where you're going to have less. You'll either have one less bench player or one less pitching option. I could see it going back and forth with a couple of different ways this year."
Feliz was optioned to Triple-A earlier in the spring, but Hinch said Wednesday the hard-throwing right-hander was back in the mix for a bullpen spot.
"As further review, we wanted Michael to stay stretched out," he said. "He was originally going to pitch [in a Minor League game Tuesday], and they had rain issues. Knowing that we could always bring him back if we wanted to, he's really the fine line of development versus him potentially being the best option for us in our bullpen on Opening Day."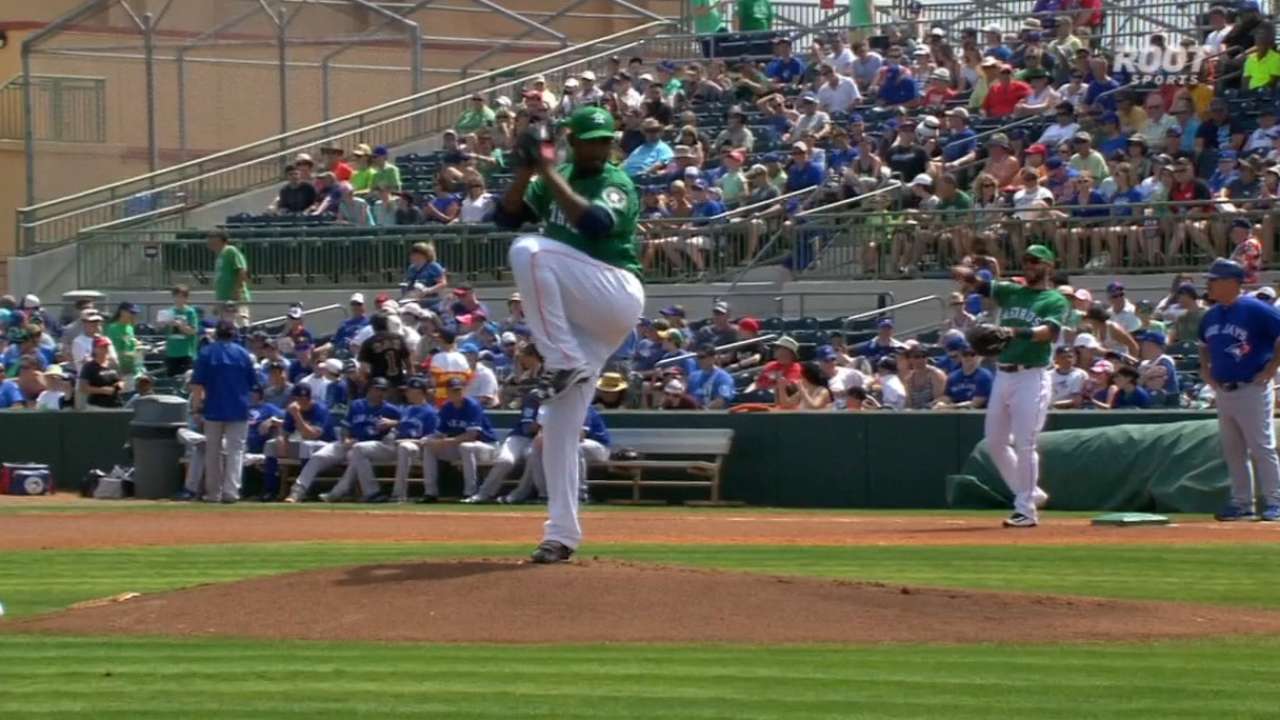 • Hinch said he plans to utilize the iPad Pro that will be available to all Major League clubs this year, marking the first-ever on-field integration of next-generation technology, putting advance-scouting video and customizable reports at the fingertips of all managers, coaches and players.
Entering the 2016 season, each iPad Pro has been customized for each club and loaded with the MLB Dugout app, allowing every team's manager, coaches and players to utilize their own proprietary and strategic statistical reports, data visualizations and advance-scouting videos during every game from dugouts and bullpens, giving them easy access to valuable, actionable baseball insights.
Clubs also will have the ability to include any of their own reports with data generated from last year's first full season of the Statcast™ tracking technology, bringing new stats for pitch tracking, hitting, baserunning and fielding, right on iPad Pro.
"I'm going to use it," Hinch said. "I think it's going to be a welcome addition for me and some of the coaches. I'm not sure if everybody is going to want to utilize it, but I try to be tech-savvy. I think I'll be fine and utilize it with the scouting report and advance report and some of the video of pitchers coming in. It's a great resource for us.
"I'm glad we progressed to the point of that being available ... You see it on the sidelines of the NFL and the NBA, I think they use it as well. My guess is not every coach in the big leagues will use it and break their routine. The sport is pretty routine-based. I'm pretty excited about it."
• Hinch said newly acquired catcher Erik Kratz will join the team Thursday in Houston, and he will catch bullpens and familiarize himself with the staff's pitching as much as possible. He'll start Friday's game with Fiers, which is likely who would catch in the regular season on Thursday in New York.
• Among the Minor Leaguers who will travel with the big league club to Houston for the exhibition games against the Brewers are shortstop Alex Bregman, outfielders Teoscar Hernandez and Derek Fisher and left-hander Reymin Guduan.
Brian McTaggart is a reporter for MLB.com and writes an MLBlog, Tag's Lines. Follow @brianmctaggart on Twitter and listen to his podcast. This story was not subject to the approval of Major League Baseball or its clubs.