Tomorrow the world? MLB prospects to watch in 2016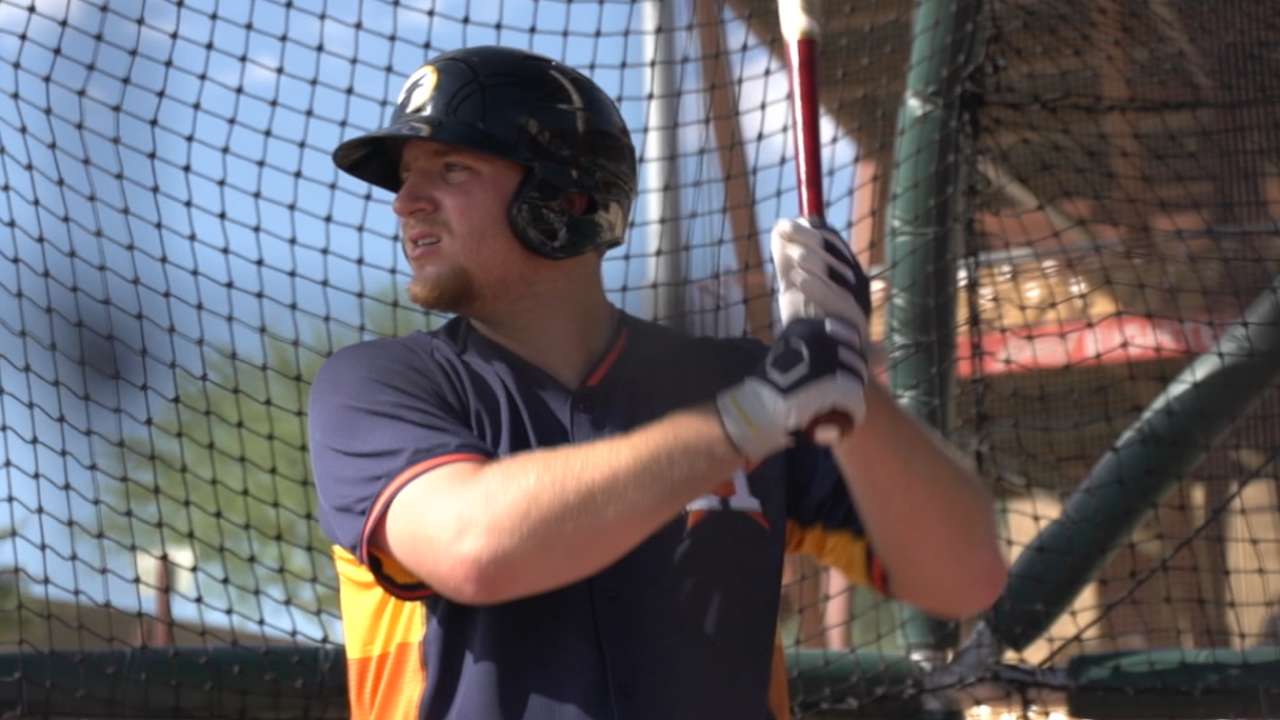 This is a tough week at Spring Training. All across the Cactus and Grapefruit Leagues, teams are finalizing their rosters in preparation for Opening Day. That means trimming, tailoring and slicing off of the 40-man roster at the expense of prospects around the league, who are being optioned, released and reassigned in typical last-week fashion.
But many won't be gone for long. More than ever before, teams are dipping deep and constantly into their Minor League systems to finish long campaign that is the Major League year. Take the Yankees, for instance, who used 56 players in 2015. Or the Dodgers, who used 55 at the Major League level and a whopping 80 at Triple-A. With these numbers in mind, its not surprising that 2015 featured one of the most productive rookie classes in memory.
Twenty-eight rookies received at least 300 at-bats last season -- the most since 1999. Twelve hit at least 15 home runs -- the most in a decade. The headliners of this class spearheaded the resurgence of some of baseball's now top teams: Think Carlos Correa in Houston, Kris Bryant, Addison Russell and Kyle Schwarber of the Cubs, and the NL champion Mets' Noah Syndergaard.
• Top 100 prospects at MLBPipeline.com
Each club features prospects on the cusp of making similar Major League impacts in 2016. MLB.com is here to provide an overview of this next wave as part of its Opening Day coverage. Many of these prospects are on their way out of Major League camp. But most all will be back soon, to stay.
AL East
Blue Jays
: Toronto has a former child actor and guest star on FX's comedy "Anger Management" rising through its system. The 20-year-old could debut his acting skills -- and plus fastball -- in the Jays' bullpen late this season. More »
Orioles
: This is a big year for the Orioles' top pitching prospect, who missed all of 2015 due to injury. More »
Rays
: Tampa Bay's No. 22 prospect is a quintessential Rays player -- a gamer with a nice mix of power and speed who can play all over the diamond. More »
Red Sox
: "The next Paul Goldschmidt," some scouts rave about the 22-year-old who hit .536 with a 1.305 OPS this spring. More »
Yankees
: He whiffed on a legitimate chance to win New York's backup catcher role. Now this 23-year-old returns to Triple-A looking to decrease the gap between his offense and defense. More »
AL Central
Indians
: Cleveland's No. 7 overall prospect earned its Minor League Pitcher of the Year honor last season and could crack the Majors if the Indians' pitching depth is stretched. More »
Royals
: This middle infielder will go from the World Series to the Minor Leagues to start the season. But Kansas City expects to see the speedster with good genes again soon. More »
Tigers
: Detroit has a Minor League shortstop with a Major League-ready glove. His bat just needs to catch up. Sound familiar? More »
Twins
: Minnesota's No. 2 prospect is still raw, but possesses a three-pitch arsenal that specializes in what Twins pitchers have long since done -- missing bats in abundance. More »
White Sox
: This power righty will start the season in Double-A. But if he progresses he could soon provide a hard-throwing option within Chicago's lefty-laden rotation. More »
AL West
A's
: This touted lefty pitched to a 2.66 ERA across four levels in 2015, including the Arizona Fall League, which he paced with 33 strikeouts in 25 2/3 innings. More »
Angels
: Nineteen months removed from Tommy John surgery, the lefty who once struck out Bryce Harper three times in amateur ball can tap into the potential that made him a first-round pick. More »
Astros
: Only 22 and built like a grizzly bear, this lefty masher showed few offensive holes in his first full season of professional ball. He hit 34 homers across two levels in 2015, three more this spring, and appears poised to debut in Houston in 2016. More »
Mariners
: The former Cubs castaway followed a strong September callup with a good enough spring to conceivably crack Seattle's bullpen. More »
Rangers
: Cut from a similar cloth as former Texas prospect Chris Davis, this lumbering lefty needs to fix some holes in his swing before sending more baseballs into orbit. More »
NL East
Braves
: Atlanta flaunts two marquee young shortstops that rank among baseball's top 30 prospects. It will spread them out over its system and watch them develop. More »
Marlins
: Cutting down on the 6.7 walks per nine innings this righty surrendered in his 25-game Major League cameo last season will be key. Because as his 11.1 strikeouts per nine show, he has wipeout stuff. More »
Mets
: This lefty made such an impression, it's hard to believe he only has nine Major League starts to his name. Three of those came in last year's postseason, when he re-established his spot in the 2016 rotation with an impressive combination of stuff and poise. More »
Nationals
: Washington sent its No. 2 prospect with blazing speed down to Triple-A on Monday. He'll be back if veteran shortstop Danny Espinosa can't improve his contact rate. More »
Phillies
: Just one in a wave of future shortstops on the rise, Philadelphia's version has tools for days and will be key to its rebuild. More »
NL Central
Brewers
: Milwaukee is focused on the future, and no player is more important to that than this toolsy infielder. More »
Cardinals
: St. Louis' talented Cuban shortstop rebounded in a big way last season after multiple injuries seemed to stall his development. He's someone to keep an eye on if the Cardinals' patchwork replacements for Jhonny Peralta don't pan out. More »
Cubs
: If the Cubs were still rebuilding, this lanky right-hander might have made the Opening Day roster. More »
Pirates
: If pitching coach Ray Searage can't work his magic on the thin back end of Pittsburgh's rotation, this 22-year-old with a MLB-ready heater could crack it by summer. More »
Reds
: The last of the three pitchers acquired in the Johnny Cueto deal to reach the Majors may have the most upside out of all of them. More »
NL West
D-backs
: The centerpiece of the deal that sent Justin Upton to Atlanta in 2013 has had a blockbuster spring at the plate. More »
Dodgers
: Los Angeles' No. 2 prospect even bests Corey Seager on this list because of his rare status as a pitcher with a chance to reach the Majors as a teenager. More »
Giants
: Tall and strong, this righty paced the hitter-friendly Pacific Coast League with a 2.85 ERA in 2015. If the aging back end of San Francisco's rotation falters, he could be called on to help. More »
Padres
: The San Diego hurler who gained 20 pounds of muscle this offseason sports a four-pitch arsenal anchored by a 94 mph fastball. More »
Rockies
: Earning the right to be the first Rockies player to debut as an Opening Day starter since 2005 is only partly due to an eye-popping Cactus League performance for the infielder. More »
Joe Trezza is a reporter for MLB.com. Follow him on Twitter at @joetrezz. This story was not subject to the approval of Major League Baseball or its clubs.