Decisions loom after Tanaka, CC deliver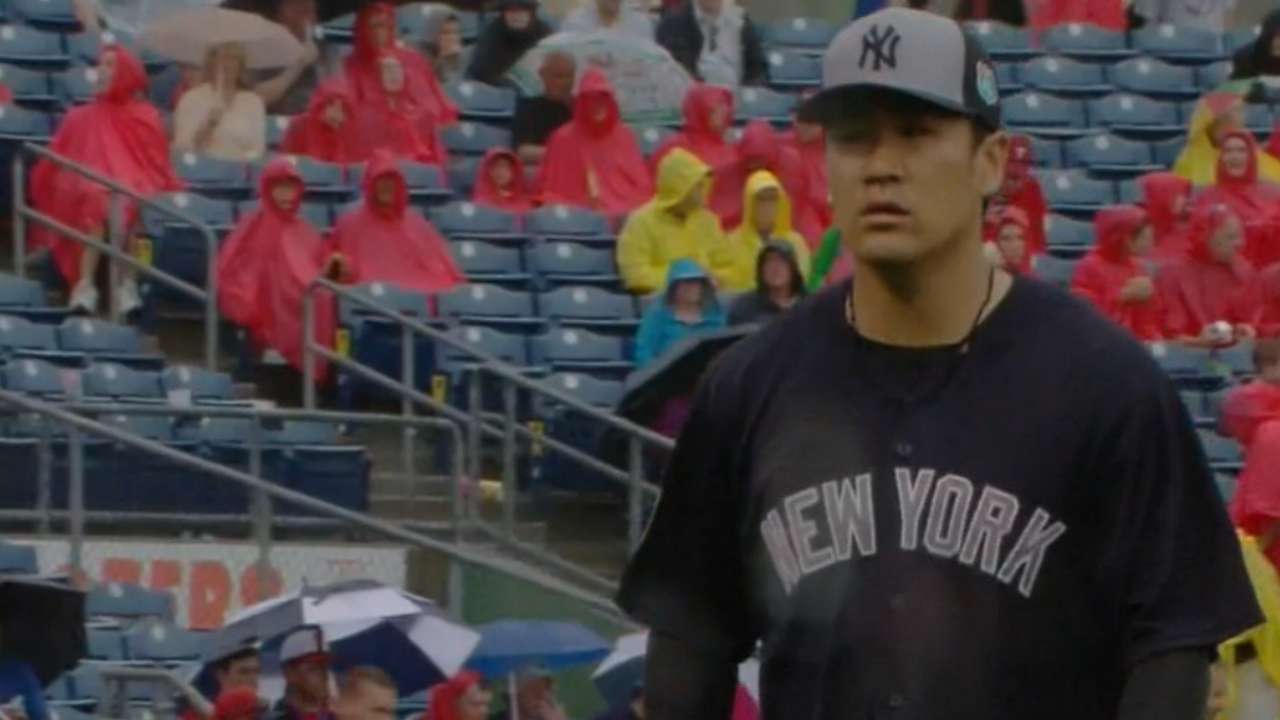 TAMPA, Fla. -- All that is left now are the announcements following a wet afternoon of information-gathering for Masahiro Tanaka, CC Sabathia and the Yankees.
Challenged to dial it up in his final spring start, Tanaka responded with four innings of one-run ball in a game against the Phillies in Clearwater, Fla., that was cancelled by rain, while Sabathia offered what manager Joe Girardi rated as his best outing of the month in a 5-4, rain-shortened victory over the Pirates at George M. Steinbrenner Field.
Girardi will huddle with pitching coach Larry Rothschild to go over video, but assuming that Tanaka is healthy, the 27-year-old right-hander continues to be in line to make the Opening Day start on Monday against the Astros.
"That was what I was hoping to see today and hear from Larry, that [Tanaka] turned it up a notch, because they know it's a long year," Girardi said. "Older players, they don't come out like the kids in Spring Training. They just don't, and you have to understand that."
Tanaka scattered seven hits with a walk and five strikeouts against the Phils, and the Yankees suspect that he may have been holding back early in camp to protect his surgically repaired pitching elbow.
"I think he was just taking it slow because of coming off the injury and wasn't going to try to do too much too early," Girardi said.
Sabathia appears to have locked up the No. 5 rotation spot over Ivan Nova after limiting the Pirates to two runs and three hits over four innings, walking two and striking out two.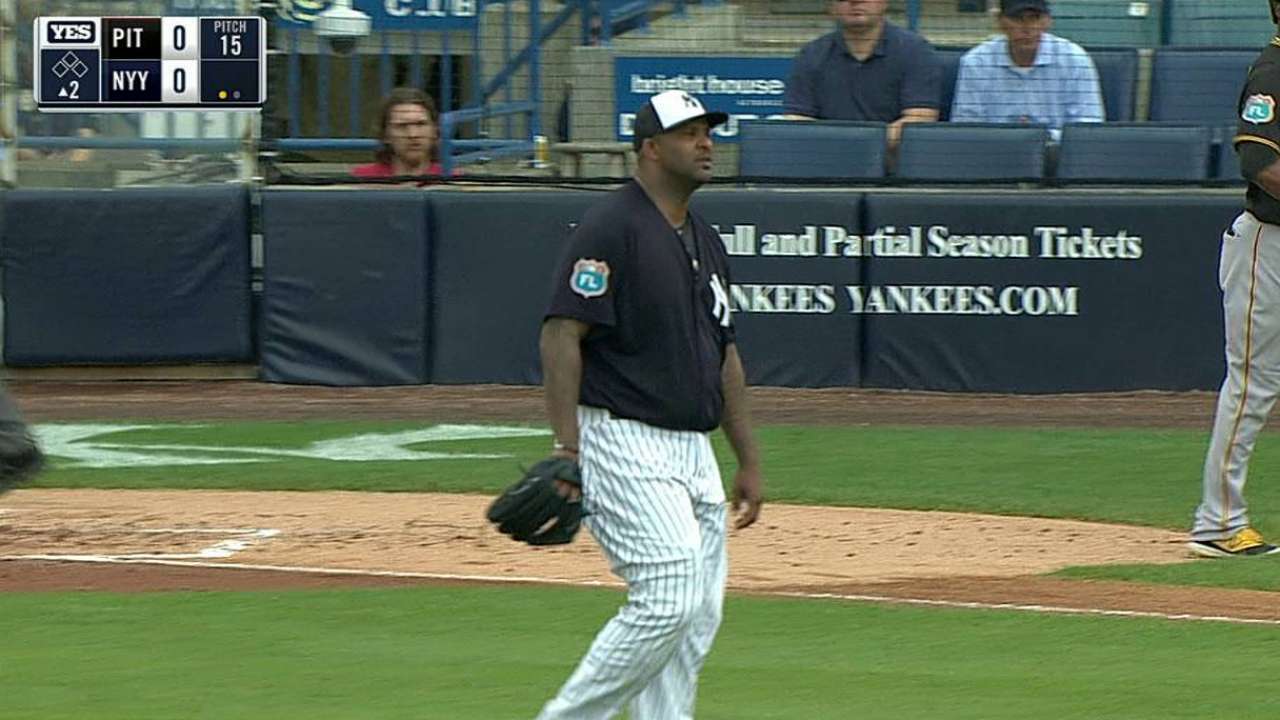 "I've got no complaints. I'll be ready to go," he said. "Top to bottom good. The pitches are working; I'm confident in what I'm throwing and what I'm trying to do to get hitters out. I mean, this is good. I feel good, prepared to go to the season."
Girardi said that Sabathia's cutter was "excellent" and that his changeup improved as the game went on, but he was not prepared to announce a decision because Nova is still scheduled to start on Wednesday against the Braves in Lake Buena Vista, Fla.
The runner-up in that competition is likely ticketed to serve as the long reliever.
"I think it's going to be difficult for either one," said Girardi, who hopes to have his decisions finalized by Thursday. "They've been here a long time, but CC has done a lot of good things in this game for a long time. Whatever decision we make, this is the hardest part of the year for me sometimes."
The rotation for the season-opening series against Houston appears to have Tanaka starting on April 4, Michael Pineda on April 6 and Nathan Eovaldi on April 7, with Luis Severino set for April 8 at Detroit and the fifth starter on April 9.
"You're doing what you think is best. We always say that nothing's final," Girardi said. "You still have to go out and play the games and pitch and compete and play your position well. We have depth here, so if we need to make a change, we make a change."
Bryan Hoch is a reporter for MLB.com. Follow him on Twitter @bryanhoch, on Facebook and read his MLBlog, Bombers Beat. This story was not subject to the approval of Major League Baseball or its clubs.