Zych a key member of Mariners' bullpen
High strikeout total, fewer walks part of prospect's development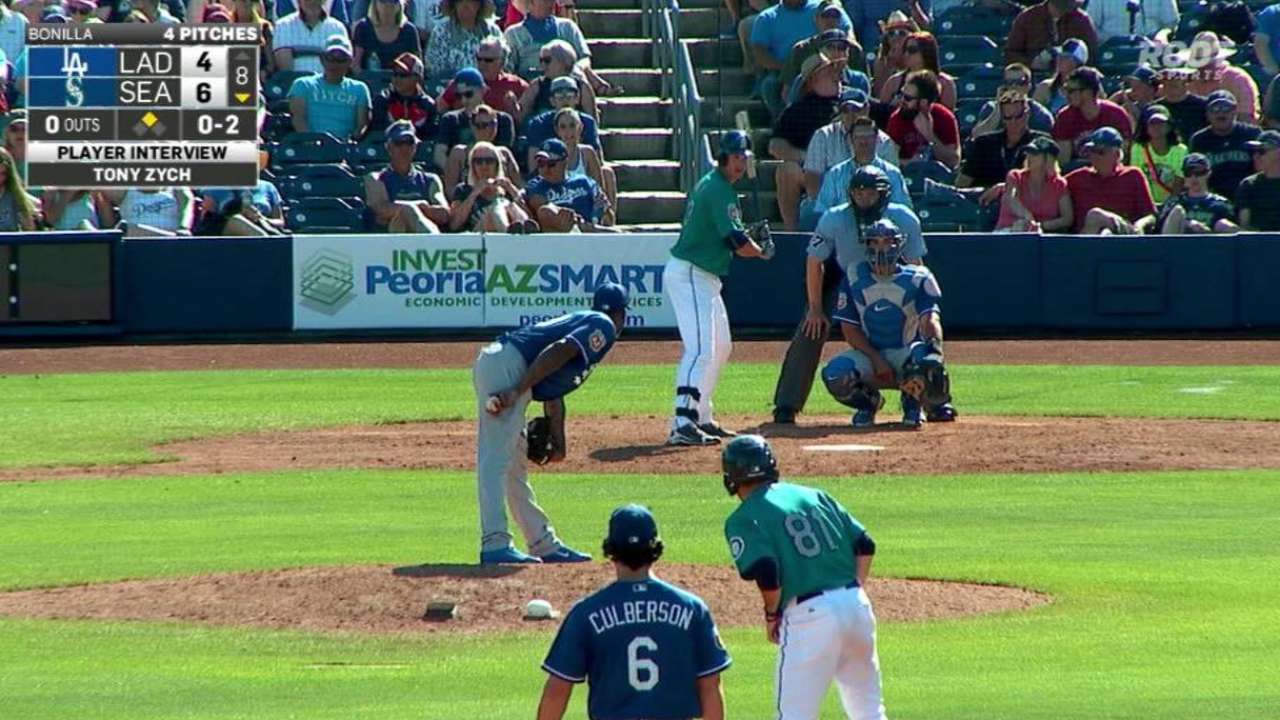 Zych, ranked No. 17 among Seattle's prospects by MLBPipeline.com, figures to be the most prominent rookie to break camp with the Mariners. The 25-year-old right-hander came out of nowhere last year and opened eyes as a surprising September callup.
Dipoto says he got as many trade inquiries about Zych as any player in the organization last offseason after the Chicago native displayed dominating stuff -- 24 strikeouts and just three walks in 18 1/3 innings while posting a 2.45 ERA in 13 games, 12 of which were relief outings.
This spring, Zych has become more than just the last name in Major League Baseball's all-time alphabetical list. He looms large in manager Scott Servais' bullpen plans, even more so with returnee Charlie Furbush and trade acquisition Evan Scribner sidelined by injuries and free-agent signee Justin De Fratus and trade acquisition Jonathan Aro sent to Triple-A Tacoma.
While others have faltered, Zych continues to click.
"He attacks guys when he takes the mound," Servais said. "The fastball is 95-97, the slider has been very good. He's a two-pitch guy. I like the demeanor as well. He's not afraid. He's going to continue to go after them every day. He's wired like a late-inning reliever. And I think he has a very short memory, which is also very important for a late-inning guy."
Zych hasn't forgotten his struggle to get to the Majors, however. He was lost in the shuffle in Cubs camp a year ago, a hard thrower who'd seemingly topped out at Double-A ball because of command issues.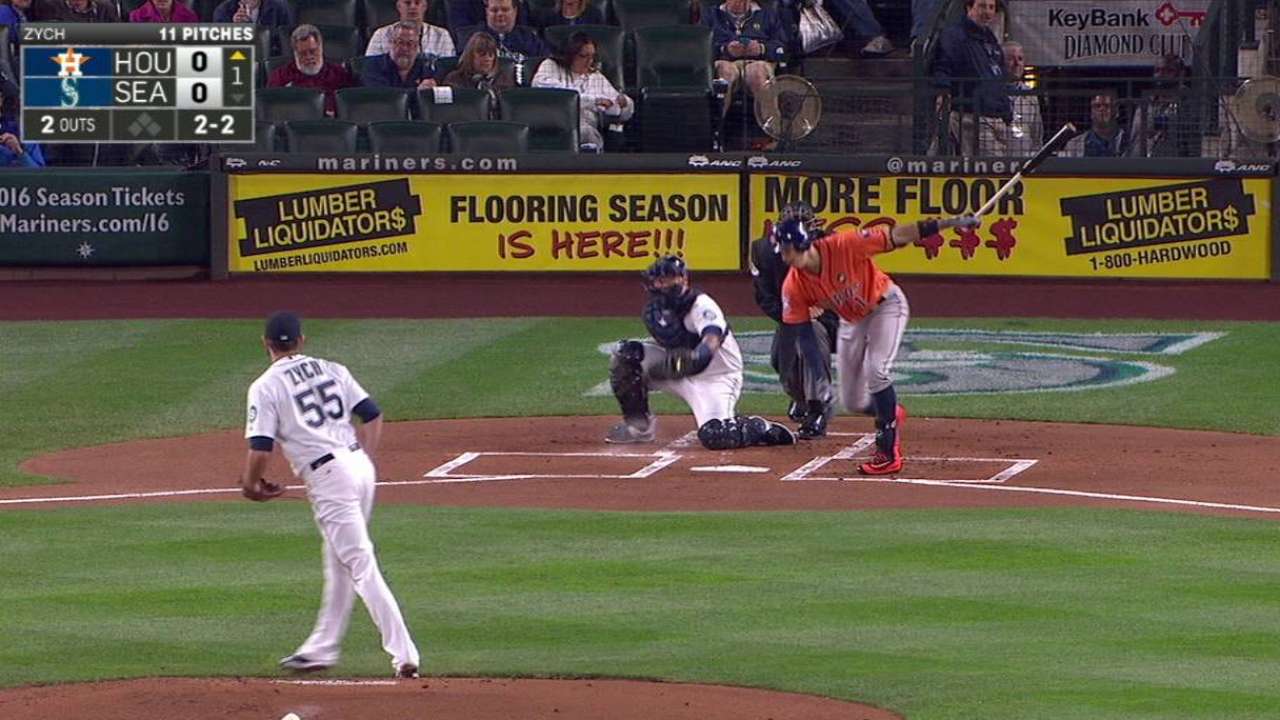 Seattle acquired Zych for $1 in a cash trade, and suddenly things fell in place as he started throwing strikes and quickly rose through the Minor League system, eventually getting the call to the Majors in the final month. Discovering he could compete at that level has given him a whole new outlook.
"I thought I could do it for a long time, but I was just never in the right position to get the opportunity," Zych said. "Finally getting the chance and getting it done, that was probably the best weight lifted off, just to know you can do it."
Zych pitches with intensity and he's tried to learn to control that, as well as his upper-90s fastball and nasty slider.
"It took me a while to realize that 96, 97, it doesn't matter," he said. "That alone is not going to get it by anybody. You've got to have the location."
In a Mariners camp in which "control the zone" has been the mantra, Zych's improvement last year speaks loudly, as do his 14 strikeouts with one walk in 7 2/3 innings this spring.
"If you look at his track record in the Minors, there were very good spurts with a lot of success. He just couldn't maintain it for long periods," Servais said. "His strikeout totals have always been there, but his walk totals were a little higher than what you're comfortable with.
"He's gotten it under control, and that's why he's had more success. He's just walking fewer guys and the strikeout numbers have sustained. They've been good. And he's got a ton of confidence in his slider. He'll throw that in any count, which is huge. He's throwing the ball very well. I'm very happy with where he's at."
Greg Johns is a reporter for MLB.com. Follow him on Twitter @GregJohnsMLB, read his Mariners Musings blog, and listen to his podcast. This story was not subject to the approval of Major League Baseball or its clubs.