Richards, Heaney will start first two games for Angels
Scioscia yet to announce rotation order of Santiago, Shoemaker, Weaver to follow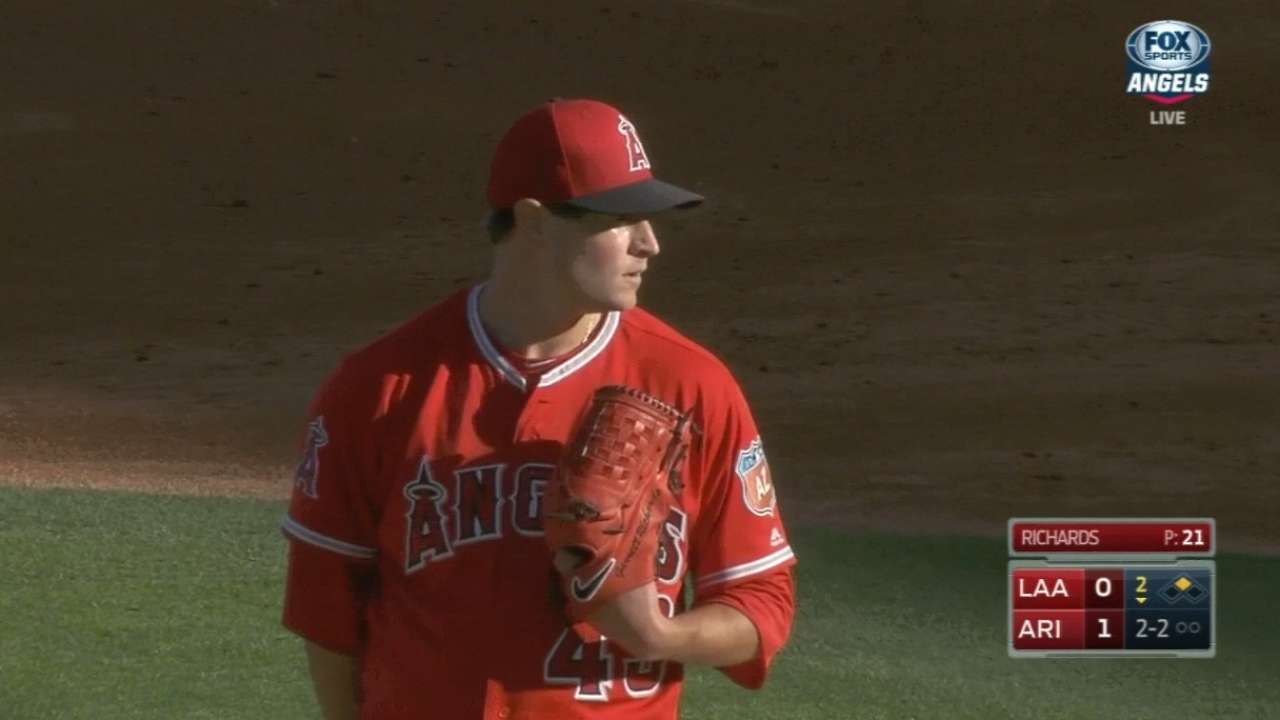 TEMPE, Ariz. -- Garrett Richards will be the Opening Day starter and Andrew Heaney will pitch Game 2 against the Cubs, Angels manager Mike Scioscia announced Tuesday morning.
Richards will be displacing Jered Weaver, who has started on Opening Day a club-record seven times, including each of the past six years. Weaver, who has thrown his fastball mostly 79-81 mph this spring, will start in a Minor League game on Wednesday and the Angels will determine his next step thereafter.
• Angels Opening Day: Simmons looks to break out | Trout wants to be winning factor
Drawing the Opening Day assignment is the latest and strongest indication that Richards has solidified himself as the ace of the Angels' staff. The 27-year-old right-hander has explosive stuff - a high-90s fastball, two devastating breaking pitches and a developing changeup - and has finally learned how to use it in recent years.
Richards established himself as one of the best young pitchers in the game in 2014, posting a 2.61 ERA in 26 starts before rupturing his left patellar tendon. He recovered from surgery to turn in a solid 2015 season, with 15 wins and a 3.65 ERA in 207 1/3 innings - and many believe Richards will be even better now that he's a full season removed from his catastrophic injury.
"It's definitely an honor," Richards said of starting on Opening Day, which has been anticipated since the start of camp. "I'm excited about it. A lot of hard work went into getting to this point in my career. It's been a long journey, but it's been a fun one. I'm just going to enjoy it."
Weaver could make one more Minor League start, or simply face hitters at Angel Stadium, then make his first regular-season start during the four-game home series against the Rangers from April 7-10. They could also push Weaver back to April 11, in Oakland, which is the first time a fifth starter will be needed.
Weaver could also begin the season on the 15-day disabled list and be activated to start as soon as April 9, a scenario that would allow the Angels to carry an extra reliever for the first few days.
Hector Santiago and Matt Shoemaker will make up the rest of the rotation, though Scioscia hasn't announced the order after the first couple of games. Heaney, Santiago and Nick Tropeano, who was optioned to Triple-A Salt Lake on Monday, will start the three-game exhibition Freeway Series against the Dodgers from Thursday to Saturday. Shoemaker will start the Sunday exhibition game against the Cubs.
C.J. Wilson (left shoulder tendinitis) and Tyler Skaggs (recovery from Tommy John surgery) will begin the season on the DL, with Skaggs possibly ready for Major League competition before the end of April.
Skaggs was slated to pitch three innings of relief against the Indians on Tuesday, but he felt under the weather, affected by the same bug that previously struck Tropeano and Craig Gentry. Skaggs will instead be backed up to pitch over the weekend. Wilson will return to Southern California with the team on Wednesday, and the Angels are hopeful that he can resume playing catch by Opening Day.
Opening Day will take place at Angel Stadium on April 4, with Richards facing off against Cubs ace Jake Arrieta, the reigning National League Cy Young Award winner. First pitch is 7:05 p.m. PT on ESPN2.
"We'll go through the rotation one time and then it'll get all jumbled around anyway," Richards said. "But I'm excited about it; it should be a good time. Hopefully we get a win."
Alden Gonzalez is a reporter for MLB.com. Follow him on Twitter @Alden_Gonzalez and Facebook , and listen to his podcast. This story was not subject to the approval of Major League Baseball or its clubs.