Travis' intensity driving him to succeed
Prospect made big impression during first big league camp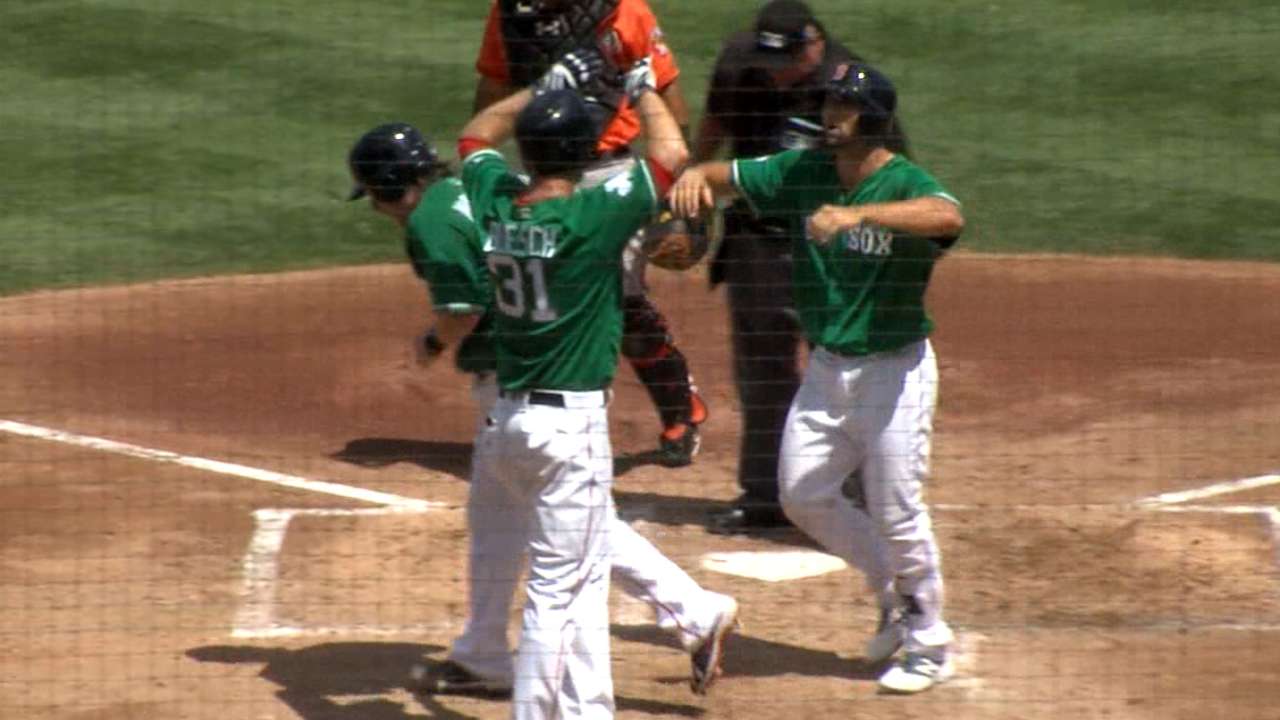 FORT MYERS, Fla. -- There was a day a couple of weeks back when Sam Travis was doing a fielding drill in the indoor batting cage. The first baseman gloved the ball roughly 400 times in rapid succession. Yet the intense expression on his face never changed.
Infield instructor Brian Butterfield, who has done such drills with hundreds of fielders through his decades in baseball, was somewhat amazed that Travis could maintain such intensity for so long.
"How do you do that?" Butterfield asked him.
"I've got to," Travis replied emphatically.
Selected by the Red Sox in the second round of the 2014 Draft, Travis has soared through the farm system with that trademark intensity. He is ranked seventh by MLBPipeline.com among Red Sox prospects.
In his first Major League Spring Training, Travis hit .536 (15-for-28) with two homers, 13 RBIs and a 1.305 OPS before being reassigned to Minor League camp. He re-joined the Red Sox as an extra for Wednesday's split-squad game in Bradenton and started at first base.
As far as first impressions go, Travis couldn't have done much better.
"I don't see how you can't be really impressed with his offense that he showed this spring," said Red Sox president of baseball operations Dave Dombrowski. "He's hit the ball consistently hard all spring and driven the ball, too. He looks like he's going to be a fine big league hitter. He's got a nice swing. He makes contact. He is driven to do well. He is a real baseball player. Very impressed with him."
"He doesn't seem to change despite who he might be facing or the setting," said manager John Farrell. "He's a strong hitter with good bat speed. You like the overall aggressiveness and the controlled aggression. You love the attention that he pays in the early work prior to games. He is an exciting young player."
Travis will never be able to claim he was the first member of the 2014 Indiana University Hoosiers to make it to the Major Leagues. That honor goes to the Cubs' Kyle Schwarber, who made his debut on June 16 last season and participated in the postseason. But you get the feeling Travis won't be that far behind his former teammate.
"That's something I don't really think about," Travis said. "When I'm watching him play, I just think about how happy I am for him. He's a good buddy of mine, college teammate. It doesn't surprise me. We all know he's a good player and I knew he was going to do what he's doing. I just enjoy watching him, because he's a lot of fun to watch. I'm happy for him."
What did Schwarber tell Travis about life as a Major Leaguer?
"He pretty much just said it's awesome," Travis said. "He said there's nothing better and it's so much fun."
It seems safe to assume that Travis, provided he stays healthy, will learn firsthand what Schwarber is talking about.
"Sam isn't letting anything get in his way," said Red Sox bench coach Torey Lovullo. "It looks like at this point, anything that stands in his way, he'll run right over it to get to where he's trying to get to. We haven't quite seen somebody like that in a while. Dustin Pedroia has the same sorts of characteristics. Sam is on a very, very good path. We love what we're seeing."
Ian Browne is a reporter for MLB.com. Read his blog, Brownie Points, follow him on Twitter @IanMBrowne and listen to his podcast. This story was not subject to the approval of Major League Baseball or its clubs.