Iglesias gets Opening Day nod for Reds
Right-hander replaces injured DeSclafani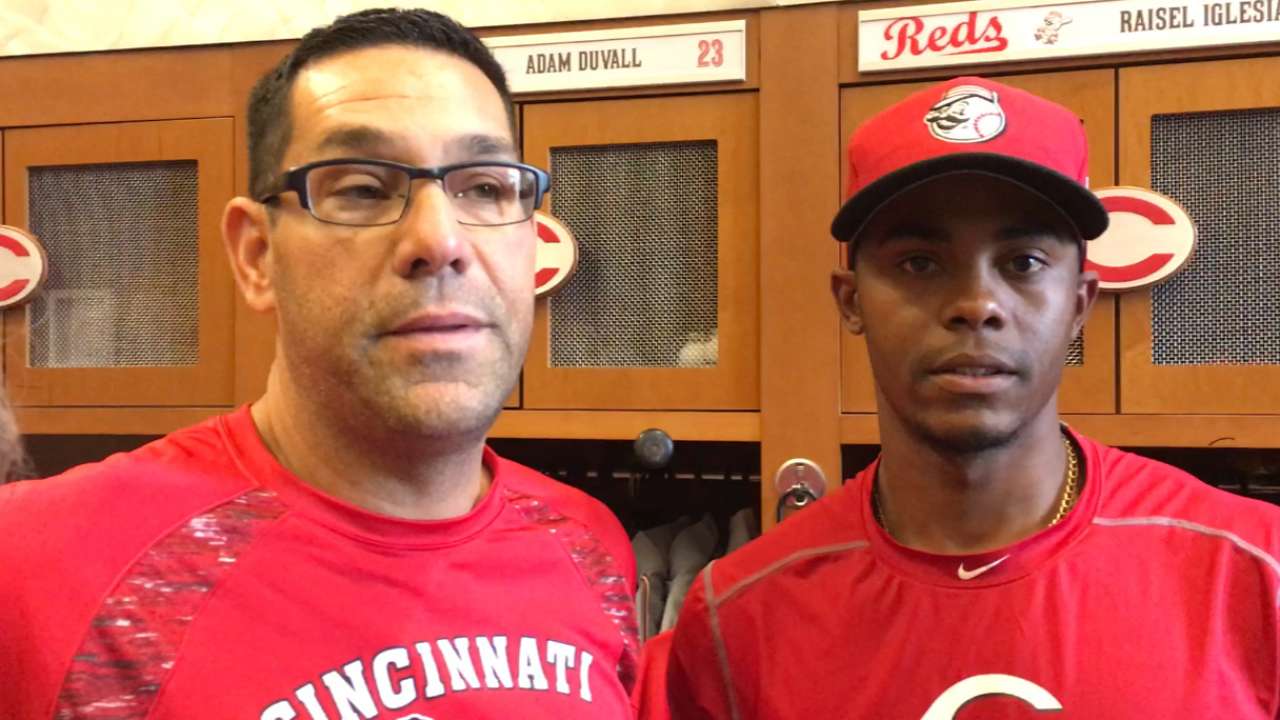 GOODYEAR, Ariz. -- Reds manager Bryan Price had been holding back his announcement of an Opening Day starter longer than usual because he wanted to get through Spring Training without injuries changing his plans. As it turned out, Price's instinct was correct.
In news that came as a surprise on Monday, the Reds announced that Raisel Iglesias will pitch on Opening Day vs. the Phillies on April 4. Until his last spring start, Price had privately been expecting Anthony DeSclafani to get the assignment. But DeSclafani is now dealing with a left oblique strain.
"First of all, I want to thank the team for having confidence in me, and I want to thank the training staff, the coaching staff and the whole organization for the help they have given me over the last year," Iglesias said via translator Tomas Vera.
"I believe the news that the manager gave me today is one of the best news I've had in the last couple of years, because being an Opening Day starter for a pitcher is something I'm proud of, and it's great news for me. Overall, I want to thank my family for the support they've given me to become a starter today."
RHP Raisel Iglesias has been named the #Reds' 2016 Opening Day starter. pic.twitter.com/m9SPcdSchA

— Cincinnati Reds (@Reds) March 28, 2016
Following Iglesias, Brandon Finnegan will pitch the second game vs. the Phillies on April 6. The third spot is still to be determined, and Alfredo Simon will start the series opener vs. the Pirates on April 8, followed by Iglesias on April 9.
If he recovers on time, DeSclafani will slide into the rotation's fifth spot to face Pittsburgh on April 10.
"[That] will allow us to go through a short throwing progression and long toss and then be able to throw a simulated game in Cincinnati and [be] ready to go on the 10th," Price said. "With the therapy and things of that nature, there was no reason to think that he couldn't pitch by the 10th. However, we all know that if it's exacerbated, it could be a much longer period of time. It's between a rock and a hard place. We need a starter and we don't want to create a bad situation."
Although it had never been announced, DeSclafani was on track for the opener until he reported feeling something following his start on Thursday vs. the Rangers.
"The start before my last, I felt it a little bit, but then this past start, it just got a little worse and I decided to take it easy," DeSclafani said. "It was definitely tolerable, but it got worse and worse and then I think it gets to the point where you have to be smart as a player to let people know and take more of a cautious side, because I want to pitch all year. Obviously, it would have been awesome to pitch Opening Day and all of that, but you don't want to mess with obliques."
Price's original plan had Iglesias getting that April 10 start because his throwing schedule started later. The right-hander, who missed the final three starts of 2015 because of shoulder fatigue, underwent a shoulder flexibility program in the offseason that carried into the start of camp.
Iglesias now feels ready to take the ball ahead of schedule.
"When they set up the program for me, I was willing to follow whatever was going to happen in the program, and I just did whatever they told me to do," said Iglesias, who was 3-7 with a 4.18 ERA in 18 games, including 16 starts, as a rookie last season.
"But when I grabbed the ball the first time and I started throwing, I was actually surprised with myself at just how good I was feeling at that time. Since then, I've felt the same way."
Iglesias' final spring start will come in a Minor League game on Wednesday.
"We're going to have Iggy go down on the 30th and pitch under controlled circumstances," Price said. "Where we can do the best we can to guarantee him his innings and pitch count and get him stretched out to where we can reasonably think he can give us six innings and 90-plus pitches on his first start."
The only murky part of the rotation is the third spot. Jon Moscot, who is recovering from a left intercostal strain, won't be ready to take that game. Moscot returned Monday to pitch in a Minor League game. One option is Tim Melville, but the club could also call on Robert Stephenson. The organization's No. 2 prospect was optioned to Triple-A Louisville last week.
A few considerations are in play for who the pitcher could be -- including space on the 40-man roster since Melville is a non-roster invitee to camp. The pitcher could also be up for the one start and returned to the Minors. The Reds are hopeful to have Moscot back by April 17. Meanwhile, John Lamb (back) and Homer Bailey (Tommy John surgery rehab) are on slightly later timetables.
"Anything can happen. I can tell you this and look you straight in the eye and say it is undecided who is going to pitch on the 7th," Price said. "It's not for smoke and mirrors at this point. Defining who that person is hasn't happened yet."
Mark Sheldon is a reporter for MLB.com. Read his blog, Mark My Word, follow him on Twitter @m_sheldon and Facebook and listen to his podcast. This story was not subject to the approval of Major League Baseball or its clubs.