Twins come back top Bucs in Cole's second tuneup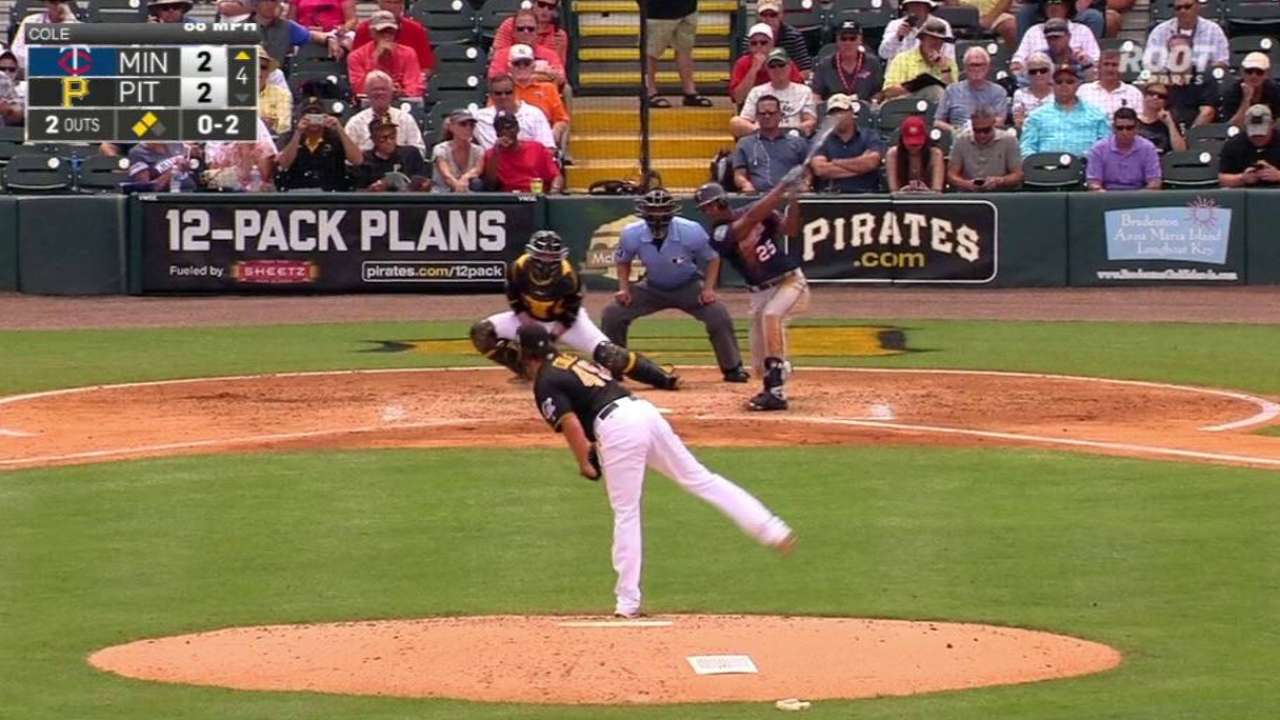 BRADENTON, Fla. -- Gerrit Cole pitched into the fifth inning, and Opening Day roster hopeful Matt Joyce homered and doubled, but the Twins came back to beat the Pirates, 6-4, on Monday afternoon at McKechnie Field.
Cole allowed two runs on eight hits and struck out four over 4 2/3 innings. The right-hander's next scheduled start will come Saturday, and after that, he should be ready to join the Pirates' rotation at some point during the first week of the season.
"I thought it was a productive outing," Cole said. "All four offerings were good at certain points in time throughout the game. Now we're just looking for the next step, in terms of pitch count and consistency."
The Twins' top-of-the-lineup speedsters tested Cole and catcher Chris Stewart, as Danny Santana stole two bases and Byron Buxton unsuccessfully tried to swipe second.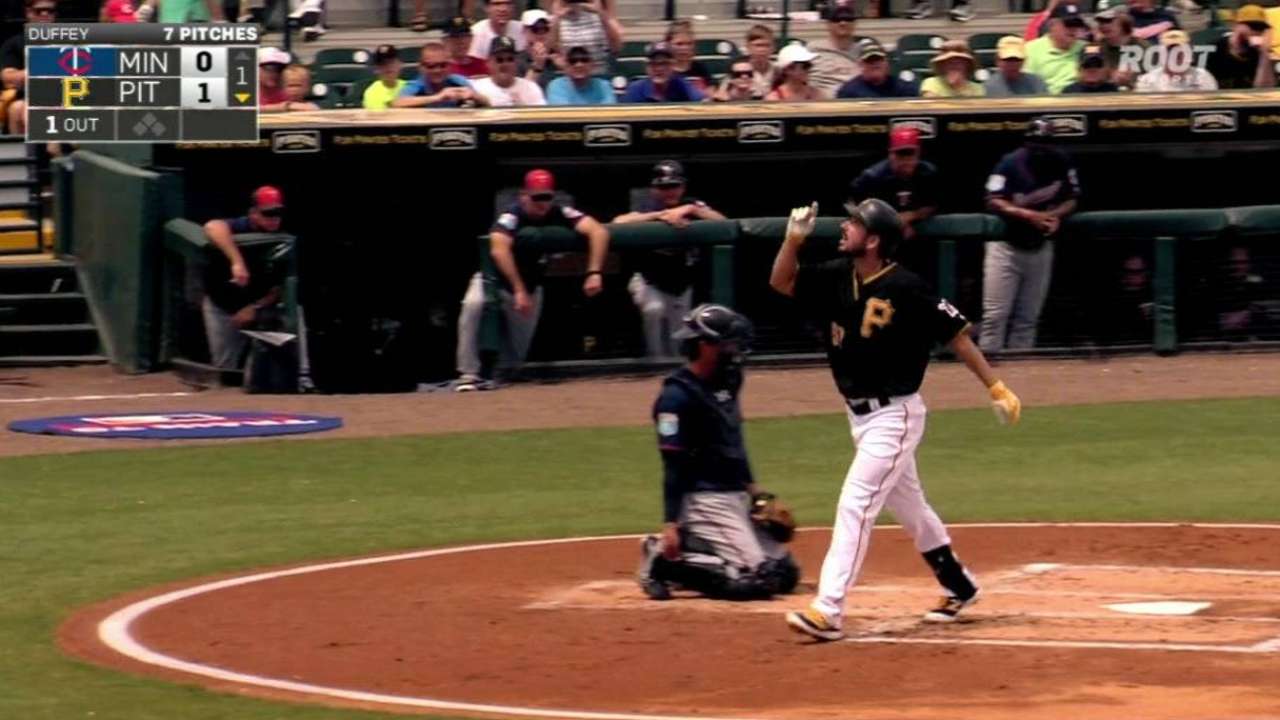 But the Pirates struck first, as Joyce -- on the eve of the Pirates' deadline to keep him, release him or pay him to stick around in the Minors -- ripped a home run to right field off Twins starter Tyler Duffey. The Twins fought back to take a 2-1 lead, and Joyce untied it with an RBI double to right-center field.
"It's definitely nice to have a game where you square some balls up and hit some balls hard as decision time comes closer," Joyce said. "With the decisions at hand, sometimes you can get worried thinking about other things. You still have to be able to focus on the game and what you're trying to do with your approach."
Duffey, competing with Ricky Nolasco for the fifth spot in the Twins' starting rotation, gave up four runs on four hits and three walks while striking out two over four innings.
"The ones I left over the plate were hit harder, but the ones I put where I wanted them, I was able to get ground balls," Duffey said. "Even the one Danny [Ortiz] hit up the middle was the pitch I wanted and a ground ball, but was where nobody was at. When I got ahead, I was fine, but when I got behind, I got into trouble. I could kinda feel myself falling off my mechanics, but I felt good."
The Twins pulled ahead for good in the eighth inning, when pinch-hitter Daniel Palka launched a three-run homer to right-center field off Pirates reliever Curtis Partch.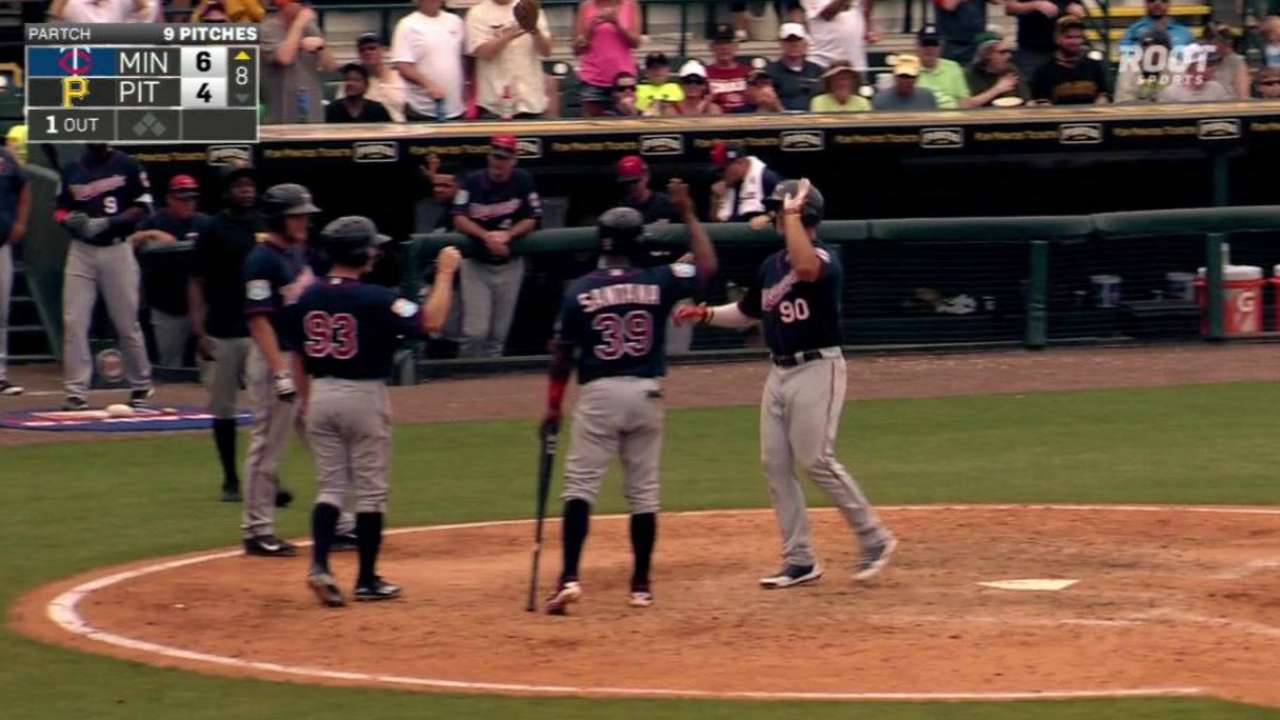 Up next for the Pirates: With left-hander Jeff Locke set to start in a Minor League game at Pirate City, the Bucs will call up prospect Steven Brault to start Tuesday's 1:05 p.m. ET game against the Yankees at George M. Steinbrenner Field in Tampa, Fla. Andrew McCutchen, Starling Marte and Josh Harrison are among the regulars penciled into the lineup, and David Freese is scheduled to make his debut at first base. Watch the game live on MLB.TV or listen on an exclusive webcast.
Up next for the Twins: Left-hander Tommy Milone, who was named the club's No. 4 starter, takes the mound for the Twins on Tuesday, when they host the Red Sox at 12:05 p.m. CT. Milone has pitched well this spring, posting a 2.40 ERA in 15 innings. Follow along live on Gameday.
Adam Berry is a reporter for MLB.com. Follow him on Twitter at @adamdberry. This story was not subject to the approval of Major League Baseball or its clubs.