Five questions with Phils' Nick Williams
Mike Rosenbaum talks to Philly's No. 3 prospect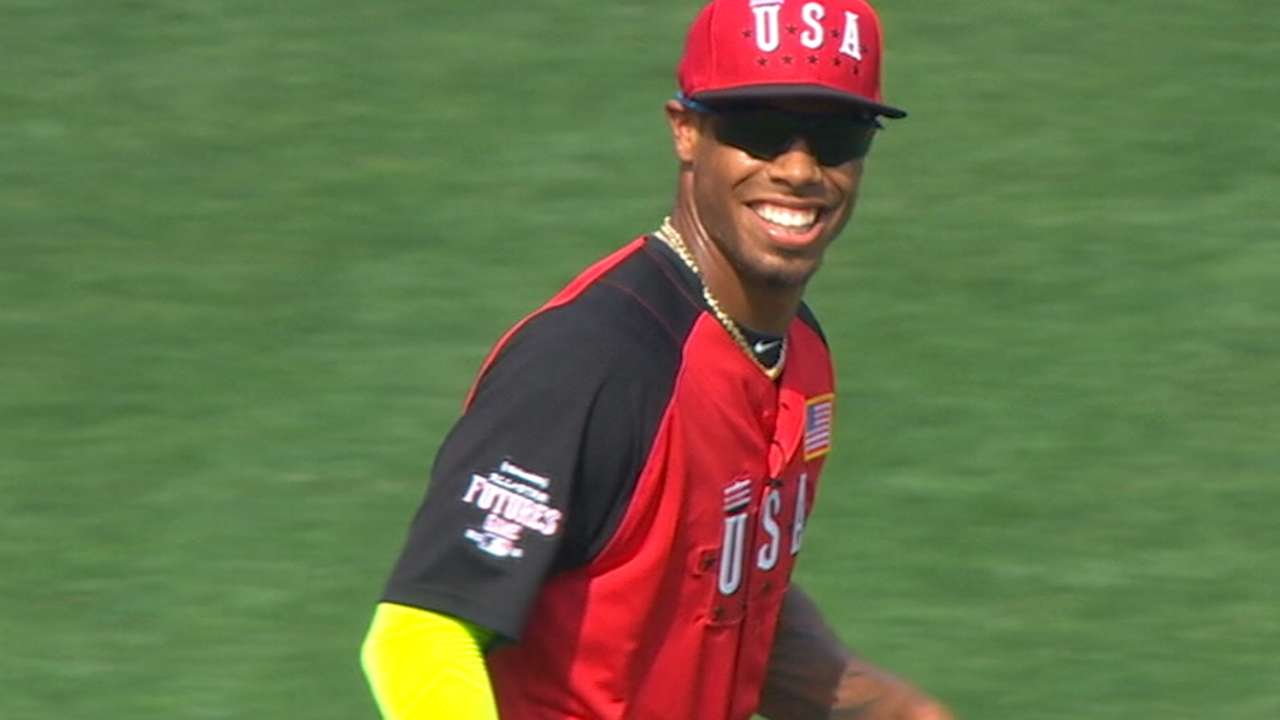 SARASOTA, Fla. -- As part of MLBPipeline.com's visit to all 30 Spring Training facilities this month, we will be sitting down with prospects and getting to know them a little better. At Phillies camp, it was No. 3 prospect Nick Williams.
A second-round Draft pick of the Rangers in 2012, Williams has put up impressive offensive numbers at every Minor League stop throughout his young career, amassing a .296/.346/.489 batting line in 374 games. He took a major step forward in 2015 and was having a tremendous season at Double-A Frisco when he was sent to the Phillies as part of the Cole Hamels blockbuster. The 22-year-old outfielder capped his season with a strong showing at Double-A Reading and has continued to impress this spring in his first camp with the Phils.
MLBPipeline.com: Where were you and what were you doing when you learned that you had been traded last summer?
Williams: I was playing for Double-A Frisco, and we were going into either the seventh or eighth inning when I was pulled from the game. I didn't know that those other guys had been traded too until I got into the clubhouse. While waiting for the trade to become final, I went home for about a week and went to the beach and hung out with some friends. I was getting in the car with my girlfriend to go pack up my stuff at Frisco when I learned the trade went through, so we drove 22 hours to Reading to meet up with the team.
MLBPipeline.com: Upon joining Reading, you collected two hits in your first game and then went 4-for-4 with two home runs the next day. Was the transition from the Rangers to the Phillies as easy as you made it seem?
MLB Pipeline Spring Training reports
Williams: It was extremely easy. Jake [Thomson] told me that it would be tough, but it really wasn't. After that 22-hour drive, we spent another five hours on the bus going to Trenton because we got stuck behind a dump truck that was on fire, so I basically went a full week without hitting before that first game with Reading.
MLBPipeline.com: You and a lot of the Phillies' other acquisitions were in big league camp together this spring. What was that experience like -- to play together with all of the other big-name prospects who, like yourself, are viewed as the future of the franchise?
Williams: It was great not just being the one guy who goes in there and feels out of place. The younger guys were asking me questions and the veterans were all very welcoming -- it was just great energy overall. You can tell the team chemistry is going to be really, really good, because everyone is clicking already.
MLBPipeline.com: You've always had an impressive knack for hitting, but last season you seemed to make big strides with your approach and plate discipline. To what do you attribute that improvement?
Williams: They put me at leadoff last year at Frisco, and it allowed me to see a lot of pitches and also made me realize just how overaggressive I can be at the plate. Really focusing on the pitchers and the counts, I started to learn how to put all the pieces together and be a more complete hitter.
MLBPipeline.com: Video question: You hit this impressive home run with Reading on August 24. First of all, how did you manage to keep this ball fair? Secondly, how on earth did you hit it out of the park?
Williams: I can't explain it, really. I get asked those types of questions a lot, and I really can't explain how I hit like that. I just see the pitch and my hands want to attack it, so I let 'em go.
Mike Rosenbaum is a reporter for MLB.com. Follow him on Twitter at @GoldenSombrero. This story was not subject to the approval of Major League Baseball or its clubs.