Mariners option Paxton; Karns to be fifth starter
Infielder Taylor, outfielder/first baseman Romero also sent to Minors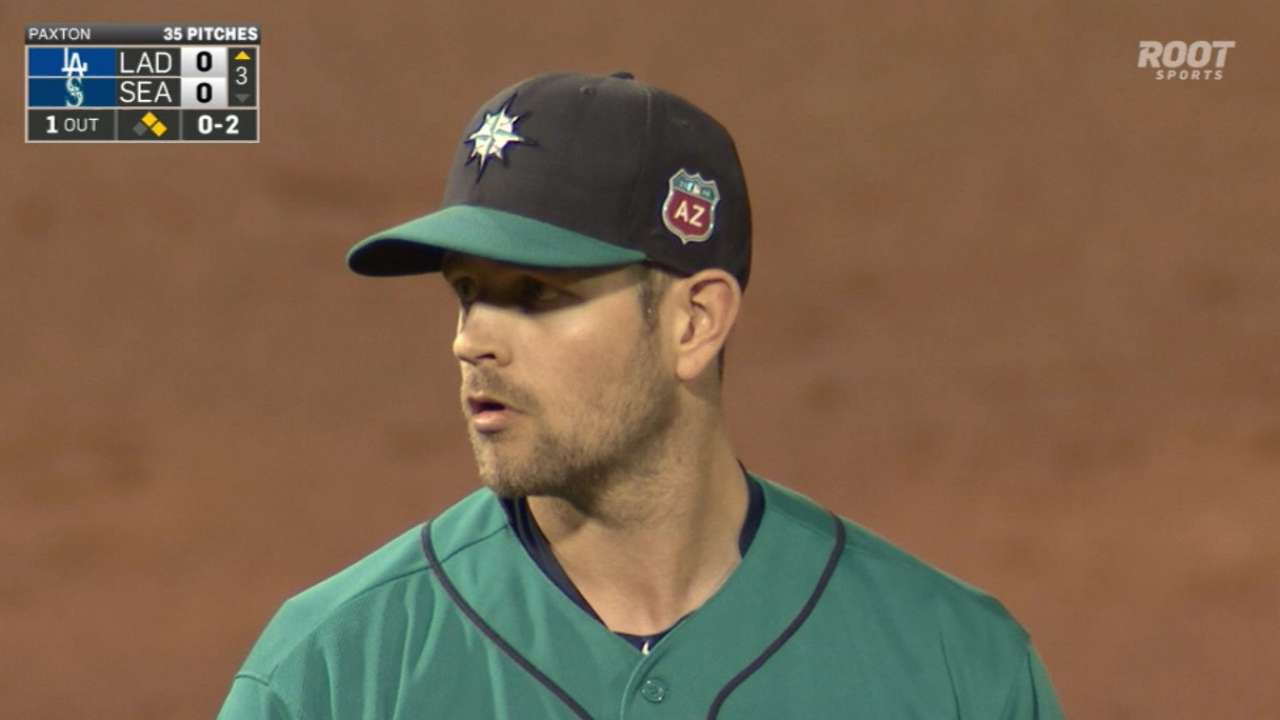 PEORIA, Ariz. -- The Mariners made three roster moves on Monday while clearing up numerous questions heading into the regular season, as left-hander James Paxton, infielder Chris Taylor and outfielder/first baseman Stefen Romero were optioned to Triple-A Tacoma.
Paxton's departure clears the way for right-hander Nathan Karns to be the No. 5 starter. With Taylor headed to Tacoma, 22-year-old Luis Sardinas has claimed the utility-infielder role. And Romero's absence means Korean slugger Dae-Ho Lee is the backup first baseman, or at least "it's leaning that way," according to manager Scott Servais.
Paxton has been very good when healthy the past two years, but he started just 13 games apiece in 2014-15 due to injuries. He's been fine physically this spring, but he posted a 10.80 ERA in five Cactus League starts. The Mariners want him to work on commanding his pitches better in Triple-A.
"We just thought based on where James is at, it's in his best interest and ours, let's go. Let's move ahead on this thing," Servais said of the fifth-starter decision. "We all know James Paxton is going to be a big part of our team at some point this season. He has a track record of having very good outings at the big league level and we're going to need him. So let's get him going and get him in a good spot mentally. He's not had a great spring ... and this is a results-oriented business."
Karns will open the season on April 9 in Seattle's second home game of the season against the A's. Paxton is headed for Tacoma, which opens its season April 7.
"Not happy, obviously," Paxton said. "It's not where I want to be. The fault is all on me. I didn't have the best spring, results-wise. I didn't do what they wanted to see. So I'm going to go down and work on some stuff and I'll be back."
Karns agreed that it's only a matter of time before Paxton rejoins the team, and he tipped his hat to his teammate.
"It's nice to have that kind of environment here where even though we were challenging and put in a position of competing against each other, we were still supporting one another," Karns said. "That was huge for me, coming into a new clubhouse. It shows you the kind of player Paxton is. This is his locker room, he'd been here a couple years, but he welcomed me and the challenge, and we both know it was just a numbers game."
The moves leave 33 players in Mariners camp, with the final cut to 25 due by Sunday, the day before the regular-season opener in Texas.
Servais said Taylor will play mostly shortstop in Tacoma, but also some second and third base, as well as possibly getting some time at first base and left field in order to improve his opportunity as a utility player if needed.
"We didn't see the best of Chris Taylor," Servais said. "I know he's better than he's played. But for him, probably more than any other player we've sent down, he needs to get his confidence back. It just wasn't happening. It wasn't happening at the plate and then it started not happening in the field, where he's always been very sure-handed at any position you threw him at. So it's time for him to get going and get his confidence back."
Romero, on the flip side, had a very strong spring, as he hit .357 in 42 at-bats and inserted himself into the first-base competition as a right-handed complement to Adam Lind. But Lee had an opt-out in his contract and likely would have been lost if the Mariners didn't agree to put him on the 40-man roster on Sunday, while Romero will remain in the organization and be available as needed.
"He's a viable option if we do need a right-handed bat in the outfield or first base," Servais said. "But he did have a [Minor League] option left, so he'll start in Tacoma."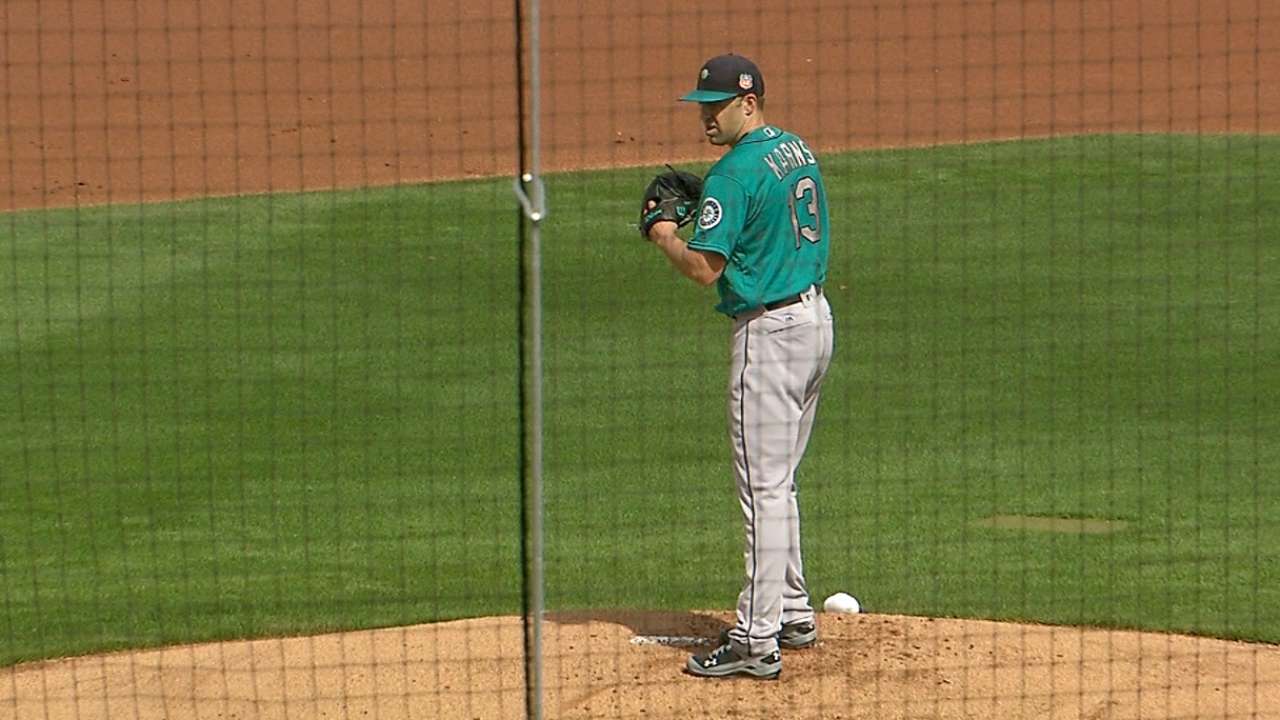 Fantasy spin | Fred Zinkie (@FredZinkieMLB)
Now a cog in the Mariners' rotation after posting a 3.67 ERA with a 8.9 K/9-rate across 147 innings with the Rays last year, Karns should be viewed as a streaming option in 12-team leagues and a permanent roster-spot holder in 15-team formats. Paxton, meanwhile, should not be forgotten even though he will open '16 in the Minors after recording a 10.80 ERA this spring. With a 3.16 ERA across 30 big league starts, the southpaw will likely have a stretch of standard-league relevance at some point this year.
Greg Johns is a reporter for MLB.com. Follow him on Twitter @GregJohnsMLB, read his Mariners Musings blog, and listen to his podcast. This story was not subject to the approval of Major League Baseball or its clubs.