MLB.com Columnist
Lyle Spencer
Black, Roenicke bring wisdom in return to Angels
Duo set for new challenges in reunion with club
From Mike Trout crushing first-pitch strikes to a band of newcomers making positive first impressions, it's been a lively and encouraging spring for the Angels, who appear determined to blast away those computer projections of a .500 season in the wild, wild American League West.
The left side of the infield, freshly redesigned by general manager Billy Eppler, could be among the game's best. If Andrelton Simmons, a shortstop without equal defensively, hits .260 to .270, it's a bonus. Yunel Escobar, a well-traveled third baseman who can hit, gives the offense a much needed table-setter in front of Trout and Albert Pujols.
Initial skepticism aside, Angels faithful must be impressed with the spring performances of Daniel Nava and Craig Gentry, veterans with proven abilities to hit, run the bases capably and defend.
Nava, a switch-hitter with a Kole Calhoun-like frame, looks like the man who hit .303 with a .385 on-base percentage in 2013 with the Red Sox and saved 14 runs in right field in '14, surpassed at the position by only Jason Heyward.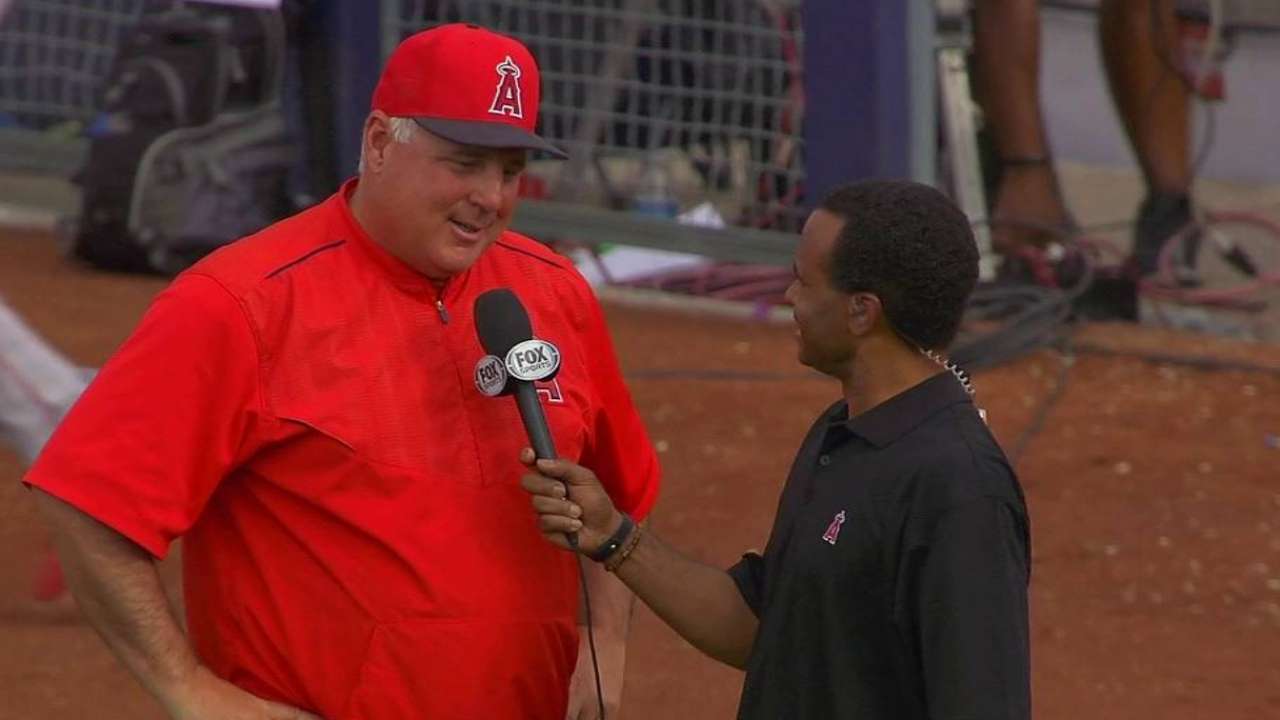 Gentry, fourth in the Majors from 2012-14 in runs saved by center fielders with 29, had on-base percentages of .367 and .373 with the Rangers in 2012-13. He's a plus defender at all three outfield spots.
Respected veteran catcher Geovany Soto, 2008 National League Rookie of the Year Award winner with the Cubs, will benefit the pitching staff and enrich fellow receiver Carlos Perez with knowledge gained from 758 big league games.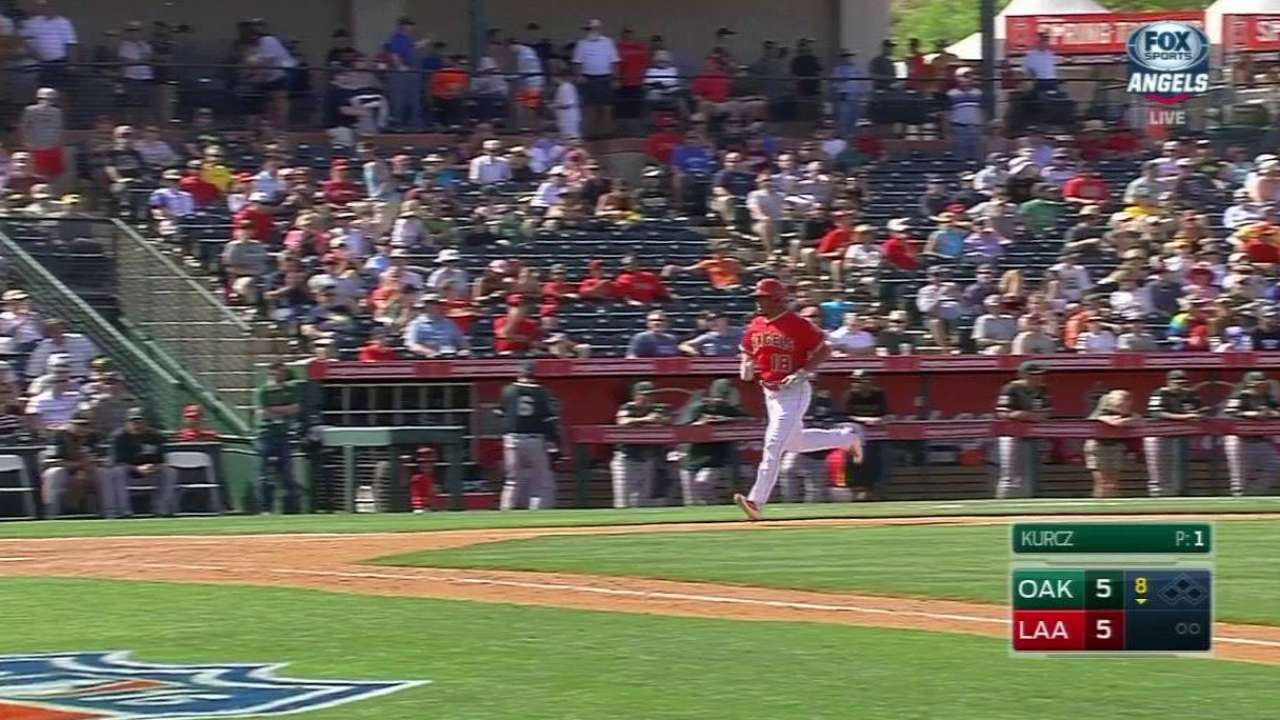 The bullpen looks well-fortified, and while the health of the rotation is clearly a concern, it's a little early to be reaching for panic buttons. The talent is competitive. It's just a matter of Tyler Skaggs and C.J. Wilson recovering fully from surgeries and Jered Weaver proving again with his guile that radar readings can be overrated.
With the new position players drawing the raves, two men who haven't thrown or hit a baseball with meaning in years also figure to make this Angels outfit better than the one that narrowly missed the postseason with 85 wins in 2015.
The impacts of Bud Black and Ron Roenicke, with their minds and instincts, should not be underestimated.
Black and Roenicke were at manager Mike Scioscia's side when the Angels won it all in 2002 -- Black as pitching coach, Roenicke as third-base coach. The old bench coach, Joe Maddon, probably won't be rejoining his buddies anytime soon. He's about as secure as a manager can be on the North Side of Chicago.
Black departed in 2007 to manage the Padres, distinguishing himself despite budgetary handicaps in an NL West featuring the powerhouse Giants and Dodgers. Mike Butcher assumed Black's former position, moving this season to the D-backs and turning over the reins to Charles Nagy.
In a front-office role, Black will roam, study and educate. His knowledge of pitching, rooted in his a career as a high-quality craftsman and years of developing talent, is as deep as the Pacific.
Roenicke left the Angels in 2011 to manage the Brewers, a team he took to the NL Central title and within two wins of a World Series. Milwaukee expired in six games to the Cardinals in the NL Championship Series.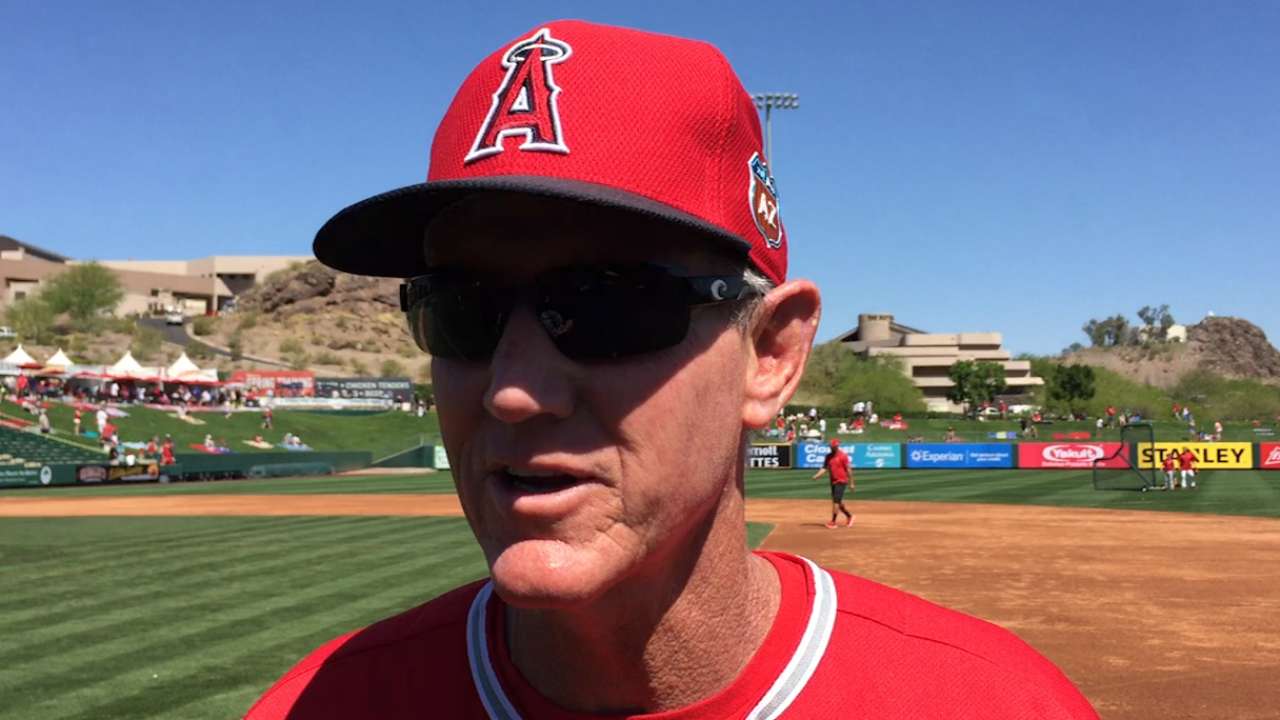 The Brew Crew had two more winning seasons under Roenicke before it came apart last season. He was replaced by Craig Counsell just 25 games into the season.
Roenicke finished second to Arizona's Kirk Gibson in the 2011 NL Manager of the Year Award balloting, gaining the last word when Milwaukee eliminated the D-backs in the NL Division Series. Black had claimed that award in 2010, edging his former Giants manager, Dusty Baker, by one point.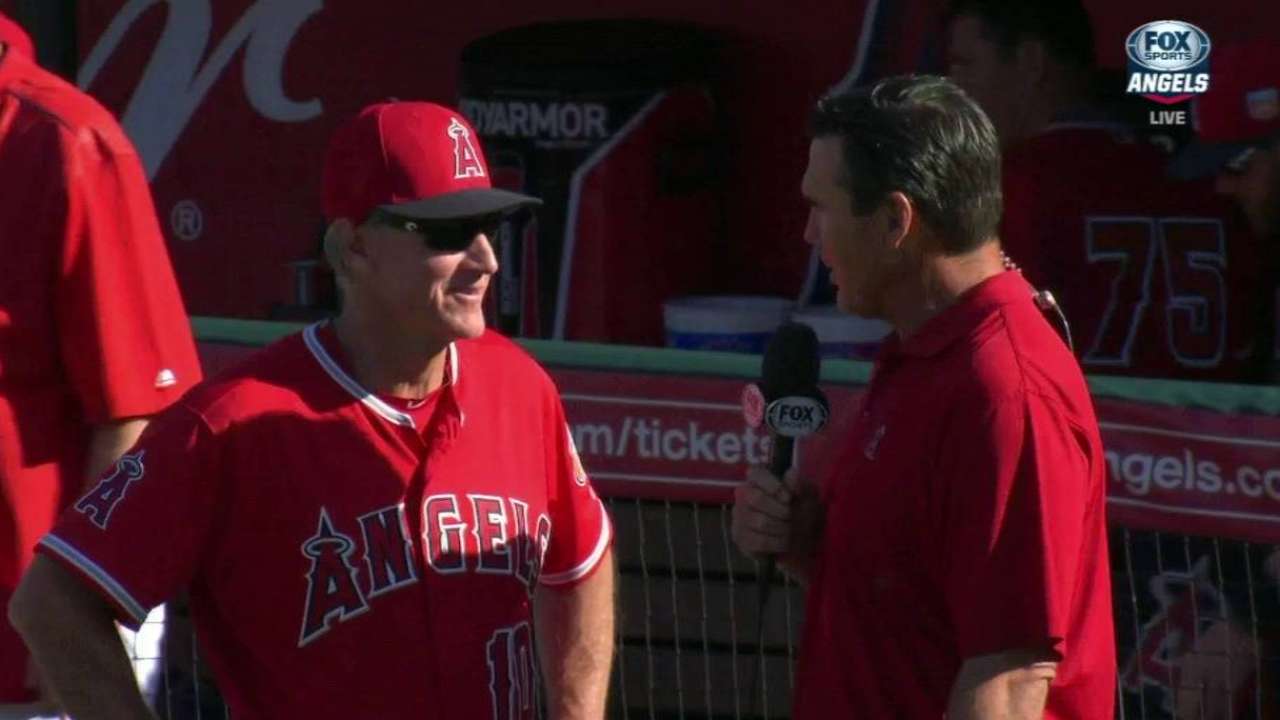 Finishing last season as a coach with the Dodgers, the organization that gave him his professional baptism as a versatile outfielder, Roenicke is delighted to get back with old buddy and teammate Scioscia.
Coaching third base is one of the most underrated, pressure-filled jobs in the game. During the Giants' three World Series championship runs, Tim Flannery was remarkably adept in making the right decisions. Roenicke, in the Flan mold, is aggressive but smart, in the manner favored by Scioscia.
Roenicke also will be of value in positioning outfielders. Scioscia will consider his judgments on everything from lineup construction to which players can use a pat on the back and which ones need a lecture.
If Scioscia appears happier and more upbeat this spring, this reunion with old buddies, men he respects, has a lot to do with it.
Experience is like speed, a slump-proof constant and daily resource. The wisdom of Black and Roenicke will leave a positive imprint on a club that fell two wins shy of a postseason berth and features the best player on the planet.
Lyle Spencer is a columnist for MLB.com. Follow him on Twitter @LyleMSpencer. This story was not subject to the approval of Major League Baseball or its clubs.