Rise up: 30 players ready to break out in '16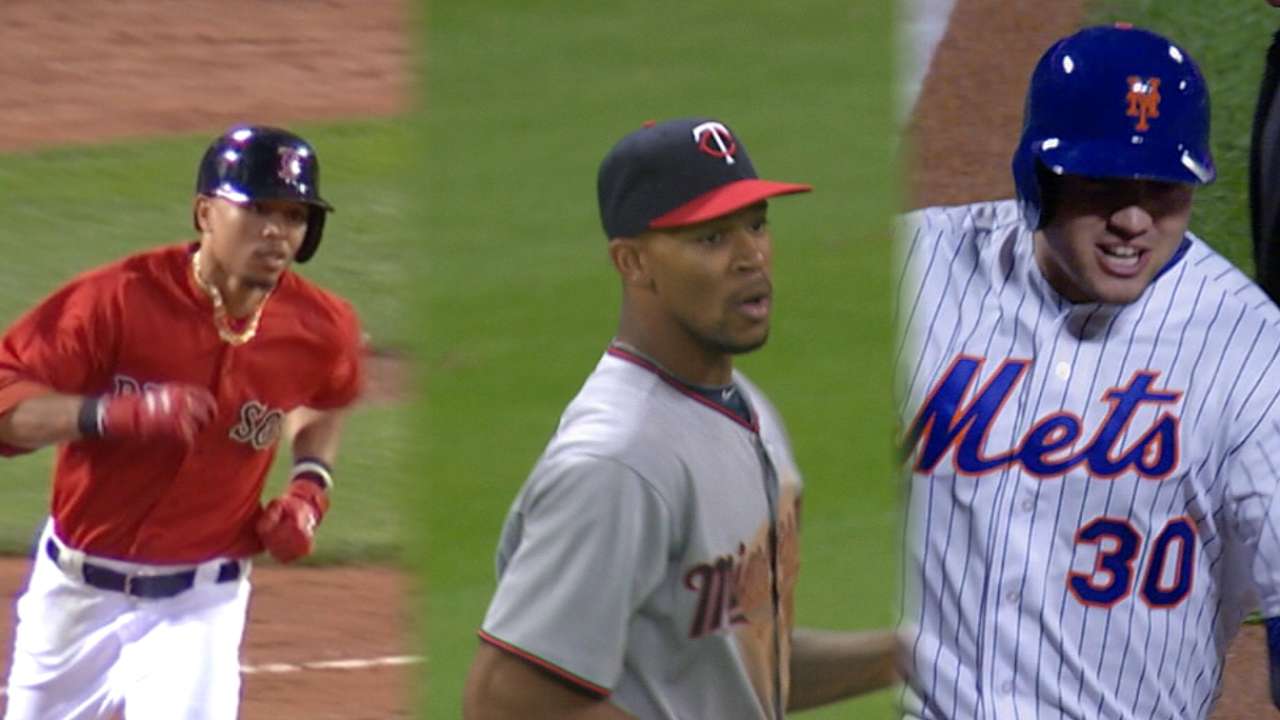 Each new season brings breakout stars, players who spring from relative obscurity to become major contributors for their clubs. Some come saddled with hype they live up to, like Carlos Correa and Kris Bryant a year ago. More arrive on Opening Day brimming with projectable skills that make them poised to improve their performance from the previous year. Others still emerge seemingly from nowhere, like Chris Colabello last season or Steve Pearce in 2014.
Take the Blue Jays' Colabello, for instance. The former independent league star was a flier player last March, a low-risk, non-roster insurance policy fresh off two fairly impotent partial seasons with the Twins. Colabello raked at Triple-A Buffalo out of camp, then emerged as the American League's most unlikely and best part-time slugger. Who saw Colabello slashing .321/.367/.520 over 333 at bats for Toronto, where his 142 OPS+ ranked better than that of Correa, Bryant and Yoenis Cespedes? The same people that predicted he would bat fifth for the Jays throughout the postseason, an integral cog in the best lineup in baseball.
Breakout stars can come from anywhere. It's with this as a backdrop that MLB.com peers collaboratively into a crystal ball in an effort to pinpoint potential breakout stars from around the league. The list below could very well include this year's Colabello. With candidates from each team, here is the next wave of players ready to make the leap.
AL East
Blue Jays
: Freshly named to the Blue Jays' rotation, this big righty mixes plus stuff with improving command. More »
Orioles
: This 24-year-old could lead all second basemen in home runs if he improves his plate discipline. More »
Rays
: One of baseball's elite defenders is hoping a quieter approach helps kick-start his offensive skillset. If it does, he could emerge as one of the game's top all-around players. More »
Red Sox
: The five-tool talent in center field is aiming to show the league his dynamic sophomore season was no fluke. More »
Yankees
: A young righty that prospered in a high-stakes cameo last season, this starter has the stuff to spearhead New York's rotation. More »
AL Central
Indians
: The high strikeout rates that flow from this starter's talented right arm -- more than a batter per inning each of the past two seasons -- fit seamlessly into Cleveland's high-octane rotation. More »
Royals
: Will his triples return with him? The oblique injury to Jarrod Dyson created an opportunity with the defending champs for this mid-career speedster. More »
Tigers
: A premier position within Detroit's star-studded lineup should create ample run-producing opportunities for the Tigers' young third baseman. More »
Twins
: Long considered a top-flight talent, baseball's No. 2 prospect should get a chance to shine in center field. More »
White Sox
: By coming up empty on Alex Gordon and Cespedes, the White Sox committed to letting this talented outfielder maximize his potential. More »
AL West
A's
: Can last season's strong second half lead to more from the Oakland's sabermetric-darling shortstop? More »
Angels
: Maybe a change of scenery is all this gifted defender needs to round out his overall game. More »
Astros
: Houston made a significant investment to acquire the hard-throwing righty who figures to feature heavily in the Astros' late-game planning. More »
Mariners
: After parts of three seasons spent learning at the Major League level, does this righty -- who is built like an ox -- evolve into a horse? More »
Rangers
: Healthy and matured, this lefty is poised for the breakout the Rangers have been expecting. More »
NL East
Braves
: Want to improve your repertoire? Learn the changeup from Hall of Famer Tom Glavine. Then unleash it on the NL East. More »
Marlins
: This second-year lefty is hoping the six extra mph he found on his fastball this spring helps make his mark in the ultra-competitive pitching environment that is the NL East. More »
Mets
: Everyone seems to agree there is much more to see from this young outfielder after what he showed during his impressive rookie season. More »
Nationals
: Put this veteran speedster in front of Bryce Harper, Anthony Rendon and Ryan Zimmerman, and he has a chance at the first 100-run season of his career. More »
Phillies
: The centerpiece of Philadelphia's rebuild put together an electric rookie year before breaking his wrist. After eight Spring Training home runs, his ascension to stardom appears imminent. More »
NL Central
Brewers
: This young outfielder has already been traded for Carlos Gomez and Hunter Pence thanks to his high on-base skills and projectable power. His first chance to start regularly comes in right field this year for Milwaukee. More »
Cardinals
: The Stanford grad placed among St. Louis' second-half leaders in hits, doubles, RBIs, average and slugging. He earned a starting job entering his first full season. More »
Cubs
: As a 21-year-old, this player became the first rookie middle infielder in Cubs history to hit double-digit homers. Improved plate discipline could turn him into a legitimate star. More »
Pirates
: The better part of two Major League years of seasoning have this outfielder primed to capitalize on his plethora of raw tools. More »
Reds
: Cincinnati's prized Cuban righty could break out thanks to a four-pitch arsenal he deploys from several deceptive arm angles. More »
NL West
D-backs
: A refined batting stance and improved mental approach will determine whether this third baseman blossoms into a cornerstone player. More »
Dodgers
: The No.1 prospect in baseball left little doubt by hitting .337 after his September callup in 2015, and sits atop everyone's NL Rookie of the Year projections. More »
Giants
: This infielder's production should only improve from his solid rookie season because of the compact swing and sound fundamentals that make him a perfect fit in the Bay Area. More »
Padres
: The Friars' new second baseman combined speed and athleticism with fairly even batting splits during his first extended Major League stay. More »
Rockies
: This former second-round pick posted a 3.35 ERA away from Coors Field in 2015. Mastering that thin home air will be vital for his development. More »
Joe Trezza is a reporter for MLB.com. Follow him on Twitter at @joetrezz. This story was not subject to the approval of Major League Baseball or its clubs.