Hale lauds Barrett's improvement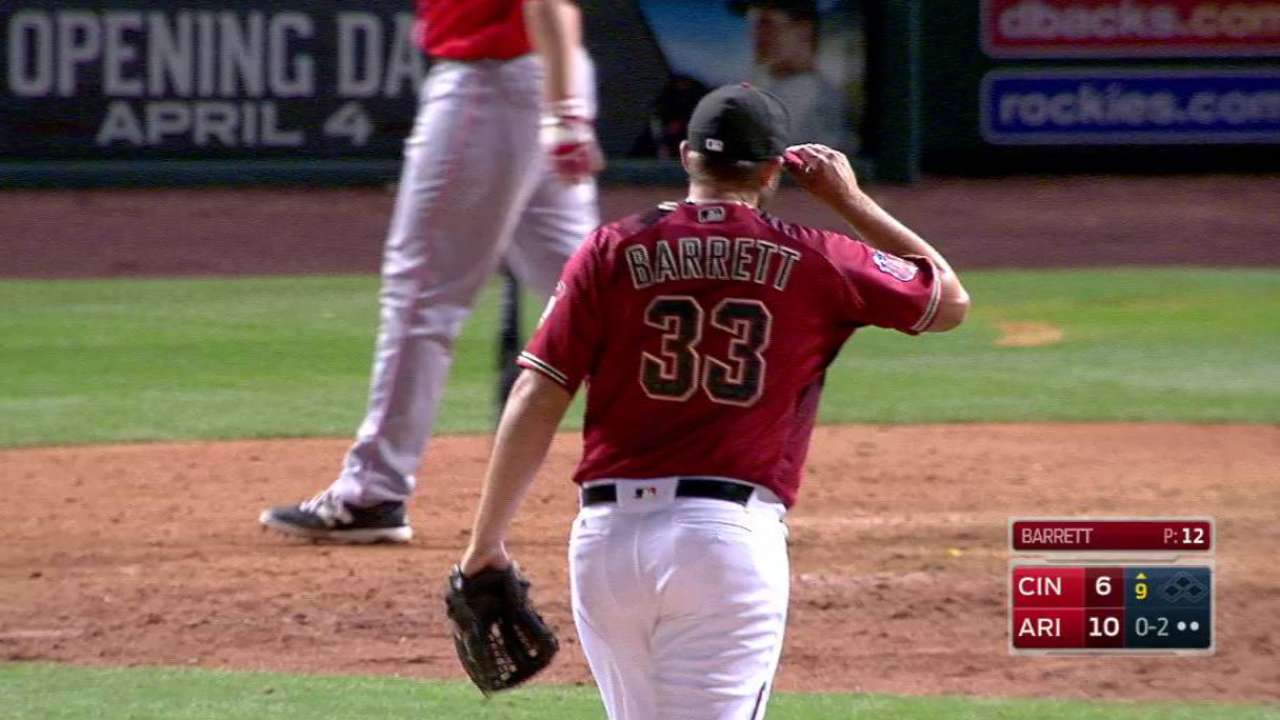 SCOTTSDALE, Ariz. -- After watching right-hander Jake Barrett throw last spring, D-backs manager Chip Hale was not sure what all the hype was about.
"When I came here as the manager I heard a lot from our Minor League people about Jake, and quite frankly I didn't see it last year," Hale said. "What I saw in camp, I just didn't think the ball was coming out of his hand that well. I didn't think that his slider was that good."
This year, though, the right-hander has been so impressive that he has thrust himself into what has turned out to be a tight race for the final spot in the D-backs' bullpen.
"Everything that comes out of his hand right now is dominant," Hale said. "We talk about bringing a guy into a game, man on third, one out, needing a strikeout, and he's a guy right now that I feel comfortable that could come in and do that. So he's put himself front and center in this fight."
Barrett has allowed one run on four hits over 8 1/3 innings this spring. Evan Marshall, Enrique Burgos, Silvino Bracho and Kaleb Fleck have all impressed as well.
If the club decides to go with 12 pitchers, only one of those five will make it, but it's also possible the D-backs could carry 13 initially.
Pitching coach Mike Butcher adjusted the positioning of Barrett's right foot on the rubber, and that, along with increased strength, has made a big difference.
"I tried to come to Spring Training with my [velocity] up. That's a difference this year from last year," Barrett said. "I changed my mechanics a little bit from the stretch, and it just helps me drive the ball down more."
In a few days, he'll find out if that translates into a spot on the Opening Day roster.
Roster move
The D-backs optioned left-hander Matt Reynolds to Triple-A Reno on Sunday. Reynolds had a 5.40 ERA in four games this spring and had been out recently with a tight back.
The move left the D-backs with 40 players in camp, with more cuts expected Monday.
Steve Gilbert is a reporter for MLB.com. Follow him on Twitter @SteveGilbertMLB. This story was not subject to the approval of Major League Baseball or its clubs.