Franco poised for breakout 2016 season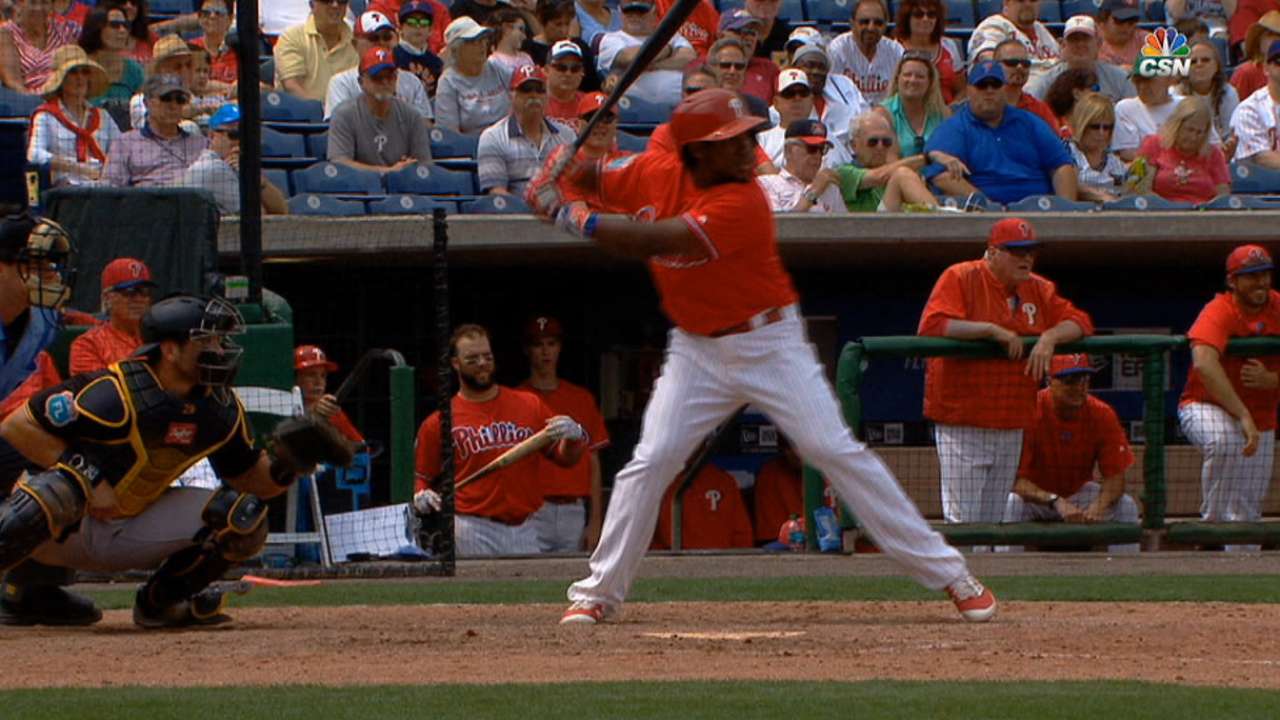 FORT MYERS, Fla. -- Maikel Franco crushed a fly ball to deep left field on Sunday afternoon at JetBlue Park.
The ball appeared to sail over the miniature Green Monster for his ninth Grapefruit League home run, but umpires instead ruled it a ground-rule double. Franco looked perfectly perplexed as he stood on second base. He wanted to add one more dinger to his Spring Training ledger. The Phillies, meanwhile, would like Franco to save some homers for when they truly count beginning April 4 on Opening Day in Cincinnati against the Reds.
"Hurry up and get to April," Jeremy Hellickson said about Franco recently. "I don't think he'll stop, but hurry up and get here."
Franco has had one heck of a spring following an impressive rookie season, which could mean a breakout season as not only one of the game's best third basemen, but best hitters. He batted .280 with 22 doubles, one triple, 14 home runs, 50 RBIs and an .840 OPS in 335 plate appearances. He had started to enter the conversation for National League Rookie of the Year Award honors before breaking his left wrist in August.
Franco's 127 OPS+ ranked 42nd among 245 players with 300-or-more plate appearances. He ranked sixth among 30 rookies.
"The sky is the limit with Maikel, man," Ryan Howard said. "His ball gets small really quick."
Franco entered Monday with a .737 slugging percentage, which might mean he is in line for a huge season.
"I'm just trying to be healthy this year," Franco said. "I know if I'm healthy, something good is going to happen."
John Dewan of Baseball Info Solutions once found a correlation between Spring Training power numbers and regular-season power numbers. At one time, he discovered 60 percent of hitters that boosted their career slugging percentage (minimum 200 career at-bats) by 200 or more points in Spring Training (minimum 40 at-bats) experienced an increase in power that season.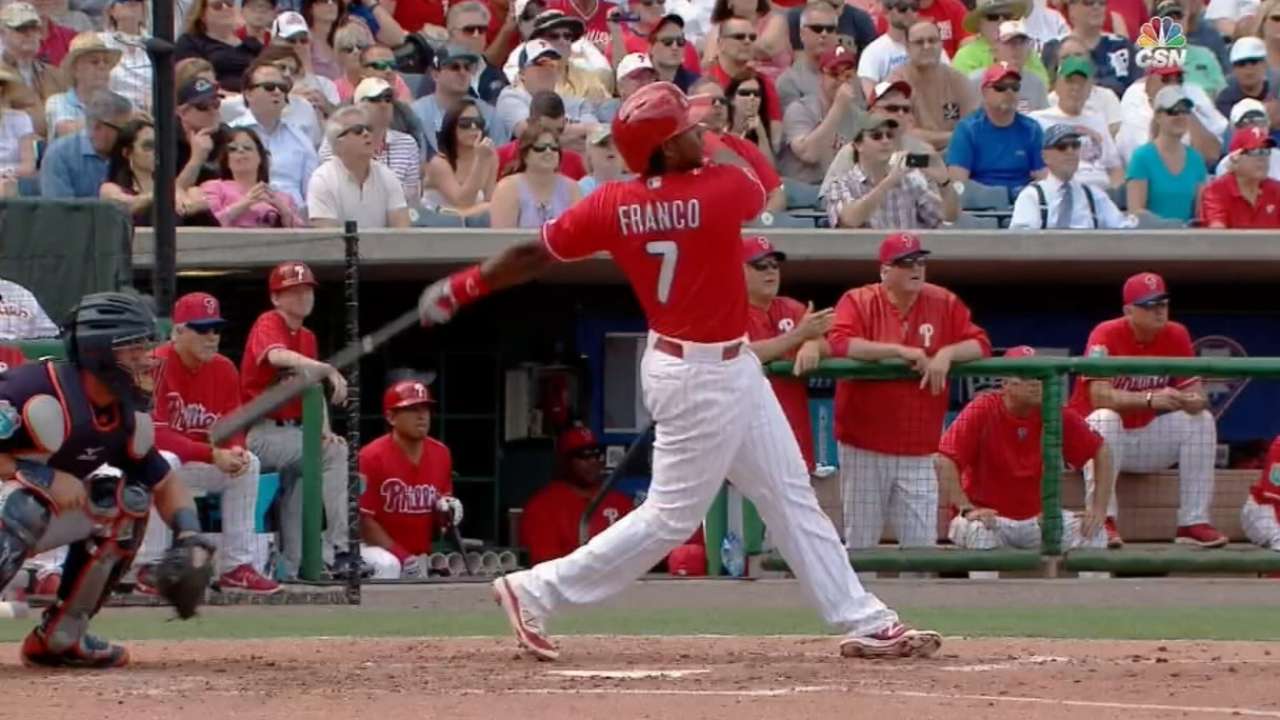 While that formula has been far less accurate in recent seasons, it once correctly predicted big seasons for Pat Burrell and Placido Polanco in 2005, Howard in 2006, Chase Utley and Greg Dobbs in 2007, Jayson Werth and Carlos Ruiz in 2009, Ruiz in 2012 and Domonic Brown in 2013.
Franco has a career .453 slugging percentage in 360 career at-bats in the regular season and a .737 slugging percentage in 57 at-bats this spring.
That is a 284-point increase.
"I don't want him to waste all of his home runs in the spring," manager Pete Mackanin said, smiling. "He looks really good at the plate, aggressive, confident. I'm sure he's going to carry it into the season. It's a good guy to have in the middle of the lineup right now."
Todd Zolecki is a reporter for MLB.com. Read his Phillies blog The Zo Zone, follow him on Twitter and listen to his podcast. This story was not subject to the approval of Major League Baseball or its clubs.