Latos knows it's time for results to improve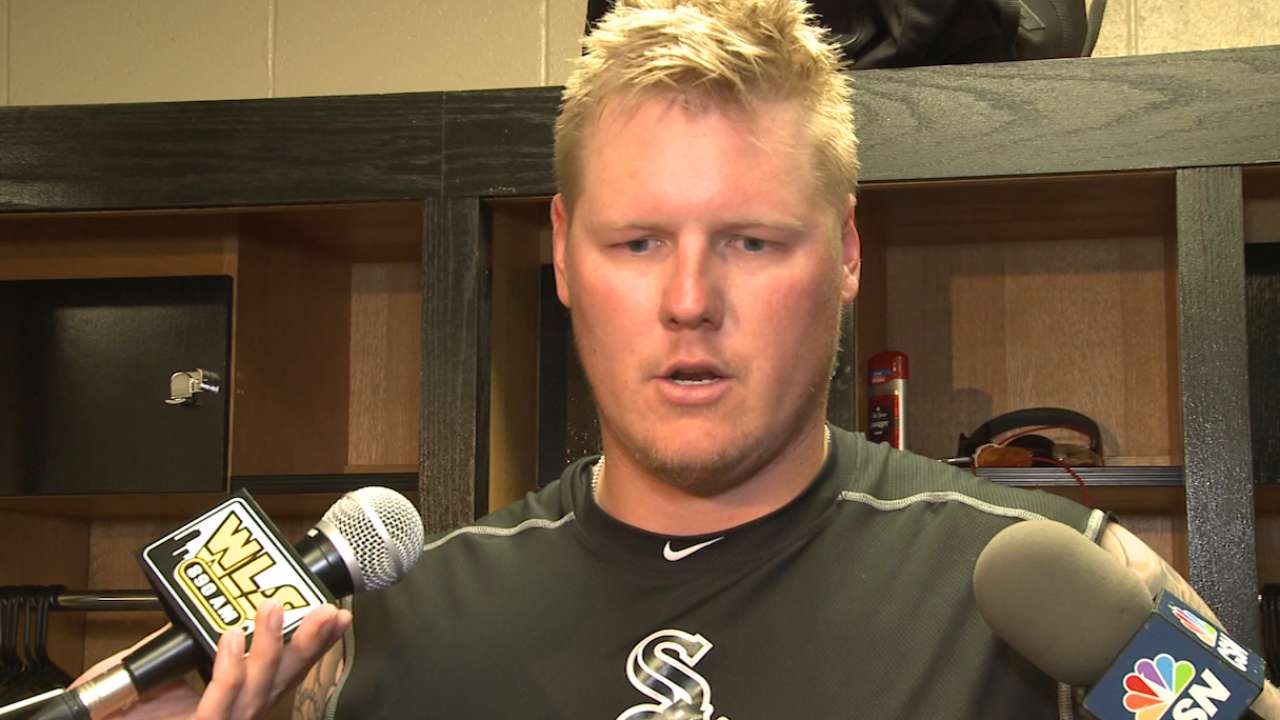 SCOTTSDALE, Ariz. -- Mat Latos won't try to sugarcoat the 12 earned runs allowed over 8 2/3 innings from two Cactus League starts, including six earned runs given up in four innings during the White Sox 13-9 victory over the Giants on Sunday.
"The results are horrible, if we're being honest," said Latos, after throwing 55 of his 96 pitches for strikes at Scottsdale Stadium, while walking three and fanning two. "I've got to start stringing together pitches, there's no doubt about it.
"Everything else feels good. The knee feels good. The arm feels good. I guess not bad for my second outing against big league guys and this big league ballclub. Those guys over there are world champions, and to be throwing to them is a good thing, it's a good challenge. But if you don't have your 'A' game, you're going to get smacked around a little bit."
Even with one appearance remaining this Friday in San Diego before the regular season begins, Latos doesn't seem worried about being ready for his first regular-season start on April 7 in Oakland. One at-bat potentially changes things quickly for a struggling hitter, and Latos believes that one good bullpen session or one good outing can do the same for him.
Latos has, for lack of a better word, a great deal of information about his pitching at his disposal. It comes from bullpen and Minor League game work under pitching coach Don Cooper, and includes his move on the rubber about four or five inches during his last side session.
"We tried it in the bullpen and it felt really good in the bullpen, but the game speeds up from the bullpen," Latos said. "I throw no-hitters all day in the bullpen, but when you get out here and try to test things out, it's a lot different. Everything speeds up. You have really good hitters stepping to the plate, and [if] you miss a spot, you get hit around.
"I kind of expected it, to be thrown into games a little later on in spring and then you are really getting into it. We are just taking it in stride. It just takes one, one thing for it to click and for it to all come together."
Part of Latos' problem Sunday came from a big hole near the mound on his landing spot, which also bothered Giants starter Jake Peavy. That spot contributed to Latos hitting Hunter Pence in the second inning, with Pence appearing to move a little toward the mound and yelling something as he ran to first base.
Hitting Pence certainly was not Latos' intent.
"Yes, I'm trying to go in. That's one of the spots to pitch to him: sliders down and away and fastballs in. It's not a secret," Latos said. "I landed wrong, slipped. I ended up over this way, the ball ended up on the other side.
"I'm not trying to start anything. I'm not trying to hit anybody during Spring Training. It's the last thing I want to do, whether it's my hitter or it's their hitter, is put someone on the DL to start the season. That's not anything of what I'm trying to do. I guess he came out a little bit toward the mound. I don't know. I was too busy [being angry] at myself to notice anything."
Scott Merkin is a reporter for MLB.com. Read his blog, Merk's Works, follow him on Twitter @scottmerkin, on Facebook and listen to his podcast. This story was not subject to the approval of Major League Baseball or its clubs.