After gaining perspective, Buxton ready to rise
Molitor's words gave Twins' top prospect fresh angle on first taste of bigs
FORT MYERS, Fla. -- When Twins manager Paul Molitor addressed a group of Minor Leaguers early in camp -- many of whom were in awe of being in the presence of a Hall of Famer -- he pointed out that while he had more than 3,300 hits during his career, he also made more than 7,000 outs.
Word of that message reached top prospect Byron Buxton, and it resonated for the 22-year-old who is coming off a rough first year in the Majors. It was the first time Buxton, ranked as the game's No. 2 overall prospect by MLBPipeline.com, had struggled as a professional, but that message carried a lot of weight.
"That's a lot of outs, and he was still able to manage 3,000 hits," Buxton said. "It just put it in a way better perspective. I feel like I had to have that failure in order to succeed and be where I want to be. I'd never failed before. I didn't know how to make myself better."
Buxton, a career .301/.383/.489 hitter in the Minors, couldn't replicate that in his first taste of the big leagues, hitting .209/.250/.326 with 44 strikeouts and six walks in 138 plate appearances to keep his rookie status heading into this year. But Twins general manager Terry Ryan readily admits Buxton was rushed to the Majors, making the jump straight from Double-A Chattanooga, and that he wasn't quite ready.
But after a stint on the 15-day disabled list with a sprained thumb, Buxton looked much more comfortable late in the season, hitting .318 over his final 14 games. Molitor believes it gave Buxton confidence heading into the offseason and that he can pick up where he left off, as he's been a slow starter at every level of the Minors.
"My optimism lies in the fact that I've seen him adjust level to level," Molitor said. "The good thing about Byron is he picked up where he left off at the end. Whatever happened to him during the course of his hundred-whatever at-bats it was, he made adjustments."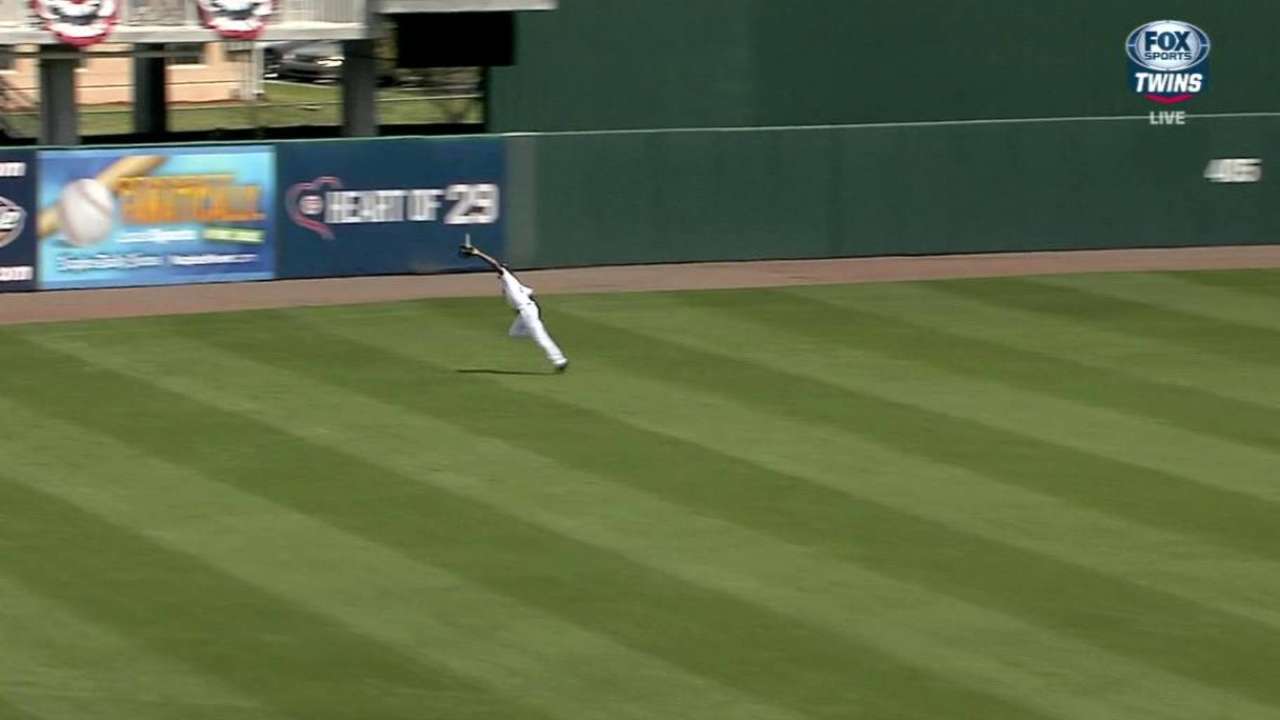 The Twins remain confident in Buxton's defense in center field -- he's already considered an elite defender there -- and he's one of the fastest players on the basepaths in the Majors. But they also believe he's primed for a breakout year offensively, as he's far from the only top prospect to struggle initially before figuring it out the next year.
"Everybody wants everybody to click right away, but unfortunately, it doesn't always work out that way," Ryan said. "Don't forget, Mike Trout got sent back. His first year wasn't very good. I don't want to use Mike Trout as a comp, because they're two different players. But let's not forget, he went back, and now he's one of the best players in the game. But this guy has a skill set that's better than most, and I think his bat is going to catch up with the rest of his game."
Rhett Bollinger is a reporter for MLB.com. Read his blog, Bollinger Beat, follow him on Twitter @RhettBollinger and listen to his podcast. This story was not subject to the approval of Major League Baseball or its clubs.