Pujols, Calhoun go back-to-back in Angels win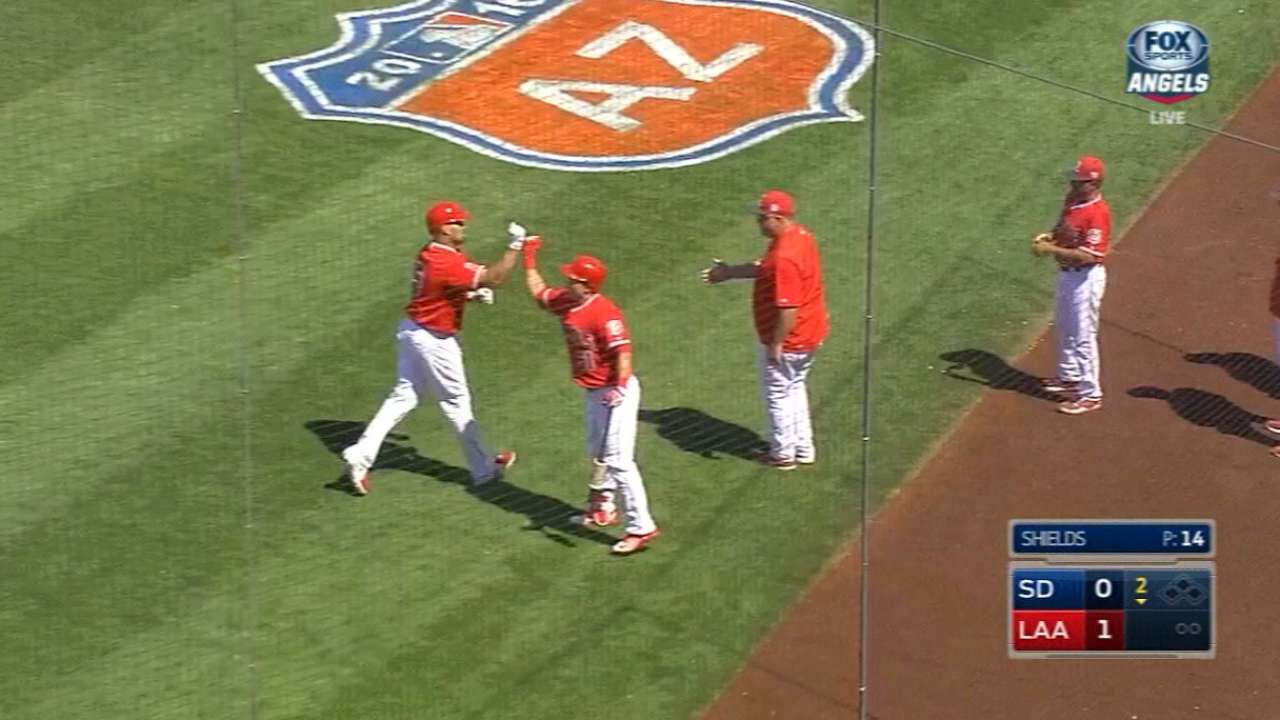 TEMPE, Ariz. -- Albert Pujols and Kole Calhoun hit back-to-back home runs, Andrew Heaney pitched five solid innings and Craig Gentry provided a walk-off single as the Angels beat the split-squad Padres, 9-8, at Tempe Diablo Stadium on Saturday.
Padres starter James Shields extended to seven innings in his fourth spring start, which saw him give up five runs and seven hits, with one walk and eight strikeouts.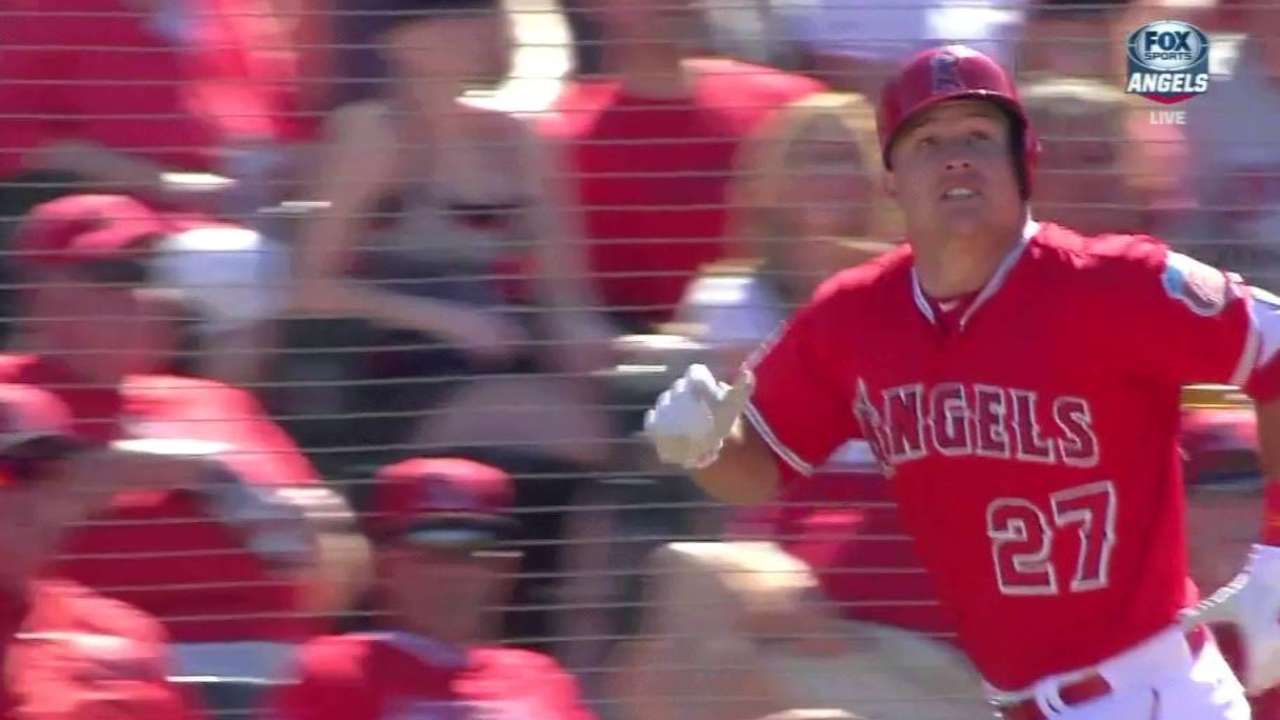 "I felt good; it was good work today," Shields said. "Results, I don't think, really showed how I pitched today. I feel like I made some really good pitches."
With no one out in the second, Pujols jumped all over a chest-high offspeed pitch and crushed it well over the left-field fence, just inside the foul pole, for his fourth home run of the spring. It came one day after Pujols took a breaking ball to his surgically repaired right foot, an instance that forced him to exit the game an inning later.
• Bethancourt making adjustments with new team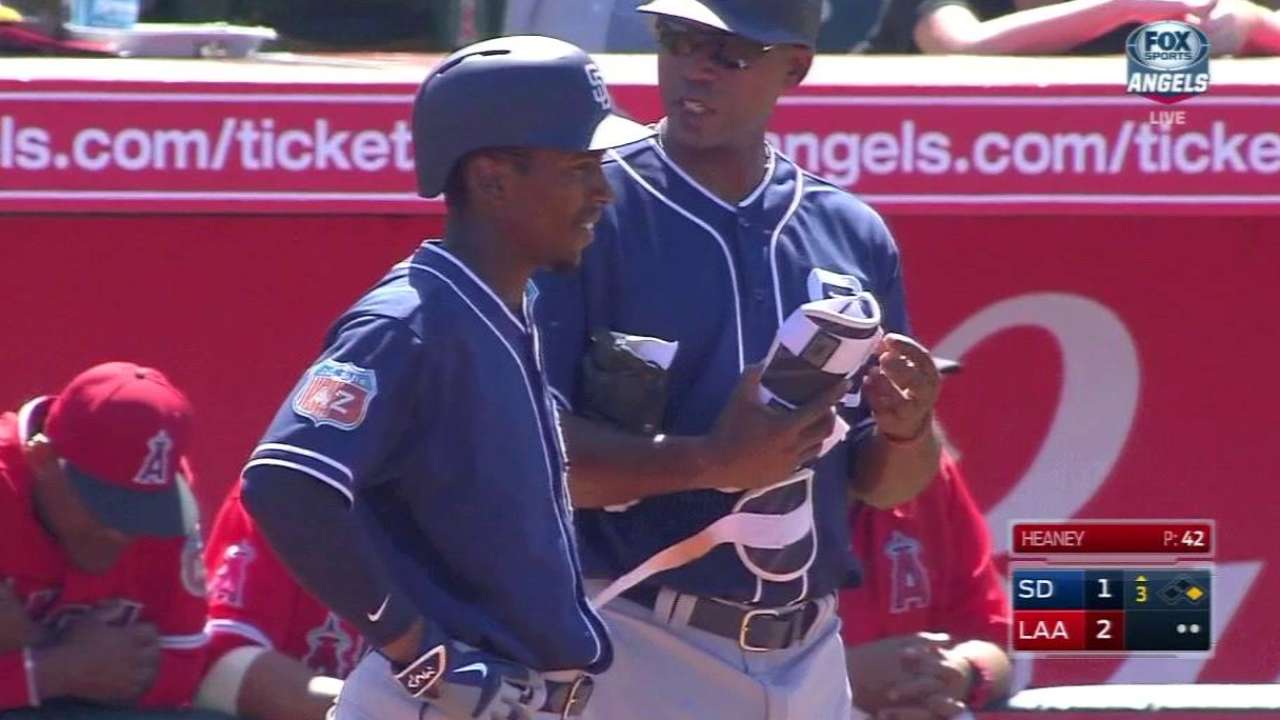 The next batter, Calhoun, ripped his first home run of the spring, a long drive to right-center field.
Pujols, who has made all of his starts at designated hitter, is batting .244/.295/.537 this spring. Angels manager Mike Scioscia feels his timing "is getting there."
• Angels hope for better double-play duo in 2016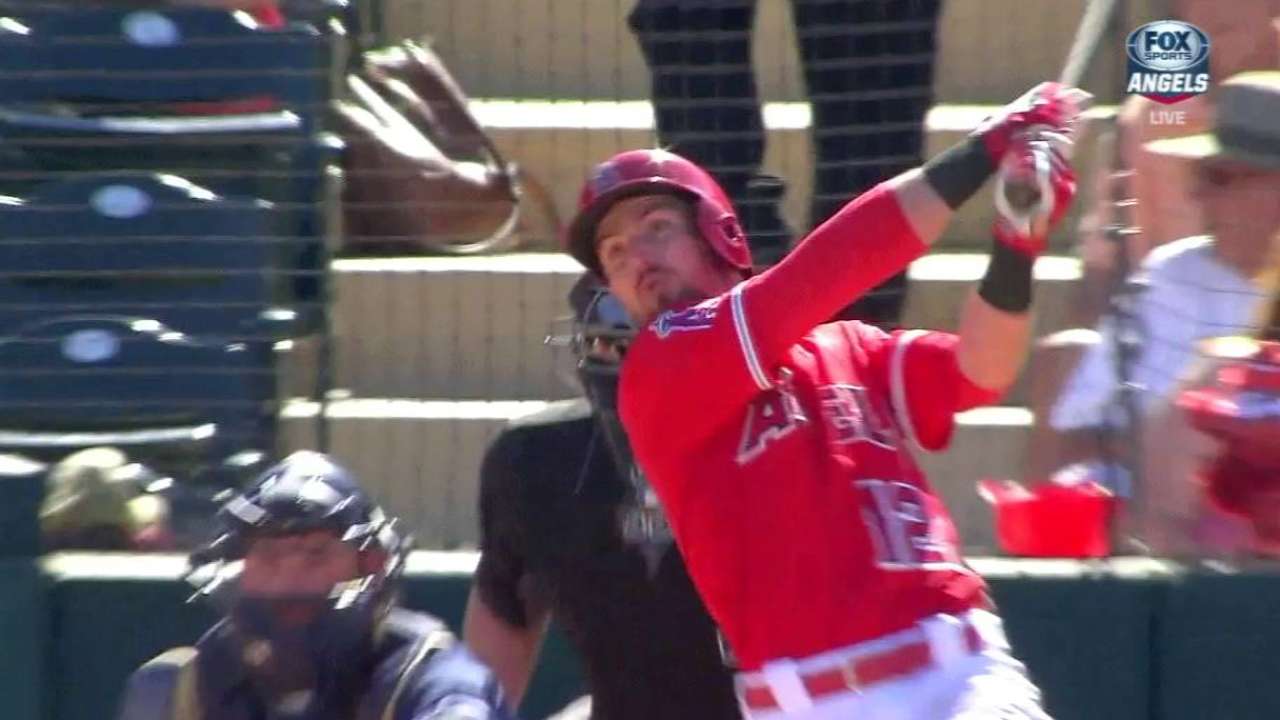 "Today he was right on the money," Scioscia said. "He felt really good."
Heaney finished giving up just two runs on six hits and one walk, striking out seven to put his spring ERA at 2.57. Second baseman Jemile Weeks, who got a rare start in center field, put the Padres on the board with an RBI single in the third and third baseman Nelson Ward tied it up with a run-scoring single in the fourth.
• Versatile Weeks making case for roster spot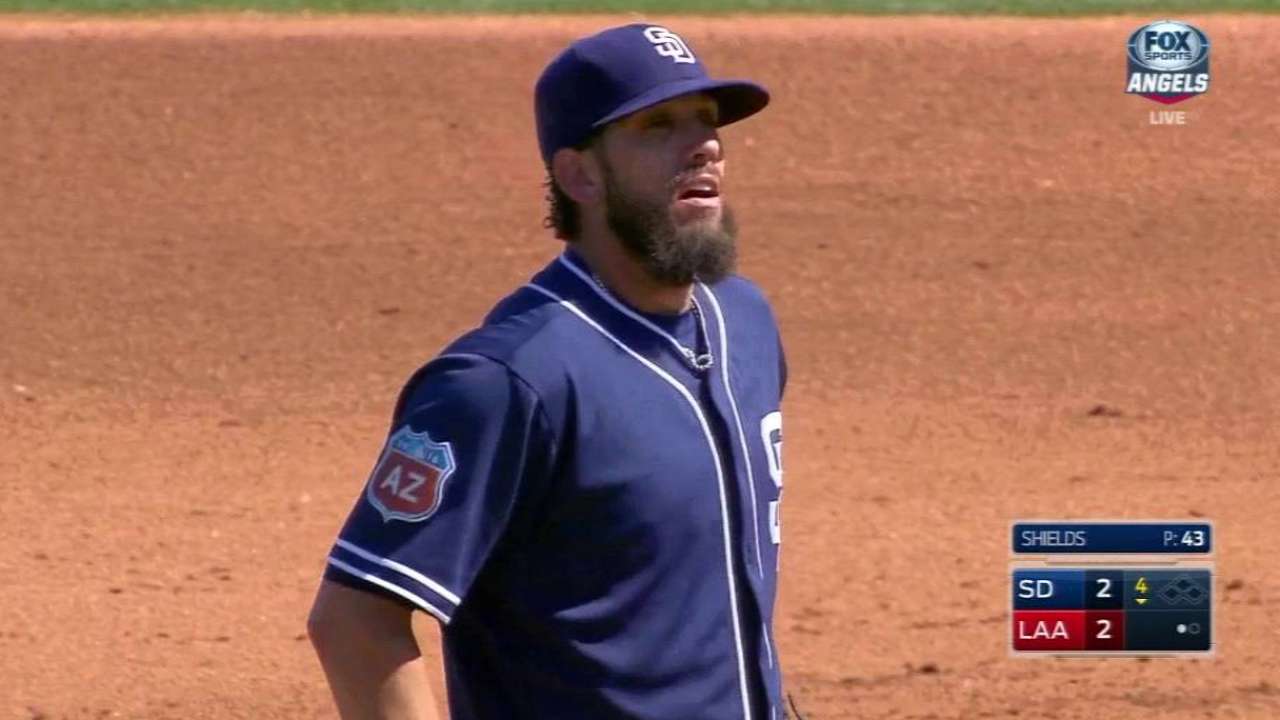 The Angels took the lead again in the sixth on a triple by Daniel Nava and a sac fly by Mike Trout.
The Padres scored five runs off A.J. Achter and Ramon Ramirez in the top of the ninth, highlighted by Edwin Moreno's two-run triple. Jason Hagerty tied the game and completed the rally with a single to right field, which scored Michael Miller.
Gentry and Cliff Pennington both dropped fly balls in the top of the ninth -- though Gentry's was a result of losing it in the sun -- and both helped win it in the bottom half. Pennington singled, stole second base, then scored on Gentry's line drive in the right-center-field gap.
• Angels bats enjoying impressive spring campaign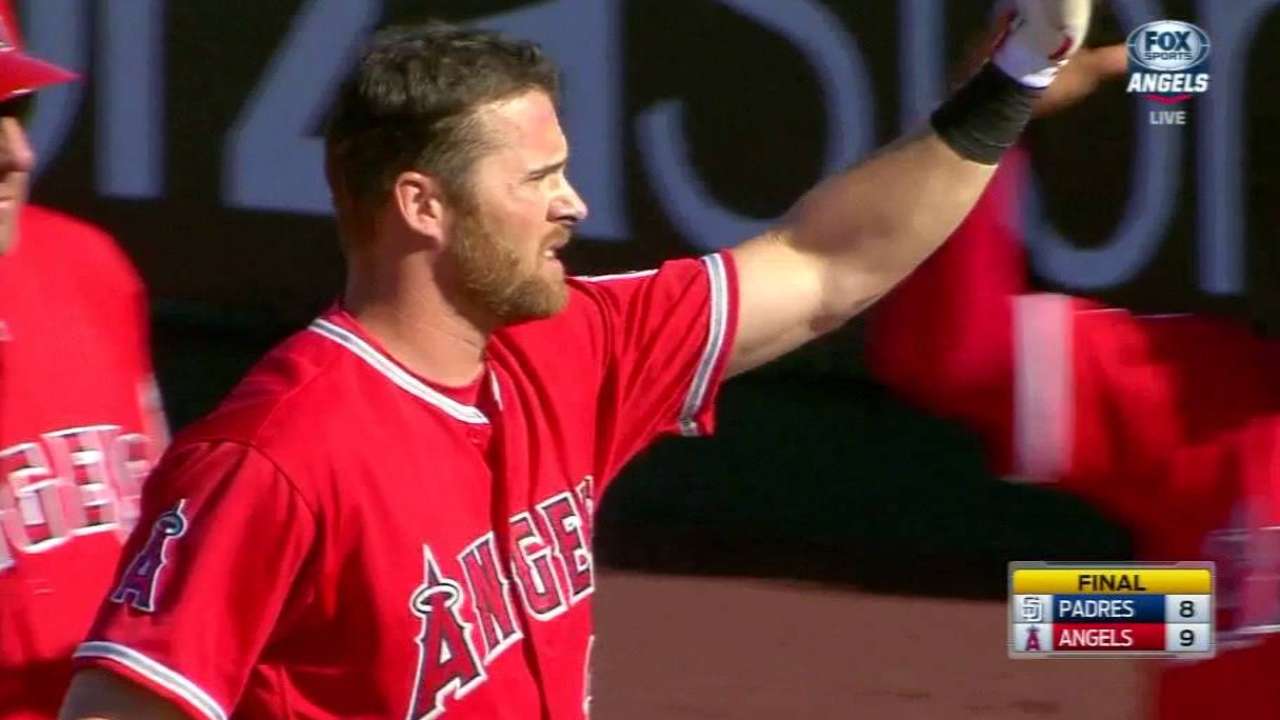 Heaney, who could begin the season as the Angels' No. 2 starter, momentarily lost feel for his breaking ball in his fourth spring start.
"That's always kind of the last pitch that I find, the last one I really feel comfortable with," Heaney said. "I've been working on throwing it for strikes, and I've been doing better the last two times. Last time, in Texas, it was really good. This time, it was there early, I threw a couple good ones, and then later it got away from me."
Up next for the Padres: The Padres wrap up their Mexico Series against the Astros at noon PT on Sunday with Cesar Vargas on the hill, pitching in front of friends and family. Vargas grew up two hours to the south in Puebla. Fans can watch a free live stream of that game on padres.com. Meanwhile, in Cactus League action, Andrew Cashner gets the ball against the Angels in Peoria for a 1:10 p.m. PT first pitch on MLB.TV. Cashner has been sharp this spring, posting a 2.40 ERA in four starts.
Up next for the Angels: Hector Santiago takes the ball, opposite righty Andrew Cashner, when the Angels travel to Peoria Sports Complex for their second straight game against the Padres on Sunday. Santiago will be making his sixth Cactus League start and has posted a 3.50 ERA in 18 innings this spring, striking out 21 batters and walking six. Game time is set for 1:10 p.m. PT on MLB.TV.
Alden Gonzalez is a reporter for MLB.com. Follow him on Twitter @Alden_Gonzalez and Facebook , and listen to his podcast. This story was not subject to the approval of Major League Baseball or its clubs.