Doolittle perfect in his return against Royals
A's closer pleased with stuff, location in first outing since March 13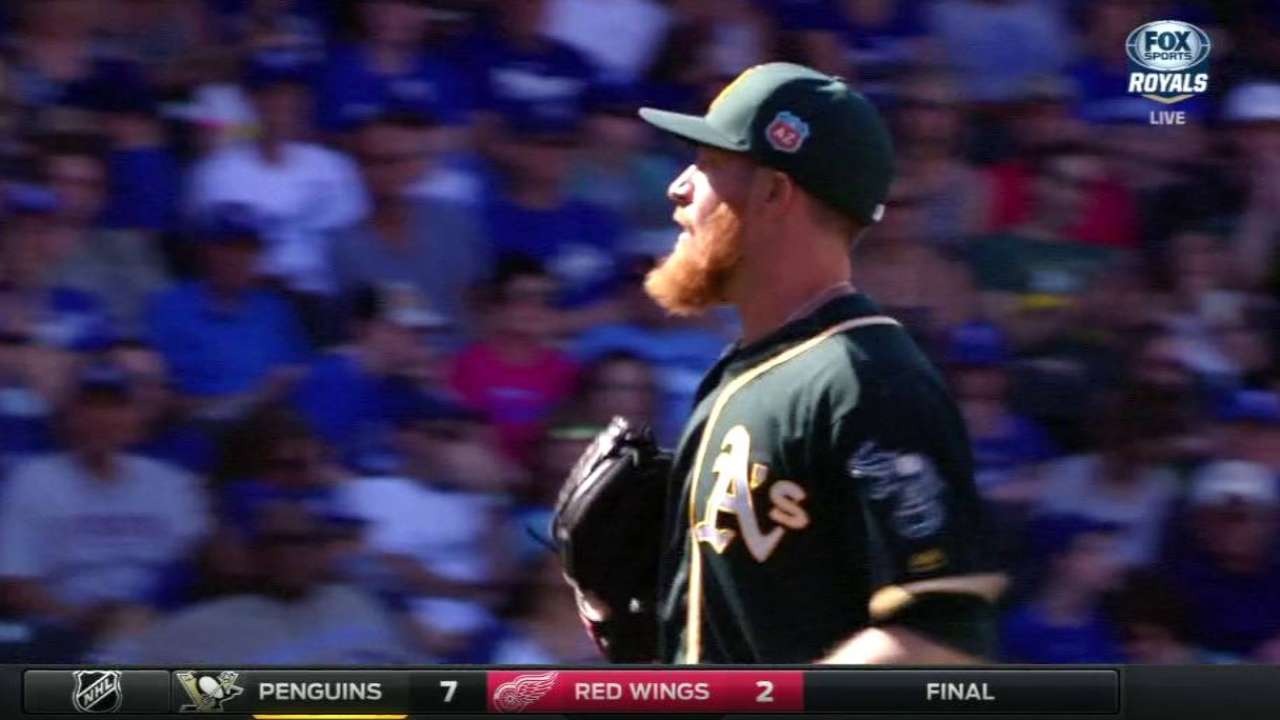 SURPRISE, Ariz. -- Sean Doolittle recovered from a slight triceps strain just in time to be hit with food poisoning this week, so it's a good thing the A's closer needed only six pitches to get through a perfect inning against the Royals on Saturday.
"I still feel a little weak, lost a little bit of weight," Doolittle said after the 5-2 loss at Surprise Stadium.
It was hardly noticeable in Doolittle's first Cactus League outing since March 13. The lefty induced a pair of groundball outs, one of which shortstop Marcus Semien grabbed up the middle for an exceptional play, and a popup.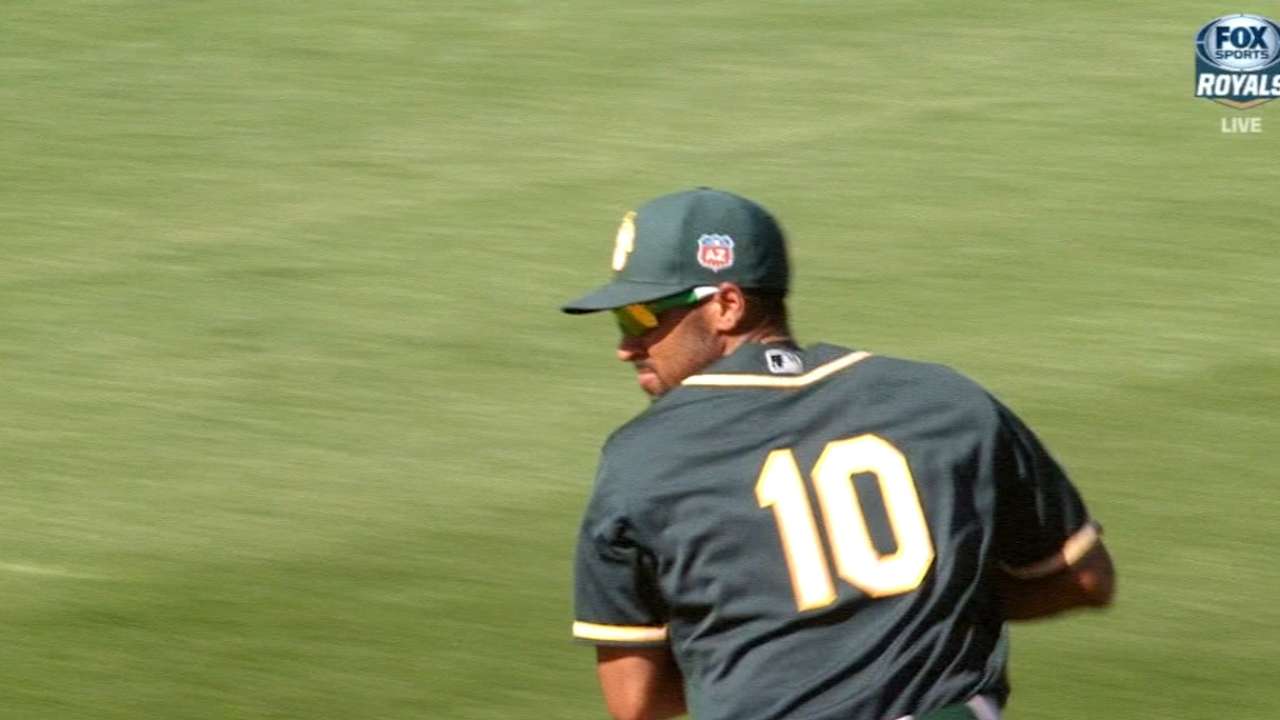 "I felt like the fastball had that deception on it, and I threw a really good slider to end the inning for a tapper back to me," Doolittle said. "So I was happy with the stuff, the location of it."
"He pumped strikes, he was in the zone, ball had good life," catcher Stephen Vogt said. "It was great to see. Good backspin on his ball."
Work on his changeup was confined to the bullpen, but "that's been further along development-wise than the slider," Doolittle said, "so it was good to use a slider against a lefty [Travis Snider] and have a good one and get a good result."
Though he's appeared in just four spring games, Doolittle feels he's "right on schedule."
"I've repeated my delivery, I've been pleased with that, and I've been really pleased with how I've felt afterward and bouncing back," he said.
Bassitt recovers
A's right-hander Chris Bassitt was largely displeased with his first inning on Saturday, but his ability to not only recognize his wrongdoings and correct them in his final four frames proved impressive.
"He recovered, and you want to see that when a guy gets off to a tough start," manager Bob Melvin said. "I thought his stuff was really good, and to be able to go out and refocus, and recover and pitch well, those are the kind of things you want to look for."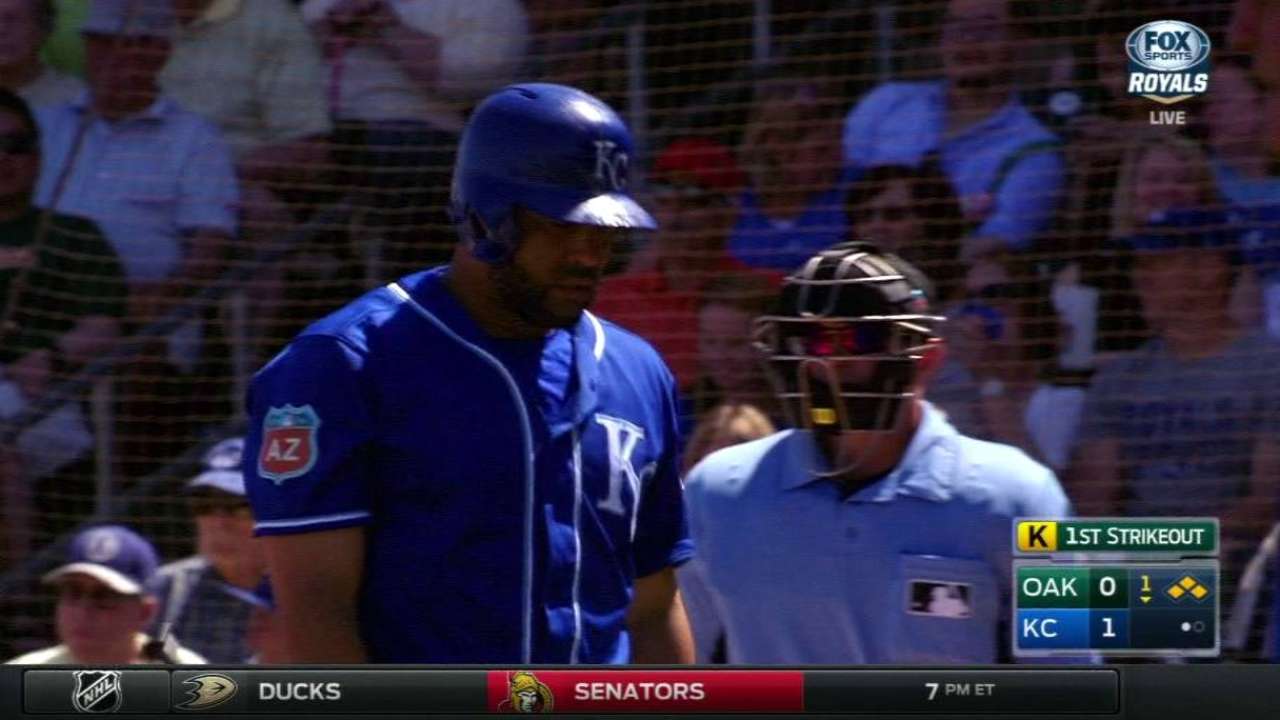 "It would've been easy for him to get down on himself, and he didn't," Vogt said. "He came right back and put up four quality innings after that. He made a lot of good pitches."
Bassitt, in line for the final rotation spot, walked in a pair of runs and allowed two more to score by the time his opening frame against the Royals had concluded, but he faced just two over the minimum during a 12-batter stretch thereafter before yielding one final run in the fifth.
"First inning, I just beat myself," Bassitt said. "Made some adjustments and got back to what I was doing last year, just making them as uncomfortable as possible. That's the exact opposite of what I was doing in the first inning. They were able to do what they wanted and put the bat where they wanted, and that's what happens.
"You've got guys 0-2, 1-2, and you're giving up hits, you can't let that happen. ... 0-2, 1-2, those pitches should be a lot harder to hit than what I was throwing today. Lesson learned. Don't let it happen anymore."
Said Melvin: "He tries to take away something every time he goes out there. He's come a long way, from early in spring to this point last year. He's got a lot of fight in him. It doesn't surprise me that he recovered and pitched well after that."
Jane Lee is a reporter for MLB.com. This story was not subject to the approval of Major League Baseball or its clubs.