Hill finishes strong in bumpy Minors start
A's lefty encouraged by aggressiveness; Melvin pleased with Maxwell, not with errors
MESA, Ariz. -- Rich Hill described his latest performance on a Minor League stage as a tale of two games, and the A's can only hope his future outings look more like the latter.
Hill allowed five runs, four earned, on five hits and struck out five in five innings, and he also added on to an already high total of spring walks with five. But, as he's tried to do with each of his outings since joining his newest team, Hill emphasized the positives.
• Manaea allows 4 ER; Crisp hits first spring homer
"The first two innings didn't go as well as I would've liked, but the last three innings were really good, much more aggressive, and a lot of swings and misses, not a lot of hard contact," Hill said. "There was one ball that got hit for a home run, a breaking ball I thought was a good pitch, and I would definitely throw it again."
Hill's continued propensity to walk multiple batters, however, is concerning. He issued 12 free passes in 7 2/3 Cactus League innings, and he's since walked seven in 10 innings while working against Minor League hitters. He also hit three batters his last time out.
Hill, signed to a one-year, $6 million deal this winter, has at least felt physically strong throughout. On Friday he got up to 90 pitches, but "felt like I could've thrown 100 more."
• Alvarez to undergo arthroscopic elbow surgery
"The end of today was really encouraging, just a big step in the right direction," Hill said. "I felt much more aggressive. A couple strikeouts in the last inning. The finish was good, so hopefully I can take that into my next start."
Hill is scheduled to start the A's final exhibition game in Arizona on Wednesday against the visiting D-backs.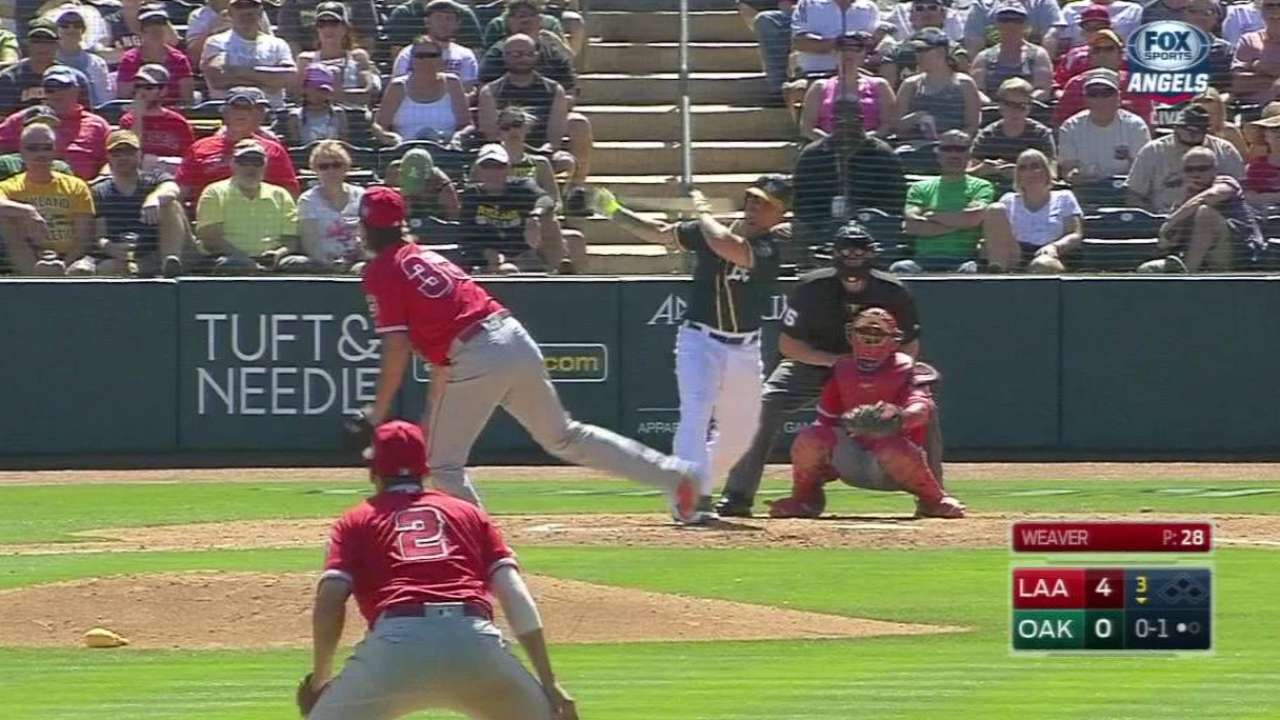 Maxwell continues to turn heads
Defensively, the A's were unimpressive in Friday's 11-3 loss to the Angels, , committing four errors to bring their spring total to a Major League-leading 38 -- including 17 in their last eight games. Manager Bob Melvin deemed it "putrid."
Catcher Bruce Maxwell did his part, though, separating himself from the pack by throwing out three baserunners when he wasn't at the plate homering off Angels starter Jered Weaver, as he did in the third inning.
"Just terrific," Melvin said. "He's come a long way. When you have a guy behind the plate like that against a team that likes to run, it's a big weapon to have. He threw out three guys, had some really nice blocks today, takes Weaver deep.
"This is a guy that came to camp with a different mindset this year, and he's working hard, and it's paying off for him."
As for his team's defense, Melvin said, "It will be addressed."
"We missed three cutoff men today, and it was one thing after another," he said. "It's really frustrating, and we'll continue to work. We can't beat ourselves. We might not be a great defensive team, but we can't be a bad defensive team. We have to make the routine plays."
Jane Lee is a reporter for MLB.com. This story was not subject to the approval of Major League Baseball or its clubs.